Play title
Onna Goroshi Abura no Jigoku
Author
Chikamatsu Monzaemon
History

"Onna Goroshi Abura no Jigoku" was premiered in the 7th lunar month of 1721 in Ôsaka at the Takemotoza. It was not a hit and quickly went into oblivion. It was adapted for Kabuki for the very first time by Takeshiba Manji in October 1907 at the Misakiza, where it was staged by a troupe of female Kabuki. A new script was written by Watanabe Katei for the actor Jitsukawa Enjirô I. It was successfully staged in November 1909 in Ôsaka at the Asahiza [casting], in January 1910 in Kyôto at the Minamiza [casting] and in Tôkyô at the Shintomiza [casting].

Structure

"Onna Goroshi Abura no Jigoku" was originally divided into 3 acts (6 scenes). The current Kabuki version is made up of 3 acts (3 or 4 scenes). The second scene of act III is often omitted.

| | | |
| --- | --- | --- |
| Act | In Japanese | In English |
| I | 徳庵堤 | At the Tokuan Embankment |
| II | 河内屋与兵衛内 | At Kawachiya Yohê's home |
| III/1 | 豊嶋屋油店 | At the Teshimaya Oil Shop |
| III/2 | 豊島屋逮夜供養 | The Memorial Service at the Teshimaya Oil Shop |

Key words
Gidayû Kyôgen
Sewamono
Koroshiba
Aburaya
Kuyô
Taiya
Summary

At the Tokuan Embankment

Kawachiya Yohê, a delinquent stepson of Tokubê, an oil merchant in Ôsaka, happens to learn that Kogiku, a courtesan with whom he is in love, is going to visit the Nozaki Kannon Temple escorted by a rich merchant. So he waylays them on the riverbank leading to the temple and fights with his rival in love. When Yohê throws a handful of mud at his adversary it accidentally hits a high-ranking samurai and soils his garment. His chief retainer, who happens to be Yohê's uncle Yamamoto Moriemon, is upset and tries to kill Yohê but is persuaded by his master to pardon him, Okichi, wife of Teshimaya Shichizaemon, an oil merchant in Yohê's neighborhood, who has come to pay a visit to the Nozaki Kannon Temple, together with her daughter Okiyo, offers to wash Yohê's soiled kimono in a tea stall nearby. Soon after they enter the stall Okichi's husband comes and, after warning her not to be too kind to Yohê, takes Okichi and Okiyo to the Nozaki Kannon Temple.

At Kawachiya Yohê's home

A few days later Tahei, Yohê's elder brother and Tokubê's stepson, who is in business in another house, comes to Tokubê's oil store to tell him that he has received a letter from his uncle Moriemon saying that he has resigned from his master's service because of Yohê's misconduct. He advises Tokubê to strictly discipline Yohê though he used to be an employee of Yohê's father and married Yohê's mother after his death. After he has gone a priest comes to offer a prayer for the recovery from illness of Okachi, Yohê's half-sister and Tokubê's daughter.

As soon as the priest starts praying Okachi sits up on her bed and, declaring that she is possessed by the spirit of Yohê's late father, advises Tokubê in the deceased's words to allow Yohê to marry whomever he wants to and succeed to Tokubê's oil business. Tokubê refuses as Yohê is not at all trustworthy.

Yohê, getting angry, throws Tokubê to the tatami floor and beats him. Yohê's mother Osawa pulls Yohê by the hair and beats him. At last Tokubê and Osawa drive Yohê out of the house.

At the Teshimaya Oil Shop

As Yohê in utter distress comes to the front of the Teshimaya oil store he is called from behind by Kohei, a moneylender, who demands that Yohê repay the money he has secretly borrowed in his father's name, reminding him of the time limit which is the daybreak of the following day. Yohê promises to do so though actually he has no money.

Noticing the approach of his stepfather, Tokubê, Yohê hides himself. Tokubê enters the oil store and hands to Okichi some money, asking her to give it to Yohê when he comes. Tokubê has come to the Teshimaya without his wife's knowledge lest she should know that he is so kind to Yohê. Before he can leave, his wife also comes and inadvertently lets coins fall from the fold of her kimono. She admits to her husband that she wanted, without his knowledge, to give the money to Yohê through Okichi.

As soon as his parents are gone, Yohê enters the store and, after receiving the money entrusted to her by his parents, says that the money is not enough and asks Okichi to lend him more money to repay his debt. Okichi refuses, saying that she cannot lend money without her husband's consent. Yohê then asks Okichi to lend him some oil. This she reluctantly agrees to do. While Okichi is pouring oil into his cask, Yohê creeps up to her from behind with a drawn dagger. He slashes at her and, after a fierce struggle on the slippery floor covered with oil, finally kills her. He then takes money out of the chest of drawers and flees.

The Memorial Service at the Teshimaya Oil Shop

On the occasion of the memorial service (taiya kuyô) for Okichi 35 days after her death a rat running on the ceiling causes a sheet of blood-stained paper to fall on the tatami floor. Written on the paper by Yohê are the names of three men including Yohê and the amount of money each person paid to share the expense of their visit to the Nozaki Kannon Temple on the very day of Okichi's death. Thus there is no denying that Yohê killed Okichi. But Yohê, pretending to be innocent, comes to attend the service and is immediately arrested by those present including a policeman.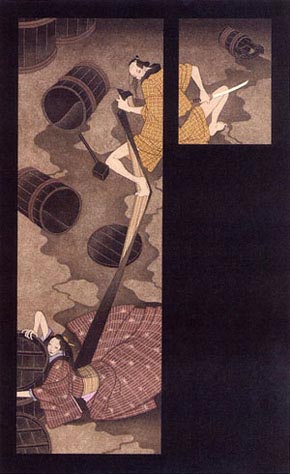 Illustration made by Uno Shin'ya