Stage names:
Sawamura Tanosuke IV
Sawamura Hyakunosuke I
Guild: Kinokuniya
Line number: YODAIME (IV)
Poetry names: Yûshi, Hyakusan, Shozan
Existence: 1857 ~ 3 April 1899
Connections:
Adoptive father: Sawamura Tanosuke III
Career:
1857: born in Edo. His father is the owner of a shibai jaya within the Moritaza. He is later on adopted by the actor Sawamura Tanosuke III, who gives him the name of Sawamura Hyakunosuke I.
November 1874: Hyakunosuke plays at the Sawamuraza, a new theater managed by Sawamura Tanosuke III, the roles of Kaoyo Gozen and Ôboshi Rikiya in the classic "Kanadehon Chûshingura". The Sawamuraza unfortunately goes bankrupt and has to close.
July 1878: his adoptive father Sawamura Tanosuke III dies.
January 1881: Sawamura Hyakunosuke I takes the name of Sawamura Tanosuke IV at the Ichimuraza, playing the roles of Umegae and Asaka in the drama "Arata o Gasu Hatsune no Uguisu". He is the tateonnagata of the Ichimuraza.
February 1885: Tanosuke takes part in the opening ceremony of the Chitoseza [more details]. Premiere at the Chitoseza of Kawatake Mokuami's drama "Suitengû Megumi no Fukagawa"; Tanosuke plays the role of Yamaoka's wife Onami [casting].
November 1887: Tanosuke takes part in the opening ceremony of the Azumaza [more details].
April 1892: Tanosuke reopens the Sawamuraza.
November 1892: the new Sawamuraza goes bankrupt and Tanosuke, who ran into debt, has to leave Tôkyô.
1893 ~ 1899: Tanosuke works as a travelling actor.
3 April 1899: Tanosuke dies while performing in the city of Tanimura in the province of Jôshû.
Comments:
Sawamura Tanosuke IV was a good onnagatab of the Meiji era, who shared (at a lower level) not only artistic features but also some bad luck with his adoptive father.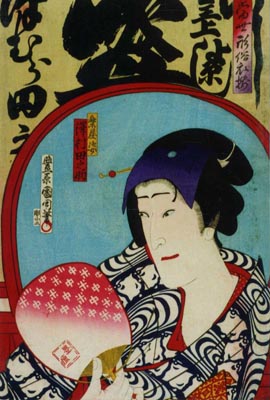 Sawamura Tanosuke IV in a print made by Toyohara Kunichika
Print made by Yôshû Chikanobu in 1883
The Sawamura Tanosuke line of actors