Stage name:
| | |
| --- | --- |
| Matsushima Han'ya I | |
Line number: SHODAI (I)
Poetry name: Chishû
Existence: ???
Connection:
Master: Matsumoto Nazaemon II (?)
Disciples: Matsushima Han'ya II, Matsushima Hanshichi I
Career:
1670: most likely a disciple of Matsumoto Nazaemon II, he started his career in his native city of Ôsaka, performing as a wakashugata.
1680: Han'ya He became wakaonnagata and zamoto, producing with Yamatoya Jinbê II in Ôsaka the drama "Sumadera no Kaichô".
11th lunar month of 1686: Han'ya retired from the Kabuki stage. He became ôgiya and his business name was Izutsuya Shichizaemon.
Comments:
Matsushima Han'ya I was active in Ôsaka from the end of the Kanbun era to the Jôkyô era. He was said to be the greatest onnagata in Ôsaka.
"When just a bud in the way of boy love, this youth was already as beautiful as the diving girls of Matsushima and Ojima Islands. Moreover, he was deeply affectionate and sophisticated at entertaining his patrons; he excelled in the serving of sake. No other actor could even approach his love letters in style... A purple kerchief was the typical head gear for male actors of the day, but he was the first to wear one of pale-blue silk crepe. It made him all the more beautiful... He made sure that onstage even the way he said a little word like "hello" was attractive." Ihara Saikaku about Matsushima Han'ya I (in K. Mezur's book "Beautiful Boys/Outlaw Bodies: Devising Kabuki Female-Likeness")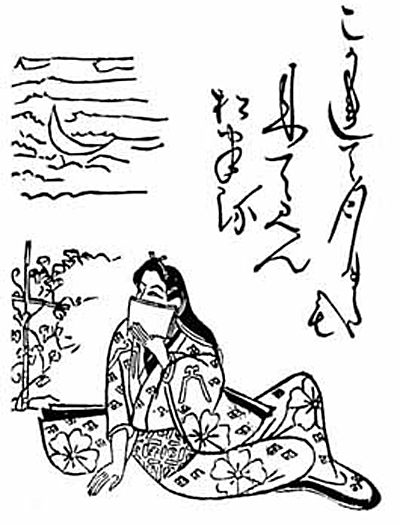 Matsushima Han'ya I in the book "Yakusha Hakkei", which was published in Kyôto in 1680
The Matsushima Han'ya line of actors