Stage names:
Onoe Kanijűr˘ III
Onoe Sengor˘
Real nams: Imura Shigeru
Guild: Otowaya
Line number: SANDAIME (III)
Existence: 9 January 1884 ~ 7 September 1936
Connection:
Master: Onoe Kikugor˘ VI
Career:
26 August 1885: born in T˘ky˘ in the district of Shinagawa.
1899: he starts his career as a disciple of Onoe Ushinosuke II, who gives him the name of Onoe Sengor˘.
1922: he becomes nadai and takes the name of Onoe Kanijűr˘ III at the Ichimuraza.
February ~March 1932: Kanijűr˘ plays at the T˘ky˘ Gekij˘ the role of Dozaemon Denkichi in the drama "Sannin Kichisa".
7 September 1936: Kanijűr˘ dies.
Comments:
Onoe Kanijűr˘ III was a supporting tachiyaku actor of the Otowaya guild.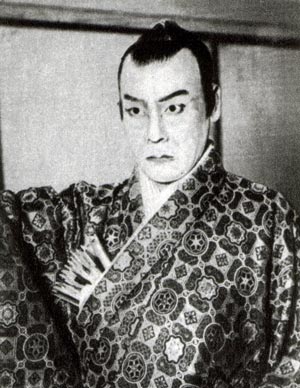 Onoe Kanijűr˘ III playing the role of the villain K˘ no Moron˘ in the drama "Kanadehon Chűshingura"
The Onoe Kanijűr˘ line of actors