Stage names:
Kawarasaki Kunitarô IV
Jitsukawa Entarô II
Jitsukawa Enshi
Real name: Inoue Tadashi
Guilds: Yamazakiya (Kawarasaki years), Izutsuya (Jitsukawa years)
Line number: YODAIME (IV)
Poetry name: Jisshô, Senshi
Existence: 11 February 1888 ~ 13 August 1919
Connection:
Master: Jitsukawa Enzaburô IV
Career:
11 February 1888: born in Kumamoto prefecture.
1888 ~ 1900: he starts his career in Kamigata at an early age as a disciple of Jitsukawa Enzaburô IV, who gives him the name of Jitsukawa Enshi.
1900: he settles in Tôkyô at the age of 12.
May 1907: Jitsukawa Enshi takes the name of Jitsukawa Entarô II at the Tôkyôza.
June 1912: Jitsukawa Entarô II takes the name of Kawarasaki Kunitarô IV at the Kabukiza.
August 1919: Kunitarô appears on stage for the last time, at the Imperial Theater, playing the roles of Oyone's ghost and Okuni in the summer ghost play "Kaidan Botan Dôrô". He suddenly dies the 13th of August 1919, victim of a heart attack. People in the Kabuki world believed that he was, along with Onoe Kikujirô III, his stage partner in the play in the role of Otsuyu's ghost who died the 27th of August 1919, victim of a curse casted by real ghosts: "there is a superstition concerning The Peony Lantern to the effect that actors who play the ghosts' rôles soon pass away. This was brought home when the play was presented at the Imperial Theatre in August 1919. During the performances two of the most promising young actors of Tôkyô, taking the rôles of mistress and maid, took ill and died within a week of each other. Nightly they had been seen, pale-faced, the hair worn long and dishevelled, the maid with the ghostly lantern in hand, moving behind the willow tree. Soon they were to become like the shades they impersonated, no longer of the earth, earthy" (Zoë Kincaid in "Kabuki, the Popular Stage of Japan").
Comments:
Kawarasaki Kunitarô IV was a promising wakaonnagata actor, who excelled in daughter and princess roles but unfortunately died (a mysterious way) too young. He spent a few years in a Shinpa troupe in the forties of the Meiji era and was also involved in the early modern stage projects of Ichikawa Ennosuke II.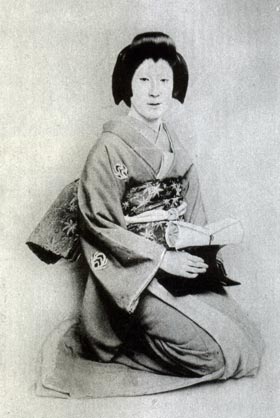 Kawarasaki Kunitarô IV
The Jitsukawa Entarô line of actors
The Kawarasaki Kunitarô line of actors