Stage names:
| | |
| --- | --- |
| Nakamura Yonekichi V | |
Real name: Ogawa Shűhei
Guilds: Harimaya (from September 2010), Yorozuya (up to August 2010)
Line number: GODAIME (V)
Birthday: 8 March 1993
Connections:
Great-great-great-grandfather: Nakamura Karoku I
Great-great-grandfather: Nakamura Karoku III
Great-grandfather: Nakamura Tokiz˘ III
Grandfather: Nakamura Kash˘ II
Father: Nakamura Karoku V
Brother: Nakamura Ryűnosuke
Career:
July 2000: debut on stage (hatsubutai) at the Kabukiza, where he receives the name of Nakamura Yonekichi V and plays the role of Ochi Buemon's son Bunosuke in the drama "Uwajima S˘d˘".
July 2001: Yonekichi plays at the Kabukiza the role of Sannigoroshichi's son Goroichi in the drama "Gosan no Kiri"; the role of Sannigoroshichi is played by Yonekichi's father Nakamura Karoku V.
November 2015: revival at the National Theatre of the drama "Shinrei Yaguchi no Watashi" (t˘shi ky˘gen in 4 acts); Yonekichi plays the role of Yoshimine's lover Utena [more details|casting].
Comments:
Nakamura Yonekichi V is a promising young actor of the Harimaya guild.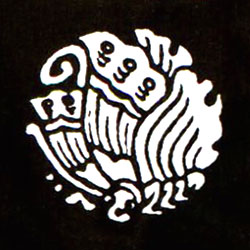 The mon of Nakamura Yonekichi V
The Nakamura Yonekichi line of actors