Play title
Mômoku Monogatari
Authors
Tanizaki Jun'ichirô (original story 1931)
Uno Nobuo (script/direction)
History

"Mômoku Monogatari" was premiered at the Tôkyô Takarazuka Theater in July 1955 [more details]. This drama was part of the first Tôhô Kabuki postwar performance. The Tôkyô Takarazuka Theater was taken over by the American occupation forces in 1945, becoming the Ernie Pyle Theater. It was forbiden to Japanese for 10 years and was finally given back to the Tôhô Company in 1955, which renamed it with its original name.

Structure

"Mômoku Monogatari" is made up of 3 acts and 4 scenes.

Key words
Koto
Mômoku
Oda Nobunaga
Shinkabuki
Taikôki
Tôhô Kabuki
Toyotomi Hideyoshi
Yodogimi
Summary

The play is set in the late 16th century when Japan was in a state of civil war. The main character is the beautiful Oichi-no-Kata, sister of warlord Oda Nobunaga, and it tells the tale of her life after her first husband has died. She is pursued by two men: one the valiant and dignified Shibata Katsuie, (whom she actually loves), and the other, the ruthless and coarse Tôkichirô, (whom she detests). She marries Katsuie, much to Tôkichirô's chagrin, but they are not fated to live happily ever after. Tôkichirô becomes the great general Hideyoshi who, in his bid for unification and mastership of the country lays siege to Katsuie's castle with both Katsuie and Oichi inside it. The castle is set alight, and though Hideyoshi tries to get to Oichi before she dies he is unable to do so, and so must eventually make do with her daughter, Ochacha (later Yodogimi), whom he marries. In her heart, Ochacha hates Hideyoshi as much as her mother did and, towards the end of the play manages to shame him in front of his men as a kind of revenge.

There is also a sub-plot involving the blind masseur, Yaichi, who secretly loves Oichi and begs to be kept by her side at all times. This she allows, and it is eventually Yaichi who saves Ochacha from death in Katsuie's burning castle. However, after this, and perhaps because of a broken heart, Yaichi falls on hard times. The very last scene is one of the most touching of all and features Yaichi on his own by the shores of lake Biwa, singing sadly to himself the song which once he sang together with his beloved Oichi. Mysteriously, the figure of Oichi herself appears in the dim distance, and accompanies him again on her koto.

Courtesy of Paul M. Griffith
A big thanx to Sekidobashi Sakura for her help!

Trivia

Nakamura Kanzaburô XVII established the tradition to play both Tôkichirô, later Hideyoshi, and the blind masseur Yaichi. Since his death his son Nakamura Kankurô V (now Nakamura Kanzaburô XVIII) has inherited the mantle.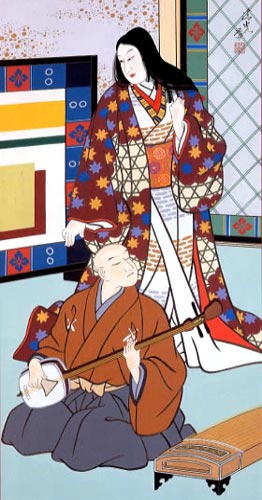 "Mômoku Monogatari"