Stage names:
| | |
| --- | --- |
| Seki Sanjűr˘ V | |
| Seki Hanasuke II [1] | |
Real name: Seki Tominari
Guild: Owariya
Line number: GODAIME (V)
Poetry name: Kazan
Existence: 1879 ~ 25 February 1931
Connection:
Father: Seki Sanjűr˘ IV
Adopted son: Seki Sanjűr˘ VI
Disciples: Seki Hananosuke, Owariya Umenosuke, Seki Matsuz˘
Career:
1879: born in T˘ky˘ in the district of Hong˘ Haruki-ch˘.
May 1885: first stage appearance, at the Ichimuraza, where he received the name of Seki Hanasuke II [1] and played the role of Chiyomatsu in the drama "Onabake Inari Tsuki no Oboroyo".
10 July 1889: his father Seki Sanjűr˘ IV died.
February 1900: Hanasuke played at the Engiza (T˘ky˘) the role of Genjir˘ in the drama "Tengajaya"; his stage partners were Nakamura Shikaku I (Iori), Sawamura Tosshi VII (Motoemon and K˘emon) and Ichikawa Danz˘ VII (T˘ma Sabur˘emon).
March 1903: Hanasuke played at the Misonoza (Nagoya) the role of Iwanaga Saemon in the drama "Dan no Ura Kabuto Gunki"; the roles of Shigetada and Akoya were played by Sawamura Tosshi VII and Sawamura S˘nosuke I.
March 1907: Seki Hanasuke II took the name of Seki Sanjűr˘ V at the Meijiza, playing the role of the ground spider in the drama "Kumo no Ito".
April 1908: Sanjűr˘ played at the Engiza the role of Sait˘ Bett˘ Sanemori in the drama "Sanemori Monogatari".
1909: Sanjűr˘ purchased the Kokkaza, a koshibai venue, and renamed it later on from Kokkaza to H˘raiza. He was both the zamoto and the zagashira of this theater.
June 1911: Sanjűr˘ played at the H˘raiza the role of Danshichi Kurobŕ in the drama "Natsu Matsuri Naniwa Kagami"; the roles of Issun Tokubŕ and Tsurigane Sabu were played by Sawamura Denjir˘ and Nakamura Baijaku I.
25 February 1931: Sanjűr˘ died in T˘ky˘.
Comments:
Seki Sanjűr˘ V was a tachiyaku actor, who spent the best years of his career in T˘ky˘ koshibai, performing in venues like the Asakusaza (which became the H˘raiza when he managed it for a few years in the 1910s), the Engiza, the Azumaza or the Waseda Gekij˘. His forte were jitsugotoshi roles in jidaimono dramas. He was quite popular in his prime and was often compared to Ichikawa Danjűr˘ IX (not only because of a certain physical resemblance). He unfortunately lost his fame in his latter years.
[1] Seki Hanasuke II in Nojima Jusabur˘'s book "Kabuki Jinmei Jiten" but Seki Hanasuke V in the latest edition (2012) of "Kabuki Haiyű Meiseki Benran".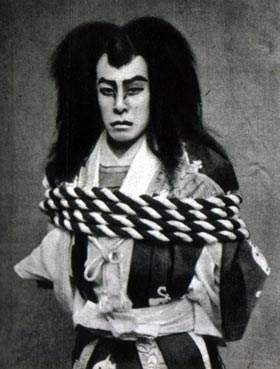 xxx playing the role of xxx in the drama xxx, which was staged in xxx at the xxx (print made by Utagawa Toyokuni III)
Seki Sanjűr˘ V
The Seki Hanasuke line of actors
The Seki Sanjűr˘ line of actors