Play title
Ippon Gatana Dohy˘ Iri
Author
Hasegawa Shin
History

The play "Ippon Gatana Dohy˘ Iri" was premiered in July 1931 at the T˘ky˘ Gekij˘. The roles of Mohŕ, Otsuta and Tatsusabur˘ were played by Onoe Kikugor˘ VI, Nakamura Fukusuke V and Morita Kan'ya XIII.

Structure

The play "Ippon Gatana Dohy˘ Iri" is made up of 2 acts and 5 scenes.

Key words
Sewamono
Sum˘
Matatabimono
Summary

The play is about Mohŕ, a failed sum˘ wrestler who is helped out by a woman called Otsuta, who is actually a prostitute although he is too na´ve to realize this at the time. She gives him money and hair ornaments to pawn for food on his long journey to visit his mother's grave, and moved by her unexpected generosity, he promises to become a top-ranking sum˘ wrestler and then invite her to watch him perform the ring-entering ceremony.

The scene shifts to ten years later, and the audience sees that Mohŕ has failed in his bid to be taken back into his former sum˘ stable, but instead has become quite a powerful, though kindly, gangster. He is looking for Otsuta in order to repay her with interest what she gave him. By chance he stumbles upon her shack where she lives with her small daughter. She has just been reunited with her husband whom she thought had died. Her husband is being pursued by gamblers whom he cheated by using loaded dice. When Mohŕ first arrives, Otsuta does not recognize him, but shortly, when he uses sum˘ thrusts on one of the revengeful gangsters, she realizes who he is. At last, he is able to help them escape and give them some money to take on their journey.

Text courtesy of Jean Wilson (July 1999)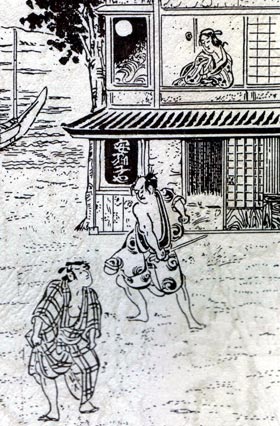 A modern illustration in the old style for "Ippon Gatana Dohy˘ Iri"