Stage names:
| | |
| --- | --- |
| Nakamura Matagor˘ I | |
| Nakamura Sh˘tar˘ | |
Real name: Nakamura Sh˘jir˘
Line number: SHODAI (I)
Poetry name: Shikin
Existence: 1885 ~ 19 March 1920
Connection:
Adoptive father: Nakamura Shikin
Son: Nakamura Matagor˘ II
Career:
1885: born in Ky˘to in the pleasure quarter of Ponto-ch˘.
1890: he is adopted by the onnagata actor Nakamura Shikin, who gives him the name of Nakamura Sh˘tar˘.
January 1898: he goes to T˘ky˘ and takes the name of Nakamura Matagor˘ I at the Shintomiza.
Fall 1909: Matagor˘ joins the Jiyű Gekij˘ troupe.
September 1909: revival at the Meijiza of the drama "Kenuki", a long-forgotten play belonging to the kabuki jűhachiban; Matagor˘ plays the role of Ono no Harukaze [casting].
September 1915: premiere at the Hong˘za of Okamoto Kid˘'s drama "Toribeyama Shinjű"; Matagor˘ plays the role of Sakata Ichinosuke [casting].
1917: Matagor˘ becomes the leading star of the K˘en Gekij˘, a koshibai venue in the district of Asakusa.
19 March 1920: Matagor˘ dies in T˘ky˘.
Comments:
Nakamura Matagor˘ I was a promising actor, who was extremely popular when he was in kodomo shibai. He spent most of his adult career either in koshibai or as a member of the troupe led by Ichikawa Sadanji II. He was a nimaime and a wagotoshi.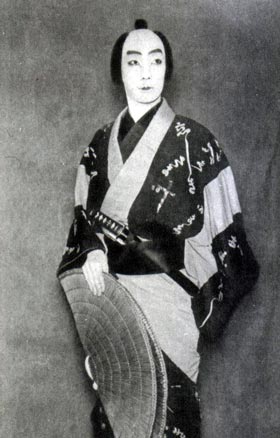 Nakamura Matagor˘ I portraying Fujiya Izaemon in the drama "Kuruwa Bunsh˘"
The Nakamura Matagor˘ line of actors