Stage names:
| | |
| --- | --- |
| Iwai Kumesabur˘ V | |
| Iwai Hisajir˘ IV | |
| Iwai Kinomaru | |
Other name:
| | |
| --- | --- |
| Iwai Hanshir˘ IX | |
Real name: Iwai Hisajir˘
Guild: Yamatoya
Line number: GODAIME (V)
Poetry name: Enji
Existence: 28 June 1882 ~ 13 April 1945
Connections:
Father: Iwai Kumesabur˘ IV
Adopted son: Segawa Kikunoj˘ VI
Granddaughter: Iwai Shijaku V (dance master of the Iwai school)
Great-granddaughter: Iwai Baiga IV (dance master of the Iwai school)
Great-great-granddaughter: Iwai Baiga V (dance master of the Iwai school)
Career:
28 June 1882: born in Asakusa in the district of Hanakawado.
15 July 1886: his father Iwai Kumesabur˘ IV dies.
August 1887: he makes his first stage appearance and receives the name of Iwai Kinomaru.
April 1894: Iwai Kinomaru takes the name of Iwai Hisajir˘ IV at the Meijiza.
October 1906: Iwai Hisajir˘ IV takes the name of Iwai Kumesabur˘ V at the T˘ky˘za.
June 1907: the dance-drama "Ky˘ Ningy˘" is staged for the first time under the title "Meisaku Hidari Kogatana" at the Miyatoza; Kumesabur˘ plays the role of Jingor˘'s wife Otoku [more details].
February 1931: Kumesabur˘ plays at the Kotobukiza the role of the koshimoto Otaka, later the mekake Oran-no-Kata, in the drama "Uekiya"; the role of Otaka's lover Yashichi (in reality Senzaki Yagor˘) is played by his adopted son Segawa Sengyo.
13 April 1945: Kumesabur˘ dies.
Comments:
Iwai Kumesabur˘ V was a good onnagata actor, the last one of the moribund Iwai clan. He spent the best years of his career at the Ichimuraza before moving to the Daikokuza, a koshibai theater in the district of Yotsuya in T˘ky˘. He spent a few years in Kamigata and went back to T˘ky˘, performing only in koshibai theaters up to his death. He was often ill in his latter years. His forte were keisei or princesses roles. He was also good in some nimaime roles, like Shirai Gonpachi in the drama "Suzu-ga-Mori", a role popularized by the Iwai Hanshir˘ line of actors. He contributed to the revival of the Segawa Kikunoj˘ line but could not preserve his own. He was also the family head of a branch of the Iwai school of dance (Buy˘). He posthumously received the name of Iwai Hanshir˘ IX in 1951.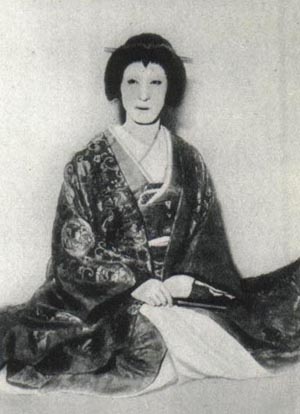 Iwai Kumesabur˘ V playing the role of Misao in the drama "Ehon Taik˘ki"
The Iwai Hisajir˘ line of actors
The Iwai Kumesabur˘ line of actors
The Iwai Hanshir˘ line of actors