Postponement of one Kabuki program in February 2022 due to coronavirus (COVID-19)!!!
| | |
| --- | --- |
| Kabukiza (T˘ky˘) | |
Dates
1 ~ 25 February 2022
Nigatsu ďkabuki
February Grand Kabuki
1st program

Genroku Chűshingura
(Ohama Goten Tsunatoyo-ky˘)

2nd program

Haru no Shirabe Musume Nanakusa

3rd program
Casting

Living National Treasure Kataoka Nizaemon, Living National Treasure Nakamura T˘z˘, Nakamura Shikan, Nakamura Jakuemon, Nakamura Baigyoku, Nakamura Kaishun, Nakamura Tokiz˘, Nakamura Kinnosuke, Kataoka Takatar˘, Onoe Sh˘roku, Ichikawa Sadanji, Band˘ Hikosabur˘, Band˘ Kamez˘, Nakamura Karoku, Nakamura Matagor˘, Nakamura Baishi, Nakamura Hayato, Band˘ Minosuke, Nakamura Yonekichi, Band˘ Shingo, Nakamura Kangyoku, Kawarasaki Gonjűr˘, Nakamura Kamenoj˘, Nakamura Mantar˘, Arashi Kitsusabur˘, Kataoka Matsunosuke, Ichimura Kitsutar˘, Nakamura Kichinoj˘, Kataoka Sennosuke, Nakamura Takanosuke, Onoe Sakon, Onoe Ushinosuke

Comments

The February Grand Kabuki at the Kabukiza. Living National Treasure Kataoka Nizaemon does his isse ichidai performance for the role of the Heike warrior Taira no Tomomori in "Tokaiya"/"Daimotsu no Ura". Due to people infected with coronavirus, cancellation of the third program from the 14th to the 19th of February 2022.

Sources: Earphone Guide Website or Sh˘chiku Kabuki Official Website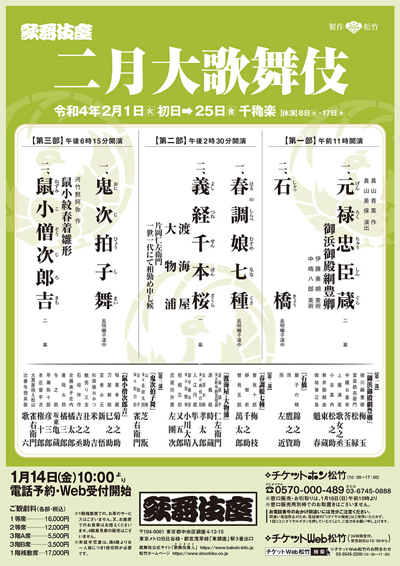 | | |
| --- | --- |
| Hakataza (Fukuoka) | |

Dates
2 ~ 19 February 2022
Band˘ Tamasabur˘ Tokubetsu Buy˘ K˘en
Band˘ Tamasabur˘ Special Dance Performances
Program
Casting

Living National Treasure Band˘ Tamasabur˘, Nakamura Hashinosuke, Nakamura Fukunosuke, Nakamura Utanosuke, Kawai Yukinoj˘

Comments

A special Buy˘ program in Fukuoka at the Hakataza starring Living National Treasure Band˘ Tamasabur˘.

K˘j˘: the close relationship between the actors and the audience is shown by stage announcements, usually lavish ceremonies to commemorate various important events. This month at the Yachiyoza, it is a stage speech done by Living National Treasure Band˘ Tamasabur˘.
Tsuru Kame: the crane (tsuru) is said to live for a thousand years, the tortoise (kame) is said to live for ten thousand years. Together, they are a traditional symbol of longevity. There is no particular plot to this play, but simply shows a visit by the empress to the Moon Pavilion where two courtiers dance as the spirits of the crane and tortoise. Starring Living National Treasure Band˘ Tamasabur˘ as the empress, Nakamura Utanosuke as the spirit of the crane and Nakamura Fukunosuke/Nakamura Hashinosuke as the spirit of the tortoise.
Nihon Furisode Hajime: this dance is a rare example of a story from ancient Japanese mythology in a puppet play by Chikamatsu Monzaemon adapted for the Kabuki theater. As part of an annual ritual, Princess Inada has been chosen to be sacrificed to a fierce serpent that lives in the mountains of Izumo. The serpent arrives in the guise of a beautiful princess, but before it can attack it is attracted to eight jars full of sake. The jars are a trap planted by the god Susanoo, who confronts the beast in its true form as an eight-headed serpent, to save the princess. Starring ACT as the serpent, with Nakamura Hashinosuke/Nakamura Fukunosuke and Kawai Yukinoj˘ in the roles of Susanoo and Princess Inada.

Sources: Earphone Guide Website or Sh˘chiku Kabuki Official Website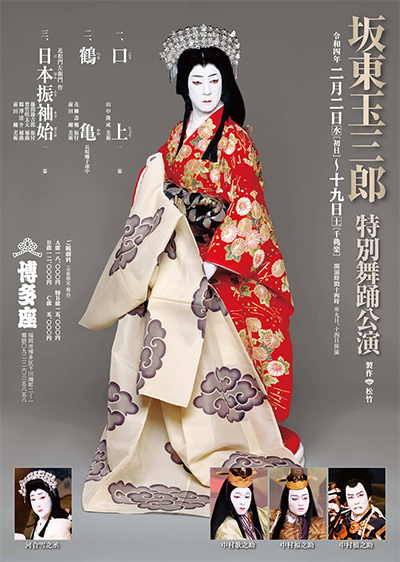 | | |
| --- | --- |
| Shibuya Bunkamura Theatre Cocoon (T˘ky˘) | |

Dates
1 ~ 24 26 February 2022
Program

Tennichib˘

Casting

Nakamura Kankur˘, Nakamura Shichinosuke, Nakamura Shid˘, Nakamura Senjaku, Kataoka Kamez˘, Ichimura Manjir˘, Nakamura Tsurumatsu, Nakamura Toranosuke, Komatsu Kazushige, Sasano Takashi

Comments

18th edition of the original Cocoon Kabuki performance, which recreates the atmosphere of the Edo koshibai and brings the actors closer to the audience. The play "Tennichib˘" was written by Kud˘ Kankur˘, based on Kawatake Mokuami's masterpiece "Ten'ichib˘", and is directed by Kushida Kazuyoshi. It was staged for the first time in the 2012 Cocoon Kabuki. Cancellation of the Cocoon Kabuki performances the 25th and the 26th of February 2022 due to the illness of a member of staff.

Tennichib˘: Cocoon Kabuki began in 1994 in the bustling district of Shibuya, enrapturing the audience and continuously evolving since its first presentation. The thirteenth project is based on a work by Kawatake Mokuami (1816~1893) who is known as one of the greatest Kabuki playwright of the Tokugawa Period (1603~1867). Since its premiere 150 years ago, the play is rewritten by the modern popular Japanese scriptwriter Kud˘ Kankur˘ and directed by the original founder of Cocoon Kabuki, Kushida Kazuyoshi. The story is centered on H˘saku, later to be known as Tennichib˘ (Nakamura Kankur˘), who heads towards Kamakura posing as the illegitimate child of the Sh˘gun Yoritomo. During this journey, he encounters a thief, Jirai Tar˘ (Nakamura Shid˘) and his wife Oroku (Nakamura Shichinosuke) and thus the story unfolds his fateful destiny. Full of hopes and dreams and aiming to be conquerors, the young characters battle their way through. This production features core members of the new generation of Kabuki actors: Nakamura Kankur˘ returns to Cocoon Kabuki under his newly inherited stage name, with co-stars Nakamura Shichinosuke and Nakamura Shid˘. A unique collaboration across diverse theatrical genres, this performance will be another epic addition to the repertoire of Kabuki presented at Cocoon Kabuki.

Source: Sh˘chiku Kabuki Official Website website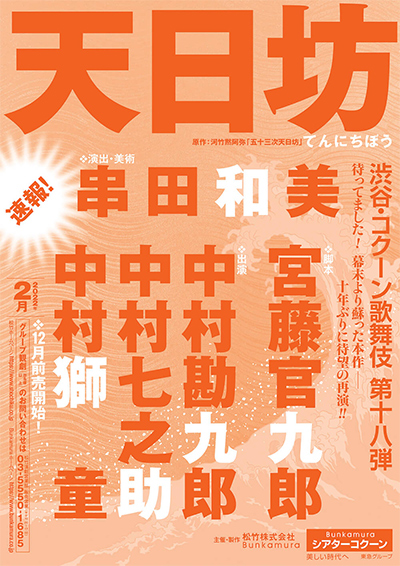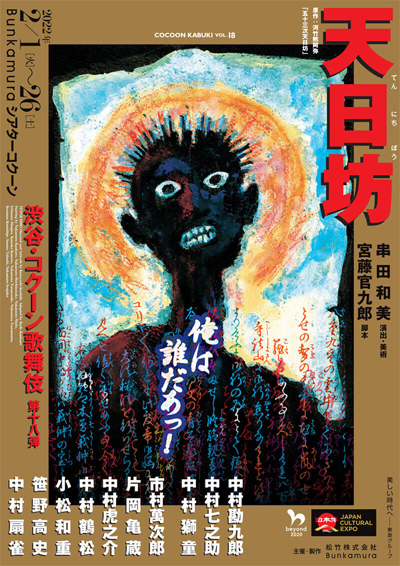 | | |
| --- | --- |
| EX THEATER (T˘ky˘) | |
| | |
| --- | --- |
| ďtsuka Museum of Art (Naruto) | |
Dates
??? ~ ??? February 2022

[POSTPONED]


Sistine Kabuki
Program

???

Casting

???

Comments

The 11th edition of the Sistine Kabuki, a Kabuki program within the Sistine Hall of the ďtsuka Museum of Art, which is located in the city of Naruto (Tokushima prefecture), has been postponed due to the COVID-19 crisis.