Stage names:
Kamimura Kichiya VI
Kataoka Senjir˘
Real name: Nakahigashi Tatsuya
Guild: Miyoshiya
Line number: ROKUDAIME (VI)
Birthday: 27 April 1955
Connections:
Master: Kataoka Gat˘ V
Disciples: Kamimura Kichitar˘, Kamimura Jun'ya, Kamimura Kissh˘
Career:
August 1973: he becomes disciple of the actor Kataoka Gat˘ V.
October 1973: he takes the name of Kataoka Senjir˘ at the ďsaka Shinkabukiza, playing in the drama "Shingo Jűban Sh˘bu".
November 1987: Senjir˘ becomes nadai and plays at the Kabukiza in the classic "Meiboku Sendai Hagi".
November 1993: Kataoka Senjir˘ takes the prestigious name of Kamimura Kichiya VI at the Minamiza.
March 2007: tour in Paris (France); Kichiya plays at the Palais Garnier the role of Tagoto in the dance-drama "Momijigari", which celebrates the Ichikawa clan [more details].
Comments:
Kamimura Kichiya VI is a talented actor trained in the great tradition of the Kamigata Kabuki, but unfortunalety he doesn't perform often in T˘ky˘.
It is said that his passion for Kabuki started when he was student and worked as a Kabuki performance photographer.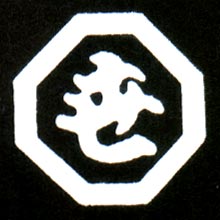 The mon of Kamimura Kichiya VI
The Uemura (Kamimura) Kichiya line of actors