| | |
| --- | --- |
| Shinbashi Enbuj˘ (T˘ky˘) | |
Dates
1 ~ 25 November 2012 (Kichirei Kaomise ďkabuki)
Annual Festive Face-Showing Grand Kabuki
MatinÚe

Izutsuya

Evening

Ichi-no-Tani Futaba Gunki (Kumagai Jin'ya)

Casting

Kataoka Nizaemon, Onoe Kikugor˘, Nakamura Tokiz˘, Nakamura Baigyoku, Nakamura Kanjaku, Nakamura Senjaku, Onoe Kikunosuke, Nakamura Kaishun, Kataoka Hidetar˘, Ichikawa Sadanji, Ichikawa Danz˘, Band˘ Hikosabur˘, Nakamura T˘z˘, Band˘ Takesabur˘, Onoe Sh˘roku, Kawarasaki Gonjűr˘, Band˘ Shűch˘, Ichimura Kakitsu, Sawamura Yoshijir˘, ďtani Keiz˘, Nakamura Matsue, Band˘ Kamesabur˘, Band˘ Kametoshi, Onoe Matsuya, Onoe Ukon, Nakamura Baishi, Nakamura Mantar˘, Fujima Taiga

Comments

Sources: Earphone Guide Website or Sh˘chiku Kabuki Official Website
| | |
| --- | --- |
| Meijiza (T˘ky˘) | |
Dates
3 ~ 27 November 2012 (Jűichigatsu Hanagata Kabuki)
November Young Actors Kabuki
MatinÚe

Keisei Hangonk˘

Takashima Yakata / Takeyabu
Tosa Sh˘gen Kankyo (Domo Mata)

Evening
Casting

Ichikawa Ennosuke, Ichikawa Monnosuke, Ichikawa Danshir˘, Ichikawa Ukon, Ichikawa Emiya, Ichikawa Shun'en, Ichikawa En'ya, Ichikawa Juen, Nakamura Kikaku, Ichikawa Omez˘, Ichimura Manjir˘, Nakamura Yonekichi

Comments

The Omodakaya guild is back at the Meijiza!

Source: Earphone Guide website, except "Takashima Yakata", "Takeyabu" and "Kumo no Ito"
| | |
| --- | --- |
| National Theatre (T˘ky˘) | |
Dates
3 ~ 26 November 2012
Program

Casting

Matsumoto K˘shir˘, Nakamura Fukusuke, Nakamura Kinnosuke, Ichikawa Komaz˘, Kataoka Ichiz˘, Band˘ Yajűr˘, ďtani Tomoemon, Ichikawa Unosuke, Nakamura Utae, Matsumoto Kingo, Sawamura S˘nosuke, ďtani Hirotar˘, ďtani Hiromatsu, Band˘ Shingo, Nakamura Hayato

Comments

Revival at the National Theatre of 6 scenes from one of Tsuruya Nanboku IV's longest and most famous dramas:

Ukiyozuka Hiyoku no Inazuma:
(Nagoya Sanza and Fuwa Banzaemon: A Clash of Love and Pride in the Pleasure Quarters)
Originally based on a comic book which wittily showed the daily life of famous historical characters fallen on hard times, the full length play dramatized the stories of the handsome young samurai Nagoya Sanza and Shirai Gonpachi, creating the classical versions of these old characters that have become standard today. This production focuses on the story of Shirai Gonpachi (Ichikawa Komaz˘), a masterless samurai forced to kill a man and who then escapes to Edo. It also features the story of Nagoya Sanza (Nakamura Kinnosuke), a flashy hero of the late 16th century who the model of masculine beauty in the earliest days of Kabuki. The play also shows his lover Iwahashi (Nakamura Fukusuke), a lady-in-waiting in a samurai household who becomes a courtesan to be with her love and the darkly attractive Fuwa Banzaemon (Matsumoto K˘shir˘) who is Sanzaĺs enemy because he killed Sanzaĺs father. The play shows the rivalries and fights within the samurai household that result in all these characters being thrown into the nightlife of Edoĺs pleasure quarters, then with exaggeration and grotesque humor shows Nagoya Sanzaĺs life as a masterless samurai. Finally, with swaggering movements and stately spectacle, shows the confrontation of the two men in the middle of the Yoshiwara pleasure quarters with the cherry trees in full bloom. Matsumoto K˘shir˘ also plays the role of Banzuiin Ch˘bŕ, an otokodate who is the rescuer of Shirai Gonpachi.

Source: Earphone Guide website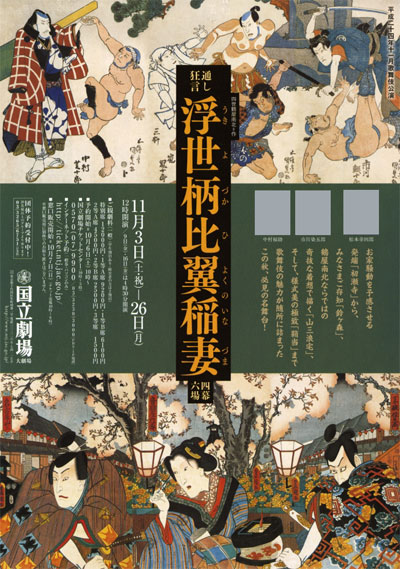 | | |
| --- | --- |
| Kanamaruza (Konpira) | |
Dates
1 ~ 11 November 2012
Band˘ Tamasabur˘ Special Performances
Program

Yuki

Kane no Misaki

Ibuki

Casting
Comments

Band˘ Tamasabur˘ will star in two Buy˘ dances, "Yuki" and "Kane no Misaki". The 3rd item in the program is a special creation, which features both the Kabuki star and the professional taiko drumming troupe Kod˘. The creation is based on their seventh albums, which is entitled "Ibuki".
Sh˘chiku ďkabuki Tour
Dates
1 ~ 25 November 2012 (Sh˘chiku ďkabuki)
Sh˘chiku Grand Kabuki
Program

Gosho Zakura Horikawa no Youchi (Benkei J˘shi)

Casting

Nakamura Hashinosuke, Kataoka Takatar˘, Kataoka Kamez˘, Nakamura Kotar˘

Comments

A special Autumn tour sponsored by the Sh˘chiku!

Benkei J˘shi:
(Benkei the Emissary)
Benkei (Nakamura Hashinosuke), the warrior-priest who served Yoshitsune, is the subject of many plays and legends. He is said to have slept with a woman only once and also to never have cried. In this play, he is forced to be the emissary to tell Yoshitsune's wife, Ky˘-no-Kimi (Nakamura Kotar˘), that she must die, since the fact that her father was a member of the vanquished enemy clan is throwing a suspicion on the loyalty of Yoshitsune. The others try to find someone to die in Ky˘-no-Kimi's place and ask Shinobu (Nakamura Kotar˘), a serving woman. But her mother, Owasa (Kataoka Takatar˘), a seamstress in the mansion absolutely refuses until Shinobu meets her father. Benkei says that he is the father and the tragedy reaches a climax as he recalls his one tryst and weeps as having to kill his daughter.
Tenaraiko: a girl dawdles on her way home from school, plays with the butterflies in the field and dreams of love. Starring Nakamura Kotar˘.

Source: Earphone Guide website
| | |
| --- | --- |
| Eirakukan (Toyooka) | |
| | |
| --- | --- |
| ďtsuka Museum of Art (Naruto) | |
| | |
| --- | --- |
| Dates | 13 ~ 15 November 2012 (Sistine Kabuki) |
| Program | Shuten D˘ji |
| Casting | Kataoka Ainosuke, Kamimura Kichiya, Band˘ Shinsha, Nakamura Kazutar˘, Nakamura Tanenosuke, Kamimura Kichitar˘ |
| Comments | 4th edition of the Sistine Kabuki, a Kabuki program within the Sistine Hall of the ďtsuka Museum of Art, which is located in the city of Naruto (Tokushima prefecture). Inside this museum, there are more than 1,000 replicas of priceless masterpieces of Western art, from ancient murals to modern paintings, which are reproduced in ceramic to their original size. The Sistine Hall is of course a "reproduction" of the Vatican Sistine Chapel. The drama, a newly-created Kabuki drama, is based on the legend of Shuten D˘ji. |