Stage names:
| | |
| --- | --- |
| Nakamura Hayato | |
Real name: Ogawa Hayato
Guild: Yorozuya
Birthday: 30 November 1993
Connections:
Great-great-great-grandfather: Nakamura Karoku I
Great-great-grandfather: Nakamura Karoku III
Great-grandfather: Nakamura Tokiz˘ III
Grandfather: Nakamura Tokiz˘ IV
Father: Nakamura Kinnosuke II
Uncle: Nakamura Tokiz˘ V
Career:
February 2002: debut on stage (hatsubutai) at the Kabukiza, where he receives the name of Nakamura Hayato and plays the role of Matsu˘maru's son Kotar˘ in the drama "Terakoya".
June 2010: Hayato plays at the Minamiza the role of Yoshimine Munesada in the dance-drama "Seki no To"; his stage partners in the roles of Sekibŕ (in reality ďtomo no Kuronushi) and Ono no Komachi/the courtesan Sumizome (in reality the spirit of Komachi's cherry tree) are Nakamura Shid˘ and Band˘ Tamasabur˘.
November 2011: 4th Kabuki program with Kataoka Ainosuke as zagashira at the Eirakukan, a renovated traditional theater built in the city of Toyooka (prefecture of Hy˘go) [more details].
Comments:
Nakamura Hayato is a young and promising actor of the Yorozuya guild.
Official website: hayato-nakamura.com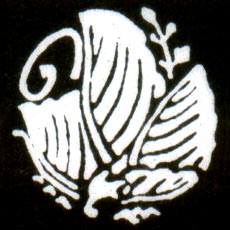 The mon of Nakamura Hayato