Stage names:
| | |
| --- | --- |
| Kawarazaki Gonjűr˘ IV | |
| Band˘ Sh˘nosuke | |
Real name: Band˘ Masakuni
Guilds:
Yamazakiya (Kawarazaki Gonjűr˘ years)
Otowaya (Band˘ Sh˘nosuke years)
Line number: YODAIME (IV)
Birthday: 6 February 1954
Connections:
Great-great-great-grandfathers: Onoe Kikugor˘ III, Ichimura Uzaemon XI
Great-great-grandfather: Ichimura Takenoj˘ V
Great-grandfather: Onoe Kikugor˘ V
Grandfather: Band˘ Hikosabur˘ VI
Father: Ichimura Uzaemon XVII
Brothers: Band˘ Hikosabur˘ VIII, Ichimura Manjir˘ II
Career:
July 1960: he makes his first appearance on stage at the Kabukiza, receiving the name of Band˘ Sh˘nosuke and playing the role of Ishigami in the dance-drama "Tsuchi Gumo".
February 1989: he becomes nadai and plays at the Kabukiza the roles of Hanaregoma Ch˘kichi and Bunji in the dramas "Sum˘ba" and "Megumi no Kenka", which are performed in a special show commemorating the fortieth birthday of the Onoe Kikugor˘ Gekidan troupe.
January 2002: the National Theatre produces the revival of Kawatake Shinshichi II's drama "Koharunagi Okitsu Shiranami", which has not been played in its full length since 11th lunar month of 1864; Sh˘nosuke plays the role of the yakko Yumihei [casting].
May 2003: Band˘ Sh˘nosuke takes the name of Kawarazaki Gonjűr˘ IV at the Kabukiza, playing the roles of Mizuno Jűr˘zaemon, Kashima Nyűd˘ Shinsai and a bonze in the dramas "Kiwametsuki Banzuiin Ch˘bei", "Shibaraku" and "Kappore".
March 2007: tour in Paris (France); Gonjűr˘ plays at the Palais Garnier the roles of Kataoka Hachir˘ and a retainer of Koremochi in the dance-dramas "Kanjinch˘" and "Momijigari", which celebrate the Ichikawa clan [more details].
January 2008: revival at the National Theatre of Sakurada Jisuke I's kaomise drama "Komachi-Mura Shibai no Sh˘gatsu"; Gonjűr˘ plays the role of Fujiwara no Yoshifusa [more details].
March 2009: Kabuki adaptation by the famous stage director Ninagawa Yukio of Shakespeareĺs "Twelfth Night", which is titled "Ninagawa Jűniya", from the 24th to the 28th of March 2009 in London (UK) at the Barbican Theater; Gonjűr˘ plays the role of Amato Nyobei (Antonio) [more details]. The same play is staged with the same casting in June 2009 at the Shimbashi Embuj˘ and in July 2009 at the Sh˘chikuza.
Comments:
Kawarazaki Gonjűr˘ IV is a talented supporting actor who appeared a lot in TV dramas at the beginning of his career. He definitively went back to the Kabuki world in the middle of the eighties.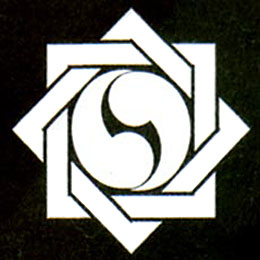 The mon of Kawarazaki Gonjűr˘ IV
The Kawarazaki Gonjűr˘ line of actors