Stage names:
Nakamura Tsuruz˘ II
Nakamura Ganpachi
Anegawa Kikuz˘
Guilds: Maizuruya, Nabeya
Line number: NIDAIME (II)
Poetry name: Sank˘
Existence: 1831 ~ 11 April 1890
Connection:
Masters: Nakamura Nakaz˘ III, Anegawa Nakaz˘
Career:
1831: born in Edo in the district of Moto-Yoshiwara. He starts his career in ďsaka as a disciple of Anegawa Nakaz˘, who gives him the name of Anegawa Kikuz˘.
1856: he goes back to Edo and becomes a disciple of the actor Nakamura Tsuruz˘ I, who gives him the name of Nakamura Ganpachi.
9th lunar month of 1865: his master takes the name of Nakamura Nakaz˘ III at the Nakamuraza.
2nd lunar month of 1867: Nakamura Ganpachi takes the name of Nakamura Tsuruz˘ II at the Moritaza, playing in the drama "Atarikuji Manzei Soga".
October 1878: premiere at the Shintomiza of Kawatake Shinshichi II's drama "Jitsugetsusei Ky˘wa Seidan"; Tsuruz˘ plays the roles of the travelling actor Miyagawa Ushiz˘, the hinin Shichibŕ and the hikite jaya k˘shitsu Okise [casting].
February 1885: Tsuruz˘ takes part in the opening ceremony of the Chitoseza [info].
24 December 1886: his master Nakamura Nakaz˘ III dies.
March 1890: Tsuruz˘ appears on stage for the last time, playing at the Kabukiza in the drama "S˘ma Heishi Nidai Monogatari".
11th of April 1890: Tsuruz˘ dies in T˘ky˘.
Comments:
Nakamura Tsuruz˘ II was a Meiji era supporting tachiyaku actor.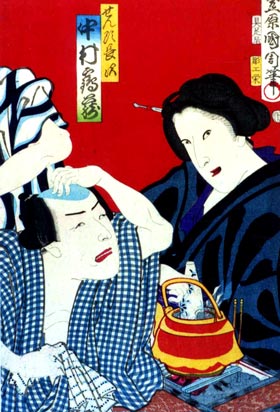 The actors Nakamura Tsuruz˘ II (left/bottom) and Iwai Hanshir˘ VIII (right) playing the roles of Ch˘ji and Oryű in the drama "Ura Omote Yanagi no Uchiwae", which was staged in August 1875 at the Shinboriza (print made by Toyohara Kunichika)
The Nakamura Tsuruz˘ line of actors