Postponement of one Kabuki program in February 2023 due to coronavirus (COVID-19)!!!
| | |
| --- | --- |
| Kabukiza (T˘ky˘) | |
Dates
2 ~ 25 February 2023
Nigatsu ďkabuki
February Grand Kabuki
1st program

Sannin Kichisa Tomoe no Shiranami
A t˘shi ky˘gen production in 3 acts (5 scenes)

2nd program

Onna Kurumabiki

3rd program

Reigen Kameyama Hoko
(Kameyama no Adauchi)

Casting

Living National Treasure Kataoka Nizaemon, Living National Treasure Nakamura T˘z˘, Nakamura Jakuemon, Nakamura Shikan, Nakamura Kaishun, Nakamura Ganjir˘, Nakamura Senjaku, Kataoka Ainosuke, Nakamura Shichinosuke, Kataoka Takatar˘, Onoe Sh˘roku, Nakamura Matagor˘, Band˘ Minosuke, Nakamura Kazutar˘, Nakamura Takanosuke, Kataoka Ichiz˘, Kamimura Kichiya, Band˘ Kamez˘, Nakamura Matsue, Nakamura Kash˘, Matsumoto Kingo, Sawamura S˘nosuke, Nakamura Tanenosuke, Kataoka Sennosuke, Kataoka Kamez˘, Nakamura Kichinoj˘, Kataoka Matsunosuke, Arashi Kitsusabur˘, Ichimura Kitsutar˘, Onoe Sakon

Comments

The February Grand Kabuki at the Kabukiza to celebrate the 10th anniversary of the opening of the fifth Kabukiza. "Funa Benkei" is staged to commemorate the 12th anniversary (13th memorial service) of the passing away of Nakamura Tomijűr˘ V.

Sources: Earphone Guide Website or Sh˘chiku Kabuki Official Website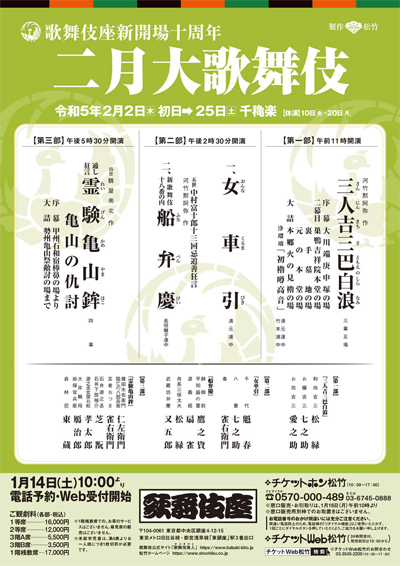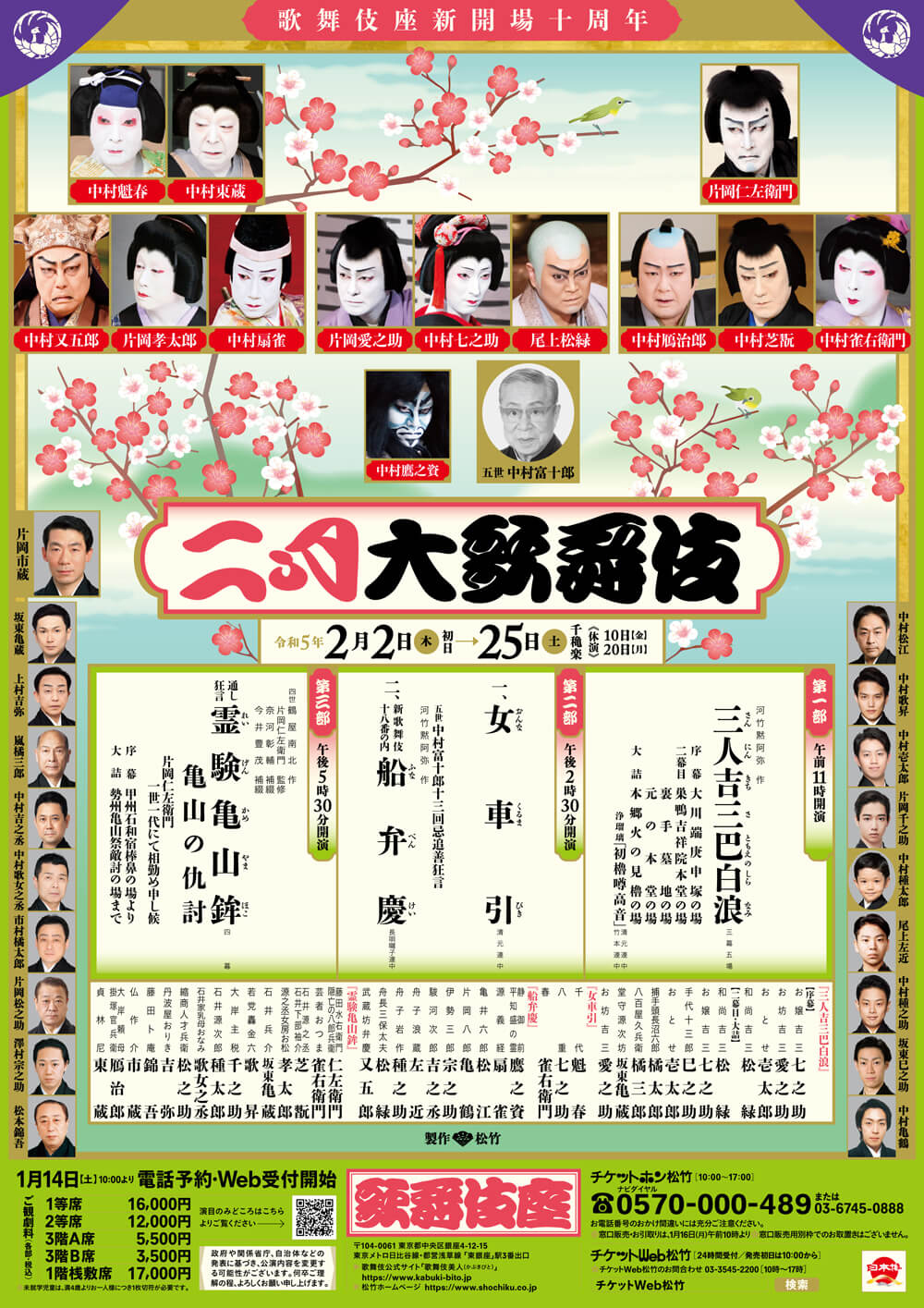 | | |
| --- | --- |
| Hakataza (Fukuoka) | |

Dates
5 ~ 19 February 2023
Nigatsu Hanagata Kabuki
February Young Actors Kabuki
Program

Shin Sangokushi
A new version of this SűpÔ Kabuki drama focusing on Kan U

Casting

Ichikawa Ennosuke, Ichikawa Monnosuke, Ichikawa En'ya, Ichikawa Emiya, Ichikawa Emisabur˘, Ichikawa Omez˘, Ichikawa Seiko, Band˘ Shingo, Nakamura Fukunosuke, Nakamura Baika, Ichikawa Danko, Ishibashi Sh˘ji, Asano Kazuyuki

Comments

A special program in Fukuoka at the Hakataza starring Ichikawa Ennosuke! Ichikawa Seiko II celebrates his shűmei in Fukuoka at the Hakataza.

Shin Sangokushi: This play is performed for the first time at the Kabukiza, with a new production and concept based on the original SűpÔ Kabuki play created by Ichikawa Ennosuke III (now En'˘). Kan U (Ichikawa Ennosuke) has a fateful encounter with Ch˘ Hi (Ichikawa En'ya) and Ryű Bi (Ichikawa Emiya) who has high-minded ambitions. Impressed by Ch˘ Hi's direct gaze as he explains his dream of a world where people live happily, and trusting his ability to see things in his dreams, the three become sworn brothers in a peach orchard in full-bloom. In order to realise Ch˘ Hi's ideal peaceful world, they invite the young skilled military strategist Sh˘katsu K˘mei (Ichikawa Seiko) to be their military advisor. Sh˘katsu K˘mei advises them to found a third country to compete with the two rising powers. The age of rival warlords begins.

Sources: Earphone Guide Website or Sh˘chiku Kabuki Official Website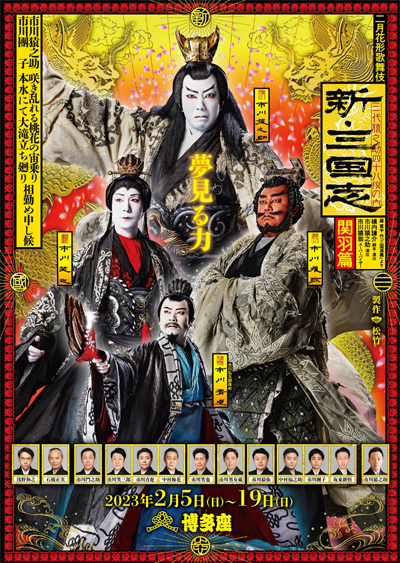 Dates
21 February 2023
Yume Miru Chikara ~ Tokubetsu Buy˘ K˘en
Power to Dream ~ Special Dance Performances
Program

Harugasumi Kabuki Z˘shi (Okuni Sanza)

Casting

Ichikawa Seiko, Band˘ Shingo, Nakamura Fukunosuke, Ichikawa Danko, Ichikawa Utaki

Comments

A special Buy˘ program in Fukuoka at the Hakataza.

Okuni Sanza:
(A Kabuki Scroll)
Kabuki is said to have begun in the early 17th century with the colorful dances of the shrine maiden Okuni and the short sketches she performed with her lover, the gallant samurai Nagoya Sanza. This modern dance recreates the romantic atmosphere of the earliest days of Kabuki. Starring Band˘ Shingo and Nakamura Fukunosuke in the roles of Okuni and Nagoya Sanza.
Akutar˘: this dance is based on a comic Ky˘gen play and was written for Ichikawa En'˘ and was one of his specialities. This dance shows a wild drunkard named Akutar˘ (Ichikawa Seiko). He appears with a bushy beard and long halberd and waves it around wildly. But his uncle (Nakamura Fukunosuke) has a plan to cure him of drinking.

Sources: Earphone Guide Website or Sh˘chiku Kabuki Official Website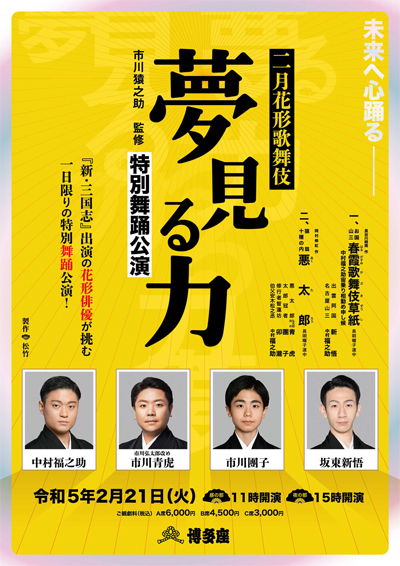 Zenshinza Tour
Dates
26 January ~ 5 March 2023
Program
Casting

Fujikawa Yanosuke, Yamazaki Tatsusabur˘, Nakajima K˘tar˘, Tamaura Yűnosuke, Hayase Einoj˘, Matsunami Kihachir˘, Arashi Ichitar˘, Watarai Motoyuki, Takei Shigeru, Ishijima Ryűsei

Comments

A long tour for the Zenshinza troupe:

B˘ Shibari:
(Tied to a Pole)
A dance play based on a classical Ky˘gen farce. A master (Watarai Motoyuki) is irritated that his two servants always drink his wine while he is out. He plots with his servant Tar˘kaja (Tamaura Yűnosuke) to trick the other servant Jir˘kaja (Nakajima K˘tar˘) into demonstrating his skill at stick fighting, tying him to the stick. The master then ties up Tar˘kaja as well. But he is outsmarted when the two still manage to drink his wine while tied up. Their happy singing and dancing while tied up is a dazzling display of virtuoso dancing and star two of the finest young dancers in Kabuki.
Bunshichi Mottoi: Ch˘bŕ spends his days and nights gambling, but is finally made aware of his family's problems when his daughter takes a job in the pleasure quarters. Having received the money for her contract, he shows his good side to save a young man on the edge of suicide after losing a large sum of money, but nobody believes Ch˘bŕ, thinking that he has gambled the money away. The performance stars Fujikawa Yanosuke, Hayase Einoj˘ and Ishijima Ryűsei in the roles of Ch˘bŕ, Ch˘bŕ's wife Okane and Bunshichi.

Sources: Sh˘chiku Kabuki Official Website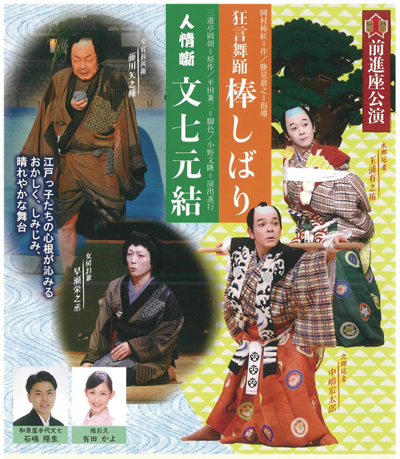 | | |
| --- | --- |
| ďtsuka Museum of Art (Naruto) | |
Dates
??? ~ ??? February 2023

[POSTPONED]


Sistine Kabuki
Program

???

Casting

???

Comments

The 11th edition of the Sistine Kabuki, a Kabuki program within the Sistine Hall of the ďtsuka Museum of Art, which is located in the city of Naruto (Tokushima prefecture), has been postponed due to the COVID-19 crisis.