| | |
| --- | --- |
| Kabukiza (T˘ky˘) | |
Dates
2 ~ 28 March 2010 (Onagori Sangatsu ďkabuki)
Kabukiza Sayonara K˘en
MatinÚe

Sugawara Denju Tenarai Kagami (Kamo Zutsumi)

Afternoon

Sugawara Denju Tenarai Kagami (Hipp˘ Denju)

Benten Musume Meo no Shiranami

Evening

Sugawara Denju Tenarai Kagami (D˘my˘ji)

Casting

Band˘ Tamasabur˘, Kataoka Nizaemon, Nakamura Kichiemon, Onoe Kikugor˘, Matsumoto K˘shir˘, Nakamura Tomijűr˘, Nakamura Tokiz˘, Nakamura Baigyoku, Nakamura Kaishun, Nakamura Shibajaku, Kataoka Gat˘, Kataoka Hidetar˘, Ichikawa Sadanji, Onoe Kikunosuke, Kataoka Takatar˘, Onoe Sh˘roku, Nakamura T˘z˘, Band˘ Yajűr˘, Nakamura Karoku, Nakamura Takanosuke

Comments

15th of the 16 Kabukiza Sayonara K˘en, the Kabukiza Farewell Performances, which will be held up to April 2010. This month program features three sections of "Sugawara Denju Tenarai Kagami" ("Sugawara and the Secrets of Calligraphy"). This is a very long play about Sugawara no Michizane (known in this play as Kan Sh˘j˘), a high-ranking imperial court minister who was a brilliant calligrapher and scholar. Political rivalries forced him to be exiled to distant Kyűshű, where he died. But after Michizaneĺs death, he became revered as the god of learning.

Source: Earphone Guide website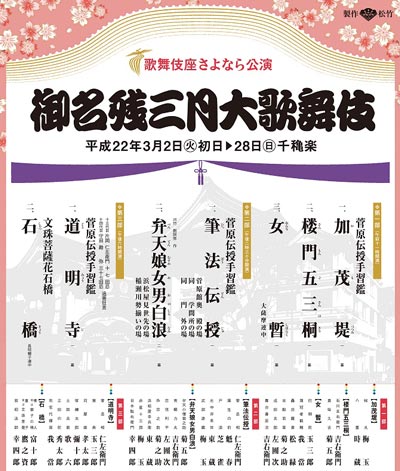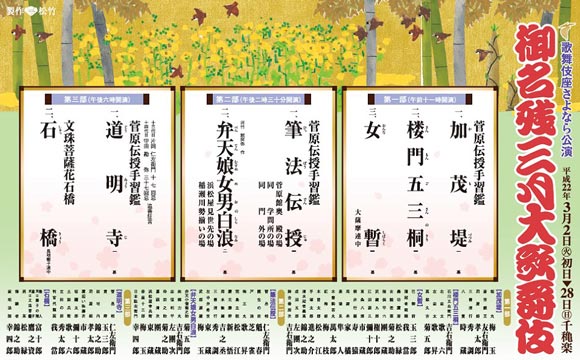 | | |
| --- | --- |
| National Theatre (T˘ky˘) | |
Dates
5 ~ 27 March 2010 (Sangatsu Hanagata Wakashu Kabuki)
Program

Kinmon Gosan no Kiri
t˘shi ky˘gen production including the famous "Sanmon" scene

Casting
Comments

Revival at the National Theatre of Namiki Gohei's Kamigata masterpiece "Kinmon Gosan no Kiri":

Kinmon Gosan no Kiri: this play is famous for the twenty-minute scene where the great thief Ishikawa Goemon sits on the second floor of the gate of Nanzenji Temple in Ky˘to and admires the view, the realm that he wishes to control. But under the gate is Mashiba Hisayoshi (the Kabuki name for Toyotomi Hideyoshi) the ruler of Japan, disguised as a humble Buddhist pilgrim. In that scene, this key confrontation is a crystallization of the stylized beauty of Kabuki. But this scene and this confrontation are just one short part of a very long play full of intrigue and spectacle. Ishikawa Goemon is not just a great thief, he is actually from China and his Chinese father has disguised himself as Japanese and gained a position of great responsibility in the Japanese court. But he is unmasked and his plots revealed and he commits suicide. However, Goemon continues his fatherĺs quest to rule Japan. Starring Nakamura Hashinosuke as Goemon and Nakamura Senjaku as Mashiba Hisayoshi.

Source: Earphone Guide website
| | |
| --- | --- |
| Nissay Theatre (T˘ky˘) | |

Dates
6 ~ 26 March 2010
Program

Somemoy˘ Chűgi no Goshuin
(Hosokawa no Katakiuchi)

Casting

Kataoka Ainosuke, Ichikawa Somegor˘, Kamimura Kichiya, Ichikawa Danjir˘, Ichikawa Shun'en, Ichikawa En'ya

Comments

Hosokawa no Katakiuchi: ďkawa Tomoemon (Ichikawa Somegor˘), a samurai, yearns for the love of Innami Kazuma (Kataoka Ainosuke), a page at the service of the Hosokawa clan. He takes the decision to reject his own rank, to go into service as a page at the Hosakawa's mansion. The two young men not only indulge themselves with shűd˘, but become also righteous brothers, vowing to take revenge against Yokoyama Zusho (Ichikawa En'ya), who was responsible for the downfall of Kazuma's father. Eventually, Tomoemon and Kazuma succeed in striking their enemy but, at the end of the fight, a terrible fire is about to destroy the treasure of the Hosokawa clan, where is kept a precious sealed certificate. Tomoemon jumps into the fire devastating the kura ... will Kazuma follow his lover into the flames? Featuring also Ichikawa Danjir˘ and Kamimura Kichiya in the roles of Hosokawa Ecchű-no-Kami and Hosokawa's okugata.