Stage names:
Onoe Taganoj˘ I
Onoe Gentar˘
Real name: Tanbaya Senkichi
Line number: SHODAI (I)
Existence: ???
Connections:
Brother (?): Onoe Genji
Disciples: Onoe Sodenosuke, Onoe Ukon I (master of Onoe Kikugor˘ I's master Onoe Samon), Onoe Wakamatsu, Onoe Sadanosuke
Career:
??? ~ 1690: born in Ky˘to, in the district of Miyakawa-ch˘. He is the son of Tanbaya Mokuemon. He starts his career at the age of 12 as a wakashugata playing under the name of Onoe Gentar˘.
1690: Onoe Gentar˘ takes the name of Onoe Taganoj˘ I.
1693: Taganoj˘ plays in Ky˘to the role of Kamei no Rokur˘ in the drama "Shinjű Yashima".
11th lunar month of 1693: Taganoj˘ plays the role of Shinnoj˘ in the drama "Hako Denju", which is produced in Ky˘to by Murayama Heiemon III. His stage partners are Mizuki Tatsunosuke I, Ichikawa Danjűr˘ I, Yamatoya Jinbŕ II, Tomizawa Samanosuke, Otowa Katsunoj˘ and Uemura Takenoj˘.
9th lunar month of 1694: Taganoj˘ plays in the same theater the role of Taira no Atsumori in the drama "Kumagai Nagori no Sakazuki".
2nd lunar month of 1697: Taganoj˘ name appears for the last time as a Ky˘to wakashugata.
Comments:
Onoe Taganoj˘ I was the founder of the Onoe clan. He was a wakashugata and a wakaonnagata actor of the Genroku era. His forte was bud˘goto. He was said to be a handsome actor endowed with a beautiful voice.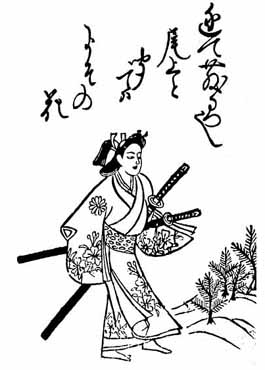 Onoe Taganoj˘ I
The Onoe Taganoj˘ line of actors