Stage names:
Ichikawa Udanji II
Ichikawa Unosuke I
It˘ Unosuke
Real name: Ichikawa Unosuke
Guild: Takashimaya
Line number: NIDAIME (II)
Poetry name: Kash˘
Existence: 30 January 1881 ~ 16 October 1936
Connections:
Grandfather: Ichikawa Kodanji IV
Father: Ichikawa Sai'nyű
Son: Ichikawa Unosuke II
Grandson: Ichikawa Unosuke III
Disciple: Ichikawa Tsurunoj˘
Career:
30 January 1881: born in ďsaka in the district of Kasaya-ch˘.
November 1886: he starts his career as a child actor; his first stage name is It˘ Unosuke.
January 1902: It˘ Unosuke takes the name of Ichikawa Unosuke I (his real name).
January 1909: Ichikawa Udanji I and his son Ichikawa Unosuke I respectively take the names of Ichikawa Sai'nyű and Ichikawa Udanji II at the Kadoza.
September 1914: premiere at the Hong˘za of the drama "Waki Noboru Mizu-ni Koi Taki"; Udanji plays the role of Takimado Shiganosuke, in reality the spirit of a giant carp [casting].
June 1935: Udanji plays at the Naniwaza the roles of ďboshi Yuranosuke, Yoichibŕ and Sadakur˘ in the drama "Kanadehon Chűshingura".
January 1936: Udanji plays at the Nakaza the roles of Sagisaka Bannai, Rokuz˘ and Jűtar˘ in the drama "Kanadehon Chűshingura".
April 1936: Udanji appears on stage for the last time, playing at the Nakaza the role of Sakanaya S˘ji in the drama "Higo no Komageta"; his main stage partners are Band˘ Jusabur˘ III and Nakamura Kaisha.
Fall 1936: Udanji falls ill.
16 October 1936: Udanji dies.
Comments:
Ichikawa Udanji II was a Kamigata actor, who followed in the footsteps of his father, excelling in hayagawari and keren, like the koi tsukami scene, the chűnori in a wicker basket for the robber Ishikawa Goemon, or the stage tricks of "Yotsuya Kaidan", "H˘kaib˘" or "Kohata Koheiji". He was also a talented dancer, especially in spectacular dances like "Ayatsuri Sanbas˘".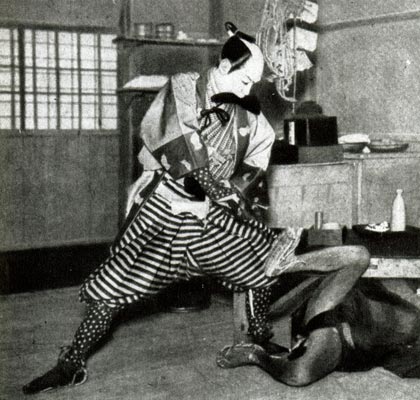 Ichikawa Udanji II
Print made by Utagawa Yoshiiku in 1893
The Ichikawa Udanji line of actors