Stage names:
| | |
| --- | --- |
| Sawamura Tanosuke III | |
| Sawamura Yoshijir˘ I | |
Guild: Kinokuniya
Line number: SANDAIME (III)
Poetry name: Shozan
Existence: 8th day of the 2nd lunar month of 1845 ~ 7 July 1878
Connections:
Father: Sawamura S˘jűr˘ V
Brother: Suketakaya Takasuke IV
Adopted sons: Sawamura Tanosuke IV, Sawamura Shozan I
Disciples: Sawamura Kotano, Sawamura Chidori
Career:
7th lunar month of 1849: he makes his first appearance on stage, at the Nakamuraza, where he receives the name of Sawamura Yoshijir˘ I and plays the roles of Gihei's son Yoshimatsu and Tonase's daughter Konami in the drama "Kanadehon Chűshingura"; the roles of Amakawaya Gihei and Tonase are played by Ichikawa Kuz˘ II and Sawamura Ch˘jűr˘ V.
9th lunar month of 1851: Yoshijir˘ plays at the Kawarazakiza the role of Sankichi in the drama "Shigenoi Kowakare"; the role of Sankichi's mother Shigenoi is played by Yoshijir˘'s father Sawamura Ch˘jűr˘ V.
11th lunar month of 1853: his father Suketakaya Takasuke III dies.
3rd lunar month of 1854: premiere at the Kawarazakiza of Kawatake Shinshichi II's drama "Miyakodori Nagare no Shiranami"; Yoshijir˘ plays the role of Yoshida Umewakamaru [casting].
1st lunar month of 1859: Sawamura Yoshijir˘ I takes the name of Sawamura Tanosuke III at the Nakamuraza, playing two roles in the drama "Hatsud˘chű Sugoroku Soga".
1st lunar month of 1860: the 1762 puppet drama "Kishi no Himematsu Kutsuwa Kagami" (commonly called "Kishi Hime") is adapted for the first time to Kabuki, in Edo at the Moritaza; it is integrated within the new year sogamono "Momo Chidori Nigiwai Soga" and Tanosuke plays the roles of Yomosaku's musume Osoyo and Princess Yosooi [casting]. He becomes tateonnagata at the Moritaza.
4th lunar month of 1864: premiere at the Moritaza of Kawatake Shinshichi II's drama "Wakaba no Ume Ukina no Yokogushi" (commonly called "Kirare Otomi", in English "Scarface Otomi"); Tanosuke plays the role of Otomi [casting].
1865: Tanosuke falls seriously ill because of a foot wound gone gangrenous; Doctor Hepburn, the surgeon of the Yokohama foreign community, has to remove his two feet in order to save Tanosuke's life. The call of the stage is stronger than anything else and Tanosuke does his best to overcome his handicap.
1872: Tanosuke retires and opens a chaya, named Kinokuniya and located in the heart of Sarauwaka-Ch˘, the theater district.
August 1873: Tanosuke becomes zamoto and tateonnagata at the Satsumaza, a theater located in the district of Ky˘bashi Minami-Shiode.
November 1874: the Satsumaza is renamed Sawamuraza; the classic "Kanadehon Chűshingura" is produced but it is a commercial failure and the theater has to close.
1875 ~ 1876: Tanosuke goes on tour in Kamigata. This tour ends in a financial fiasco.
1878: Tanosuke loses his reason, falls seriously ill and dies in July.
Comments:
"An actor of the first ability was Sawamura Tanosuke, the second son of Sawamura S˘jűr˘, the fifth. In the first year of Meiji, he was playing at the three chief theatres in Saruwaka-ch˘. At the age of 16, he began to act in leading onnagata r˘les, and was a genius in the delineation of women's characters. A tragic fate overtook him, and his loss to the T˘ky˘ stage was very great. Suffering an injury to his feet, gangrene set in. Everything was done to save him, and he was taken to Yokohama, where an American medical missionary was consulted. Both feet, however, were amputated in the third year of Meiji. In spite of this great physical disability, Tanosuke continued to appear on the stage, supported by several black-robed property-men, and so great was his popularity that the people crowded to see him. His wife was unfaithful to him, and was on intimate terms with one of his pupils, and this added to his hopeless condition, filling the remaining days of this unfortunate onnagata star with unhappiness. The young actors who followed afterwards in Tanosuke's specialty were deprived of the stimulus and high standard he had set, and a lack of good onnagata was characteristic of the greater part of the long Meiji era." (ZoŰ Kincaid in "Kabuki, the Popular Stage of Japan")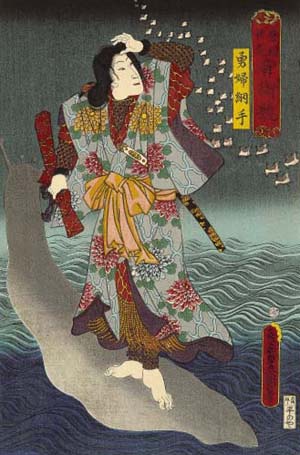 Sawamura Tanosuke III in a print made by Utagawa Toyokuni III (1861)
Print made by Utagawa Toyokuni in 1861
Print made by Meirind˘ Kakushijo in 1862
Print made by Utagawa Kunisada in 1864
Print made by Toyohara Kunichika in 1870
Print made by Toyohara Kunichika in 1873
The Sawamura Yoshijir˘ line of actors
The Sawamura Tanosuke line of actors