| | |
| --- | --- |
| Kabukiza (T˘ky˘) | |
Dates
2 ~ 27 June 2022
Rokugatsu ďkabuki
June Grand Kabuki
1st program

Sugawara Denju Tenarai Kagami (Kurumabiki)

Cho Hakkai

2nd program

Nobuyasu

3rd program

Yowa Nasake Ukina no Yokogushi (Kirare Yosa)

Casting

Living National Treasure Kataoka Nizaemon, Living National Treasure Band˘ Tamasabur˘, Matsumoto Haku˘, Nakamura Baigyoku, Nakamura Kaishun, Nakamura Jakuemon, Nakamura Ganjir˘, Nakamura Senjaku, Nakamura Kinnosuke, Ichikawa Ennosuke, Nakamura Kazutar˘, Onoe Sh˘roku, Band˘ Rakuzen, Nakamura Karoku, Band˘ Minosuke, Ichikawa Komaz˘, Onoe Ukon, Ichikawa Somegor˘

Comments

The 3 programs for the June Grand Kabuki at the Kabukiza.
| | |
| --- | --- |
| National Theatre (T˘ky˘) | |
Dates
2 ~ 21 June 2022
Rokugatsu Kabuki Kansh˘ Ky˘shitsu
June Kabuki Appreciation Class
Program

Kabuki no Mikata

Hikosan Gongen Chikai no Sukedachi

Casting
Comments

Educational program at the National Theatre called Kabuki Kansh˘ Ky˘shitu ("Kabuki appreciation class"). This is a very interesting formula for the beginners because there is lively presentation on stage (Kabuki no Mikata) of Kabuki or some aspects of the art like music, stage tricks or fighting scenes. It is followed by "Sugisaka" and "Keya-mura".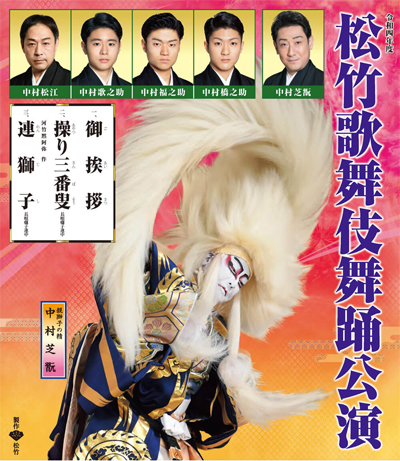 Ibuki Tour
Dates
1 ~ 26 June 2022
Ibuki Tokubetsu K˘en
Ibuki Special Performances
Program
Casting
Comments

A special tour with two popular young actors. Ibuki means 'breath'.

Ame no Gor˘: Soga no Gor˘ is one of the most famous heroes in the Kabuki world, super-strong and quick to fight. However, this dance shows the soft side of this hero as well as he travels nightly to the pleasure quarter to visit his lover. Starring Nakamura Hayato as Gor˘.
Fuji Musume: the spirit of wisteria blossoms dances of love in the form of a beautiful young maiden. One of Kabuki's most famous and colorful dances, it will feature the dancing skills of Nakamura Kotar˘.
Ninin Wankyű: the fabulously wealthy Wan'ya Kyűbŕ (nicknamed Wankyű) is disowned by his family for falling in love with the courtesan Matsuyama. Then, when she dies, he goes mad with grief and wanders through the countryside. This dance shows him as he imagines meeting Matsuyama again and there is a lively dance recalling their happiness together before the vision fades and he is left alone. Starring Nakamura Hayato as Wankyű and Nakamura Kotar˘ as Matsuyama.

Sources: Sh˘chiku Kabuki Official Website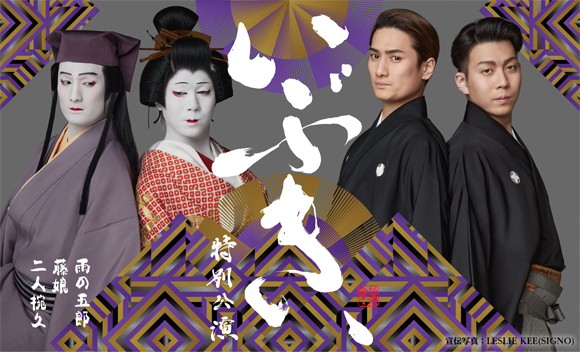 | | |
| --- | --- |
| Asakusa K˘kaid˘ (T˘ky˘) | |

Dates
5 June 2022
Kakumeikai
Program

T˘ku K˘nÔ

Casting

Nakamura Tsurumatsu, Nakamura Kankur˘, Nakamura Shichinosuke, Nakamura Toranosuke, Kamimura Kichitar˘

Comments

1st edition of the Kakumeikai, a gala program which stars Nakamura Tsurumatsu.

Takatsuki: in this relatively modern dance-comedy adapted from the style of classical Ky˘gen farces, the servant Jir˘kaja (Nakamura Tsurumatsu) is ordered by his lord to buy a takatsuki, which is a kind of ceremonial sake cup on a stand. Jir˘kaja does not understand his lord's orders and is persuaded by a fast-talking geta clog salesman (Nakamura Toranosuke) to buy a pair of clogs instead, thinking that this is the stand for which he was sent. After drinking a good amount of sake, he brings his purchase to the lord and responds to the lord's anger with a dance on the clogs, a virtuoso routine inspired by tap dancing, showing off the dancing skills of Nakamura Tsurumatsu.
T˘ku K˘nÔ: Literally 'Talk Corner'. A speech on stage with Nakamura Kankur˘ and Nakamura Shichinosuke.
Kagami Jishi: one of the most important dances for onnagata female role specialists and is an audience favorite. The maidservant Yayoi performs an auspicious lion dance for the Sh˘gun in his opulent palace, but she gradually finds herself under the control of the lion spirit. In the second half of the dance, the lion spirit itself appears and performs its crazed dance among peonies and fluttering butterflies. Starring Nakamura Tsurumatsu as both Yayoi and the spirit of the lion.

Sources: Sh˘chiku Kabuki Official Website