Stage names:
Ichikawa Danshir˘ III
Ichikawa Danko II
Real name: Kinoshi Masanori
Guild: Omodakaya
Line number: SANDAIME (III)
Existence: 5 October 1908 ~ 18 November 1963
Connection:
Grandfather: Ichikawa Danshir˘ II
Father: Ichikawa En'˘ I
Sons: Ichikawa En'˘ II (Ichikawa Ennosuke III), Ichikawa Danshir˘ IV
Grandsons: Ichikawa Ennosuke IV, Ichikawa Chűsha IX
Career:
October 1913: he makes his first stage appearance, at the T˘ky˘za, where he receives the name of Ichikawa Danko II.
September 1919: premiere at the Kabukiza of the Kiyomoto-based dance "Sumidagawa" (a N˘ adapted for Kabuki by Yamazaki Shik˘ with a musical accompaniment made by Kiyomoto Umekichi II); Danko plays the role of the spirit of Umewakamaru [casting].
February 1922: his grandfather Ichikawa Danshir˘ II dies.
Summer 1928: Danko joins the troupe led by Ichikawa Sadanji II, who organizes the first tour of a Kabuki troupe outside Japan. The destination is the USSR and the troupe performs in Moscow and Leningrad [more details].
July 1930: Ichikawa Danko II takes the name of Ichikawa Danshir˘ III at the Kabukiza, playing the role of Kot˘ta in the drama "Kamahige".
April 1935: premiere at the T˘ky˘ Gekij˘ of "Saigo no Daihy˘j˘", the third play of Mayama Seika's cycle "Genroku Chűshingura"; Danshir˘ plays the roles of ďishi Matsunoj˘ and Kataoka Gengoemon [casting].
April 1936: premiere at the T˘ky˘ Gekij˘ of "Ninin Sanbas˘", a 2-dancer version of the Sanbas˘ dance, starring Danshir˘ and his father Ichikawa Ennosuke II.
November 1939: premiere at the T˘ky˘ Gekij˘ of Kimura Tomiko's dance-drama "Kurozuka"; Danshir˘ plays the role of Tar˘go [casting].
October 1955: first Kabuki tour in the Popular Republic of China, in Beijing (2~13 october), Shanghai (17~18 october) and Guangzhou (24~25 october); Danshir˘ plays the role of Togashi in the dance-drama "Kanjinch˘" [casting].
June 1959: Danshir˘ plays at the T˘yoko Hall the role of Matsunaga Daizen in the drama "Gion Sairei Shink˘ki"; the roles of Princess Yuki and Konoshita T˘kichi are played by Sawamura Tossh˘ V and Kawarasaki Gonjűr˘ III.
July 1961: second Kabuki tour in the USSR, in Moscow (3~16 July, Vakhtangov Theatre) and Leningrad (20~31 July, Lensoviet Cultural Palace); Danshir˘ plays the role of Father Lion and Senoo Tar˘ Kaneyasu in the dance "Renjishi" and the drama "Heike Nyogo no Shima".
May 1963: great shűmei at the Kabukiza for the Omodakaya guild; Danshir˘'s father Ichikawa Ennosuke II, his elder son Ichikawa Danko III and his younger son Ichikawa Kamejir˘ I respectively take the names of Ichikawa En'˘ I, Ichikawa Ennosuke III and Ichikawa Danko IV. Danshir˘, who has some health troubles, appears on stage only for the k˘j˘.
June 1963: his father Ichikawa En'˘ I dies.
November 1963: a few month after his father, Danshir˘ dies because of a sarcoma.
Comments:
Ichikawa Danshir˘ III was a tachiyaku actor, who did not reach the levels of fame of his father Ichikawa En'˘ I or his elder son Ichikawa Ennosuke III but was a steady mainstay of the Omodakaya guild. His best roles were Tar˘go ("Kurozuka"), Hayami no T˘ta ("Yoshinoyama") and Iwanaga Saemon ("Akoya").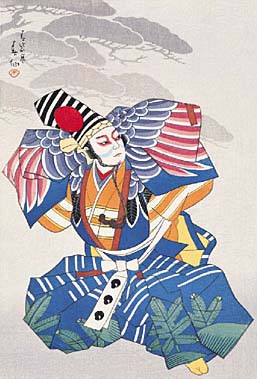 Ichikawa Danshir˘ III in a print made by Natori Shunsen in 1952
The Ichikawa Danko line of actors
The Ichikawa Danshir˘ line of actors