Stage names:
| | |
| --- | --- |
| Ichikawa Monnosuke V | |
| Ichikawa Shinsha I | |
| Matsumoto Shichiz˘ III | |
| Iwai Kumetar˘ | |
| Segawa Michitar˘ | |
Guild: Takinoya
Line number: GODAIME (V)
Poetry names: Fűsha, Shinsha
Existence:1821 ~ 12 September 1878
Connections:
Masters: Ichikawa Ebiz˘ V, Matsumoto K˘shir˘ VI, Iwai Hanshir˘ V, Segawa Kikunoj˘ V
Sons: Ichikawa Fusamaru, Ichikawa Benz˘
Adopted son: Ichikawa Metora I
Career:
1821 ~ 1844: born in Edo. His father managed a restaurant in the district of Higashi-Ry˘goku. He started his career as a disciple of the actor Segawa Kikunoj˘ V, who gave him the name of Segawa Michitar˘. Later on, he joined the Iwai clan, becoming a disciple of Iwai Hanshir˘ V and performing under the name of Iwai Kumetar˘. Following his master in a Kamigata tour, he met the young actor Matsumoto K˘shir˘ VI, who welcomed him as a disciple and gave him the name of Matsumoto Shichiz˘ III.
1st lunar month of 1845: Matsumoto Shichiz˘ III became disciple of Ichikawa Ebiz˘ V and received the name of Ichikawa Shinsha I at the Kawarazakiza, performing in the drama "Sakigake Genji Soga no Tehajime".
Spring 1853: tour in Nagoya and Ise.
1st lunar month of 1860: the 1762 puppet drama "Kishi no Himematsu Kutsuwa Kagami" (commonly called "Kishi Hime") was adapted for the first time to Kabuki, in Edo at the Moritaza; it was integrated within the new year sogamono "Momo Chidori Nigiwai Soga" and Shinsha played the role of Iihara Hy˘e's wife Fujimaki [casting].
2nd lunar month of 1870: Ichikawa Shinsha I took the name of Ichikawa Monnosuke V at the Ichimuraza, performing in the drama "H˘rai Soga Shima Monogatari".
March 1873: premiere at the Murayamaza of Kawatake Shinshichi II's drama "Taiko no Oto Chiyű Sanryaku"; Monnosuke played the role of Fushiya [casting].
August ~ September 1878: he worked with his son Ichikawa Benz˘ for the reopening of the Ichimuraza but he suddenly fell ill and died the 12th of September 1878.
Comments:
Ichikawa Monnosuke V was a talented supporting actor, who played a major role in the transmission of the art and kata of the Bunka/Bunsei era to the Meiji rising stars. He was trained as a onnagata in the two most important Edo onnagata clans (Segawa and Iwai), and had the chance to share many stages in Kamigata with the actor Nakamura Tomijűr˘ II. He was specialized in spouse or fukeoyama roles, in sewamono or jidaimono dramas. In his latter years, he also performed tachiyaku roles. He was highly praised by the star Ichikawa Danjűr˘ IX.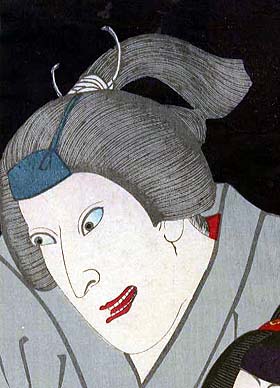 Ichikawa Monnosuke V playing the role of Osetsu in the drama "Ura Omote Yanagi no Uchiwae", which was staged in August 1875 at the Nakamuraza (print made by Toyohara Kunichika)
Print made by Toyohara Kunichika
Print made by Utagawa Yoshitsuya in 1862
Print made by Utagawa Utagawa Toyokuni in 1864
The Matsumoto Shichiz˘ line of actors
The Ichikawa Monnosuke line of actors