3 shows in T˘ky˘ (Kabukiza, National Theatre) and 1 in Kanazawa (Ishikawa Ongakud˘)!
Living National Treasure Onoe Kikugor˘, Living National Treasure Nakamura Kichiemon, Nakamura Tokiz˘, Nakamura Jakuemon, Nakamura Baigyoku, Nakamura Kaishun, Onoe Kikunosuke, Ichikawa Ebiz˘, Nakamura Kinnosuke, Onoe Sh˘roku, Ichikawa Sadanji and Ichikawa Danz˘ perform at the Kabukiza!
The Zenshinza troupe performs at the National Theatre!
| | |
| --- | --- |
| Kabukiza (T˘ky˘) | |
Dates
2 ~ 26 May 2016 (Dankikusai Gogatsu ďkabuki)
Dankikusai May Grand Kabuki
MatinÚe

Nue Taiji

Sugawara Denju Tenarai Kagami (Terakoya)

Sato Moy˘ Azami no Ironui (Izayoi Seishin)

Evening
Casting

Living National Treasure Onoe Kikugor˘, Living National Treasure Nakamura Kichiemon, Nakamura Tokiz˘, Nakamura Jakuemon, Nakamura Baigyoku, Nakamura Kaishun, Onoe Kikunosuke, Ichikawa Ebiz˘, Nakamura Kinnosuke, Onoe Sh˘roku, Ichikawa Sadanji, Ichikawa Danz˘, Nakamura Matagor˘, Nakamura Baishi, Onoe Matsuya, Kataoka Ichiz˘, Kawarasaki Gonjűr˘, Ichimura Kakitsu, Ichikawa Unosuke, Band˘ Shűch˘, Ichikawa Emiya, Band˘ Minosuke, Ichikawa Omez˘, Ichikawa Kudanji, Nakamura Matsue, Nakamura Matsue, Ichimura Kitsutar˘, Nakamura Kamenoj˘, Nakamura Mantar˘, Nakamura Tanenosuke, Ichimura Takematsu, ďtani Hiromatsu, Onoe Ukon, Terashima Kazufumi

Comments

The great yearly Dankiku festival for the Naritaya and Otowaya guilds, which commemorates 2 great stars of the Meiji era: Dan = Ichikawa Danjűr˘ IX and Kiku = Onoe Kikugor˘ V. Onoe Kikunosuke's son Terashima Kazufumi, who is also the grandson of two Living National Treasures, Onoe Kikugor˘ and Nakamura Kichiemon, makes his first stage appearance (omemie).

Sources: Earphone Guide Website or Sh˘chiku Kabuki Official Website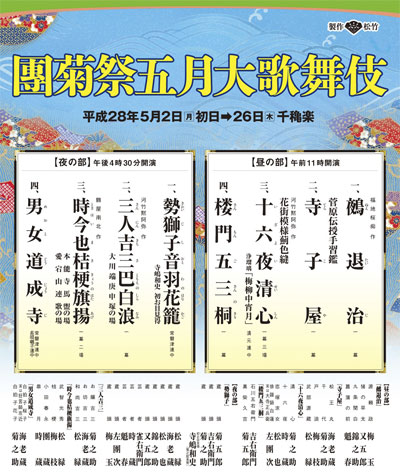 | | |
| --- | --- |
| National Theatre (T˘ky˘) | |
Dates
13 ~ 22 May 2016 (Zenshinza Gogatsu K˘en)
Zenshinza May Performances
Program
Casting

Kawarasaki Kunitar˘, Fujikawa Yanosuke, Arashi Yoshisabur˘, Segawa Kikunoj˘, Tadamura Shin'ya, Yamazaki Tatsusabur˘, Anegawa Shinnosuke, Hayase Einoj˘, Ikushima Kigor˘, Matsunami Kihachir˘, Matsuura Kainosuke, Arashi Ichitar˘

Comments

The usual Zenshinza May program at the National Theatre! The Zenshinza troupe celebrates its 85th anniversary by producing Tsuruya Nanboku IV's masterpiece "T˘kaid˘ Yotsuya Kaidan".

Yotsuya Kaidan: Tamiya Iemon, a villainous masterless samurai (Arashi Yoshisabur˘) is in love with Oiwa (Kawarasaki Kunitar˘) and even kills her father Yotsuya Samon to be united with her, cynically promising to help her to avenge her father's death. But at the same time, the granddaughter of a wealthy doctor falls in love with him and her grandfather tries to ensure the match by sending a horrible disfiguring poison to Oiwa. In the most famous scene of the play, face destroyed, hair falling out, Oiwa carefully dresses and puts on make-up to pay a proper visit to those who have wronged her. Iemon kills Oiwa and his servant Kobotoke Kohei, has their bodies nailed to a door and thrown into the river. Iemon is happily married into the wealthy family, but no sooner does the beautiful young bride arrive than Oiwa's ghost causes Iemon to kill her. The vengeful ghosts do not rest until all of their enemies are dead and, in another famous scene, Oiwa and Kohei appear floating on the river, calling out to Iemon. The concluding scene shows the ghost of Oiwa appearing mysteriously from inside a paper lantern and pulling her enemies into the wall and disappearing magically. Featuring Tadamura Shin'ya, Segawa Kikunoj˘ and Fujikawa Yanosuke in the roles of Oiwa's sister Osode, Sat˘ Yomoshichi and Naosuke Gonbŕ.

Source: Earphone Guide website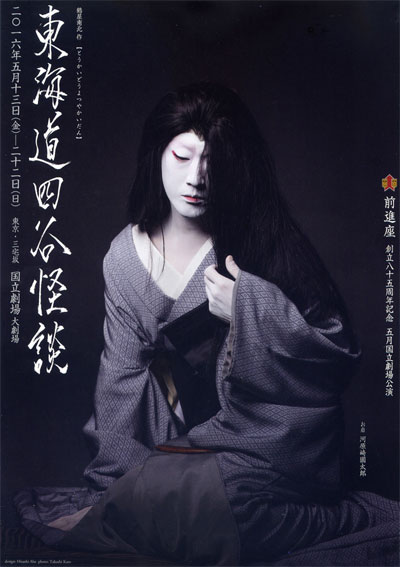 | | |
| --- | --- |
| Ishikawa Ongakud˘ (Kanazawa) | |
Dates
11 May 2016 (Iyo no Ai ~ Sono Yukue)
Different World of Love ~ The whereabouts
Program

Tamatori Ama
(Jiutamai)

Ryűsei
(Kabuki)

Casting
Comments

Ichikawa Ennosuke, Nakamura Kazutar˘ and Nakamura Umemaru perform in the dance-drama "Ryűsei" in this special one-time only program in Kanazawa at the Ishikawa Ongakud˘. The first item in this program is a song performed by a Gidayű ensemble. The second item is a Jiutamai. The third item is a Kabuki dance-drama.

Ryűsei:
(A Falling Star)
In myth, the heavenly shepherd boy and celestial weaver maid only can meet once a year. They no longer are united than a falling star, or ryűsei appears with an urgent report, which actually turns out to be the story of marital discord in the family of the thunder god living in a poor tenement in heaven. The highlight of this dance is this story with the dancer changing instantly from role to role playing the thunder god, his angry wife, his little son and the elderly thunder goddess from next door who tries to break up the fight. Starring Ichikawa Ennosuke as a falling star, Nakamura Kazutar˘ as the heavenly shepherd boy and Nakamura Umemaru as the celestial weaver maid.

Source: Sh˘chiku Kabuki Official Website