| | |
| --- | --- |
| Kabukiza (T˘ky˘) | |
Dates
4 ~ 27 October 2022
Geijutsusai Jűgatsu ďkabuki
National Arts Festival October Grand Kabuki
1st program

Arakawa Jűdayű

2nd program

Gion Koi Zukushi

3rd program

Genji Monogatari (Yűgao no Maki)

Casting

Living National Treasure Nakamura Baigyoku, Nakamura Kaishun, Nakamura Shikan, Nakamura Jakuemon, Matsumoto K˘shir˘, Ichikawa Ennosuke, Kataoka Takatar˘, Ichikawa Sadanji, Onoe Sh˘roku, Nakamura Karoku, Ichikawa Monnosuke, Band˘ Minosuke, Ichikawa Emisabur˘, Ichikawa Emiya, Ichikawa En'ya, Ichikawa Komaz˘, Band˘ Kamez˘, Nakamura Matsue, Ichikawa Seiko, Nakamura Kash˘, Nakamura Tanenosuke, ďtani Hirotar˘, Kataoka Sennosuke, Ichikawa Otora, Nakamura Takanosuke, Nakamura Tamatar˘, Onoe Sakon, Nakamura Kichinoj˘, Nakamura Baika

Comments

The October Grand Kabuki at the Kabukiza.

Sources: Earphone Guide Website or Sh˘chiku Kabuki Official Website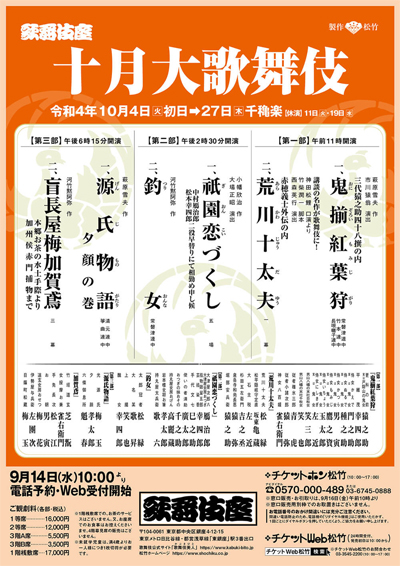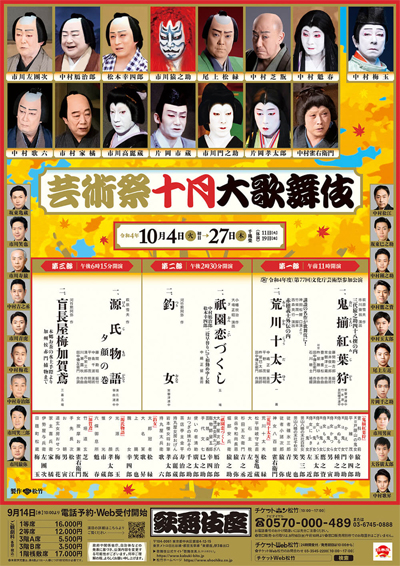 Dates
31 October ~ 1 November 2022
Jűsandaime Ichikawa Danjűr˘ Hakuen Shűmei Hir˘ Kinen ~
Kabukiza Tokubestu K˘en
Ichikawa Danjűr˘ XIII Hakuen Name-Taking Announcement Celebration ~
Kabukiza Special Performances
Program

Kamiuta

Kaoyose Teuchi Shiki

Casting

Ichikawa Danjűr˘, Living National Treasure Kataoka Nizaemon, Living National Treasure Band˘ Tamasabur˘, Kanze Kiyokazu, Kanze Tetsunoj˘

Comments

Ichikawa Ebiz˘ XI takes the name of Ichikawa Danjűr˘ XIII in T˘ky˘ at the Kabukiza in a 2-day special program. The first item is a N˘ dance-drama performed by the N˘ masters Kanze Kiyokazu (the 26th s˘ke of the Kanze School) and Kanze Tetsunoj˘ IX. The second item is a hand-clapping ceremony to celebrate the shűmei of the new Danjűr˘.

Kanjinch˘: probably the most popular Kabuki play today, it includes dance, comedy and the heart-warming pathos of a band of heroes during their last days. Disguised as a band of traveling priests the fugitive general Yoshitsune and his small band of retainers are stopped at a road barrier. They escape only through the quick thinking of the head retainer, a warrior priest named Musashib˘ Benkei, who improvises the text of an elaborate imperial decree. Having escaped danger Benkei and the others describe their days of glory and hardships on the road to escape in a moving dance. This program stars Ichikawa Danjűr˘ in the role of Benkei, with Living National Treasure Band˘ Tamasabur˘ and Living National Treasure Kataoka Nizaemon as Yoshitsune and the barrier keeper Togashi.

Sources: Earphone Guide Website or Sh˘chiku Kabuki Official Website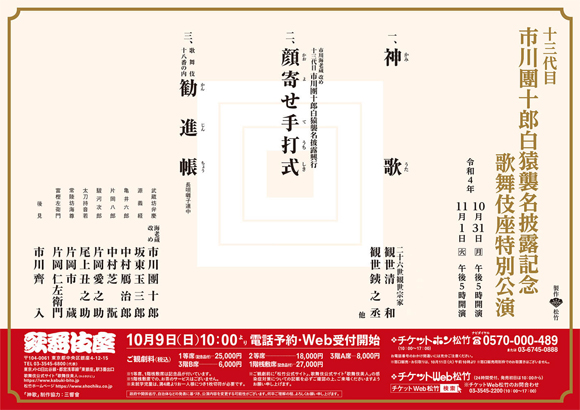 | | |
| --- | --- |
| National Theatre (T˘ky˘) | |
Dates
1 ~ 26 October 2022
Program A

Program B

Program C

Casting

Living National Treasure Onoe Kikugor˘, Onoe Kikunosuke, Nakamura Tokiz˘, Nakamura Kinnosuke, Band˘ Rakuzen, Nakamura Matagor˘, Band˘ Hikosabur˘, Kamimura Kichiya, Nakamura Baishi, Nakamura Yonekichi, Kawarasaki Gonjűr˘, Nakamura Mantar˘, Ichimura Takematsu, Ichimura Hikaru, Onoe Ushinosuke, Ichimura Kitsutar˘

Comments

The October Grand Kabuki at the National Theatre with the t˘shi ky˘gen of the classic "Yoshitsune Senbon Zakura", chopped up into 3 programs, all of them starring Onoe Kikunosuke in the main roles. 3 hours and 20 minutes for Program A. 3 hours and 30 minutes for Program B. 2 hours and 40 minutes for Program C. Although Yoshitsune is the title character, the main characters of the play are actually Tomomori, Gonta and Tadanobu, the heroes of the different sections of the play.

Source: Earphone Guide website
| | |
| --- | --- |
| Misonoza (Nagoya) | |
Dates
1 ~ 23 October 2022
Band˘ Tamasabur˘ Tokubetsu K˘en
Band˘ Tamasabur˘ Special Performances
Program

Casting

Living National Treasure Band˘ Tamasabur˘, Nakamura Hashinosuke, Nakamura Fukunosuke, Nakamura Utanosuke, Kitamura Rokur˘, Kawai Yukinoj˘

Comments

No classic October kaomise programs in Nagoya this year but a special Kabuki program starring Living National Treasure Band˘ Tamasabur˘.

K˘j˘: the close relationship between the actors and the audience is shown by stage announcements, usually lavish ceremonies to commemorate various important events. This month at the Misonoza, it is a stage speech done by Living National Treasure Band˘ Tamasabur˘.
Jusshuk˘: Princess Yaegaki is mourning the death of his fiance Katsuyori, but as she burns incense in his memory, she notices the resemblance between the new gardener and her fiance's portrait. The gardener is in fact Katsuyori, who has entered the household of Yaegaki's father to regain the possession of a stolen family treasure, a famous helmet, with the help of Nureginu, a woman who also mourns for the man that died in the place of the real Katsuyori. Unfortunately, Yaegaki's father has also seen through the disguise and plans to kill Katsuyori. The role of Princess Yaegaki, one of the most important onnagata roles, is played by Living National Treasure Band˘ Tamasabur˘, supported by Nakamura Hashinosuke, Kawai Yukinoj˘ and Kitamura Rokur˘ in the roles of Katsuyori, Nureginu and Nagao Kenshin.
Kitsunebi: magical foxes possess Princess Yaegaki (Living National Treasure Band˘ Tamasabur˘) to help her stealing a precious helmet, the treasure of the Shingen clan, and to allow her to save the life of her beloved Katsuyori.

Sources: Earphone Guide Website or Sh˘chiku Kabuki Official Website
| | |
| --- | --- |
| Sh˘chikuza (ďsaka) | |
Dates
3 ~ 25 October 2022
J HorÔ Kabuki
J-horror Kabuki
Program

Toki o Koe Rinne no Furuido

Casting
Comments

A special program at the Sh˘chikuza starring Kataoka Ainosuke, Nakamura Kazutar˘ and Imai Tsubasa. The newly-created kaidanmono drama, which is entitled "Toki o Koe Rinne no Furuido", is a mix of "Sarayashiki" and the world of Sadako, the ghost in Suzuki K˘ji's J-horror series "Ring".

Toki o Koe Rinne no Furuido:
(Transmigration over the Times through the Old Well)
The brand new kabuki play named J HorÔ Kabuki (J-horror Kabuki) is performed for the first time in Kabuki history at the Sh˘chikuza in ďsaka. Sadako, a revengeful spirit in the "Ring" series and known worldwide, will make her appearance on a Kabuki stage. The story of Sadako ("Ring") and the Kabuki drama "Sarayashiki" go beyond time and space by way of an old well. The story is first set in the latter half of the Muromachi period. The Ashikaga Shogunate no longer functions effectively as the central government and the country is in turmoil. It is divided between the daimyo of two powerful provincial military clans that are now at war: the Hosokawa clan led by Hosokawa Tomoenosuke (Kataoka Ainosuke) and the Yamana clan led by Yamana S˘zen (Ichikawa Omez˘). Taking advantage of this, Asayama Tessan (Kataoka Ainosuke), the chief retainer of the Hosokawa clan, has the ambition to rule over the whole country. He kills the loyal retainer Funase Sanpei (Nakamura Kangyoku, who celebrates his shűmei in ďsaka!) and Sanpeiĺs fiancÚe Okiku (Nakamura Kazutar˘) who stand in his way and throws them into a well, but he himself is also dragged into the well by a mysterious power. 500 years pass, and now, in modern times, young people are dying from mysterious causes near the same old well. What is common to all the victims is that they watched the same old videotape. Informed of this case, the Shint˘ priest Muroto Mitsuru (Imai Tsubasa) begins to investigate, but ů.

Sources: Earphone Guide Website or Sh˘chiku Kabuki Official Website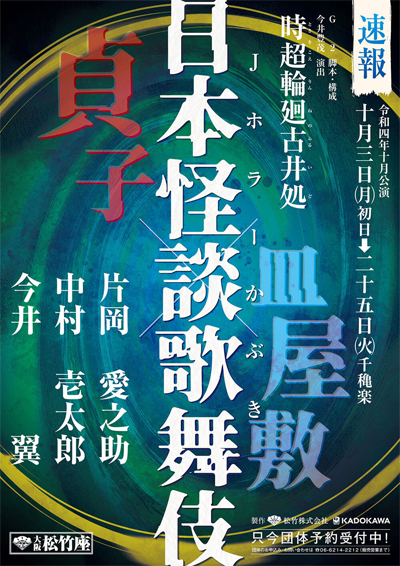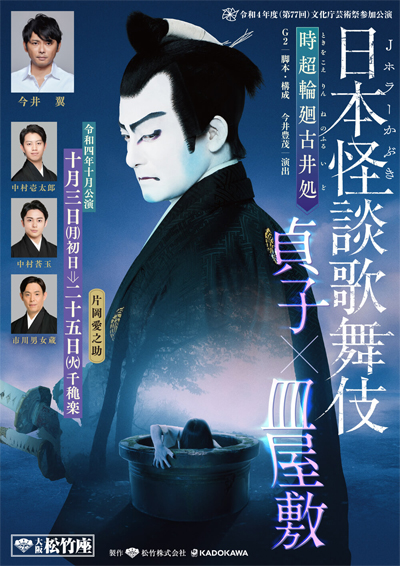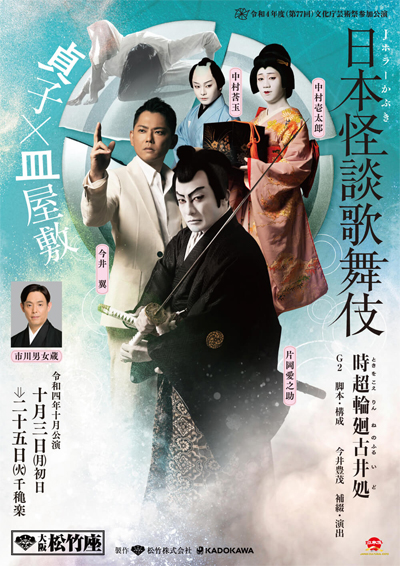 Heisei Nakamuraza (T˘ky˘)
Dates
5 ~ 27 October October 2022
1st program

Futatsu Ch˘ch˘ Kuruwa Nikki (Sum˘ba)

2nd program

Aya no Tsuzumi

T˘nasuya ~ Fushigi no Kuni no Wakadanna

Casting

Nakamura Kankur˘, Nakamura Shichinosuke, Nakamura Senjaku, Nakamura Shid˘, Band˘ Yajűr˘, Kataoka Kamez˘, Band˘ Shingo, Nakamura Tsurumatsu, Nakamura Toranosuke, Nakamura Kantar˘, Nakamura Ch˘zabur˘, Nakamura Kamenoj˘, Sawamura Kuniya, Ogawa Haruki, Arakawa Yoshiyoshi

Comments

The Heisei Nakamuraza is back in T˘ky˘ in Asakusa in October and November 2022. Not in the Sumida Park as it used to be but in the precincts of the Sens˘ji Temple (at the back of the main temple hall). This program commemorate the 180th anniversary of the 1842 move of all major Kabuki theaters to the remote district of Saruwaka-ch˘ (Edo).

Sources: Earphone Guide Website or Sh˘chiku Kabuki Official Website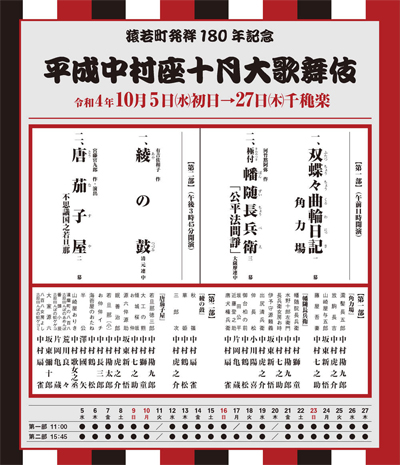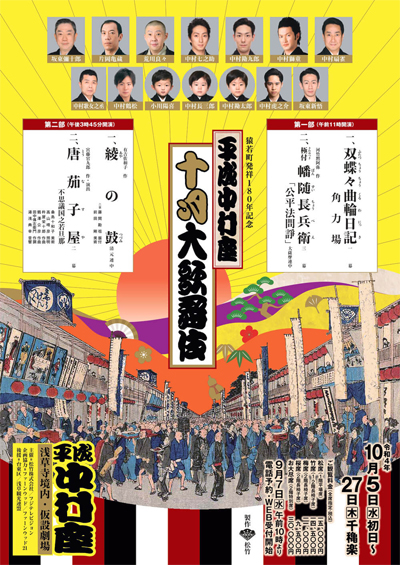 T˘ky˘ Skytree (T˘ky˘)
Dates
15 October 2022 (H˘n˘ Kabuki)
Offering Kabuki
Program

Sukaitsurţ Tent˘-shiki

Ens˘ / Tokubetsu Eiz˘ J˘ei

Sanbas˘

Casting
Comments

This event at the 4th floor of the famous T˘ky˘ Skytree in the Sumida Ward is staged to celebrate the coming shűmei of Ichikawa Danjűr˘ XIII and the hatsubutai of Ichikawa Shinnosuke VIII. The 1st item in the program, Sukaitsurţ Tent˘-shiki, is a lighting ceremony (tent˘-shiki) at Skytree (sukaitsurţ). The 2nd item, Ens˘ / Tokubetsu Eiz˘ J˘ei, is a special video screening (tokubetsu eiz˘ j˘ei) with music (ens˘). The 3rd item is a sanbas˘ dance performed by Ichikawa Ebiz˘. It is an auspicious dance based on the ritual N˘ play "Okina", which shows the sanbas˘ as a symbol of fertility and prosperity.