Stage names:
| | |
| --- | --- |
| Nakamura Baigyoku II | |
| Nakamura Fukusuke III | |
| Mimasu Tanin VII | |
| Nakamura Tamaz˘ | |
| Nakamura Kikutar˘ | |
| Fujioka Kikutar˘ | |
Real name: Sasaki Norikazu
Guild: Takasagoya
Line number: NIDAIME (II)
Poetry name: Sanjaku
Existence: 28th day of the 12th lunar month of 1841 ~ 8 June 1921
Connections:
Masters: Nakamura Tamashichi I, Fujioka Sengiku
Adoptive father: Mimasu Daigor˘ V
Adopted son: Nakamura Baigyoku III
Disciples: Nakamura Tamashichi II, Nakamura Fukuen, Nakamura Fukunosuke IV
Career:
1848: he started his career as a disciple of the onnagata Fujioka Sengiku and received the name of Fujioka Kikutar˘.
1850: he became disciple of the actor Nakamura Tamashichi I, who gave him the names of Nakamura Kikutar˘, then later Nakamura Tamaz˘.
1865: Mimasu Daigor˘ V, who has lost his only son, adopted Tamaz˘ and gave him the name of Mimasu Tanin VII.
3rd lunar month of 1868: Mimasu Tanin VII took the name of Nakamura Fukusuke III (Takasagoya guild). An adopted son of Nakamura Shikan IV, belonging to the Narikomaya guild, took the same name and the same line number in Edo at the same time. This unusual situation was validated by the Kabuki world and the two Fukusuke lines coexisted from the third to the fifth generations.
October 1873: premiere at the Chikugo no Shibai of Katsu Genz˘ II's drama "Kimi-wa-Fune Nami no Uwajima"; Fukusuke played the roles of Yanbe Seibŕ and the yakko D˘suke [casting].
October 1881: premiere at the Ebisuza of Katsu Genz˘ III's drama "Ogasawara Shorei no Oku no Te"; Fukusuke played the roles of Ogasawara Haito, the yakko Kikuhei (in reality the fox of Mt. My˘jin) and Ohaya [casting].
June 1898: the play "R˘ben Sugi no Yurai", which was originally written for the puppet theater and staged for the first time in February 1887 in ďsaka, was adapted for Kabuki for the first time and staged at the Minamiza; Fukusuke played the role of R˘ben's mother Nagisa-no-Kata [more details].
October 1907: Nakamura Fukusuke III and his adopted son Nakamura Masajir˘ II took the respective names of Nakamura Baigyoku II and Nakamura Fukusuke IV in ďsaka at the Kadoza; the new Baigyoku played the roles of Sakuramaru and Chiyo in the classic "Sugawara Denju Tenarai Kagami". Baigyoku was a haimy˘ used by the great star Nakamura Utaemon III. Premiere at the Kadoza of Watanabe Katei's chűshinguramono "Tsuchiya Chikara"; Baigyoku played the role of Takarai Kikaku [more details].
June 1921: Baigyoku appeared on stage for the last time, in K˘be at the Chű˘ Gekij˘.
8 June 1921: Baigyoku died.
Comments:
Nakamura Baigyoku II was a kaneru yakusha, excelling in both jidaimono and sewamono. He played a lot with the Kamigata stars Jitsukawa Enjaku I and Nakamura Ganjir˘ I.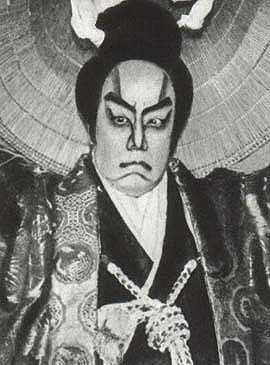 Nakamura Baigyoku II playing the role of the warrior Kumagai Jir˘ Naozane in the drama "Genpei Sakigake Tsutsuji", commonly called "ďgiya Kumagai" (K˘be 1915)
The Mimasu Tanin line of actors
The Nakamura Fukusuke line of actors
The Nakamura Baigyoku line of actors