Cancellation of some Kabuki performances in April 2023 due to coronavirus (COVID-19)!!!
| | |
| --- | --- |
| Kabukiza (T˘ky˘) | |
Dates
2 ~ 27 April 2023
H˘˘sai Shigatsu ďkabuki
Phoenix Festival April Grand Kabuki
MatinÚe

Shin Onmy˘ji

Evening

Yowa Nasake Ukina no Yokogushi (Kirare Yosa)

Casting

Living National Treasure Band˘ Tamasabur˘, Living National Treasure Kataoka Nizaemon, Ichikawa Sadanji, Kataoka Ichiz˘, Kataoka Kamez˘, Ichikawa Ennosuke, Onoe Sh˘roku, Nakamura Hayato, Band˘ Minosuke, Ichikawa Monnosuke, Nakamura Kazutar˘, Nakamura Kotar˘, Onoe Ukon, Kawarasaki Gonjűr˘, Ichikawa Chűsha, Ichikawa Somegor˘, Nakamura Fukunosuke, Nakamura Takanosuke, Ichikawa Emisabur˘, Ichikawa Emiya, Ichikawa En'ya, Ichikawa Juen, Ichikawa Seiko, Kataoka Matsunosuke, Ichimura Kitsutar˘, Nakamura Kamenoj˘, Nakamura Kichinoj˘, Onoe Sakon

Comments

The April Grand Kabuki at the Kabukiza to celebrate the 10th anniversary of the opening of the 5th Kabukiza. "Kirare Yosa" is staged with the goruden konbi made up of Living National Treasures Kataoka Nizaemon and Band˘ Tamasabur˘. They were supposed to do it in June 2022 but, due to health-related reason, Living National Treasure Kataoka Nizaemon could not perform.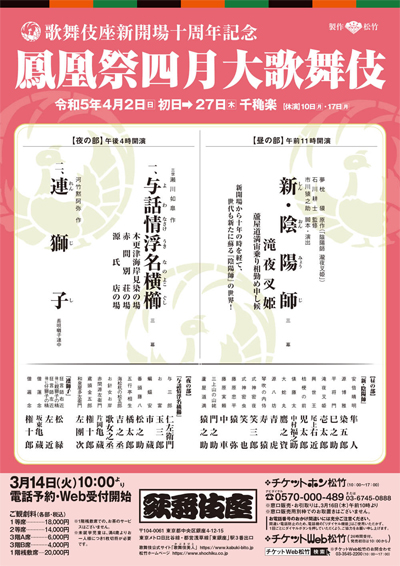 | | |
| --- | --- |
| Meijiza (T˘ky˘) | |
| | |
| --- | --- |
| Misonoza (Nagoya) | |
Dates
1 ~ 24 April 2023
Y˘shun Hanagata Kabuki
Springtime Young Actors Kabuki
MatinÚe
Evening
Casting

Nakamura Kankur˘, Nakamura Shichinosuke, Ichikawa Omez˘, Nakamura Toranosuke, Nakamura Tsurumatsu, Kitamura Rokur˘

Comments

A Spring Kabuki program in Nagoya at the Misonoza with the Nakamuraya brothers Nakamura Kankur˘ and Nakamura Shichinosuke.

Osome no Nanayaku:
(The 7 roles of Osome)
The story of the love suicide of Osome, the daughter of a wealthy merchant and Hisamatsu, a handsome young man that was an apprentice in her family's shop, is one of the most popular stories in Kabuki and was dramatized countless times. In 1813, Tsuruya Nanboku IV (1755~1829) wrote up this story as a showpiece for Iwai Hanshir˘ V, an onnagata specialist in female roles. One actor plays seven of the major roles in the play: Osome, Hisamatsu, the poor Osaku, Omitsu (Hisamatsu's official fiance), Hisamatsu's sister Takegawa, the geisha Koito, Osome's mother Teish˘ and a snake charmer named Oroku. Onnagata superstar Nakamura Shichinosuke makes a virtuoso appearance in this play, acting in all seven roles, including the fastest on-stage fast change in all Kabuki. Featuring also Kitamura Rokur˘ as Oroku's fiance Kimon no Kihŕ and Nakamura Kankur˘ as Yamagaya Seibŕ and the send˘ Ch˘kichi.
Chibusa no Enoki:
(The Ghost and the Milk-Giving Tree)
Based on a rakugo story by Sanyűtei Ench˘, this is a showpiece for the star actor (Nakamura Kankur˘) who plays multiple roles, culminating in a thrilling fight scene in a waterfall where he switches rapidly from one to another. An artist named Hishikawa Shigenobu (Nakamura Kankur˘) is killed by a handsome samurai named Isogai Namie (Kitamura Rokur˘) who makes love to Shigenobu's wife Oseki (Nakamura Shichinosuke). He carries out the murder with the help of Shigenobu's honest, but simple minded, servant Sh˘suke (Nakamura Kankur˘) and the tattooed villain Uwabami no Sanji (Nakamura Kankur˘). But the baby is rescued by the ghost of Shigenobu and finally the boy avenges the death of his father by killing Isogai.

Sources: Earphone Guide Website or Sh˘chiku Kabuki Official Website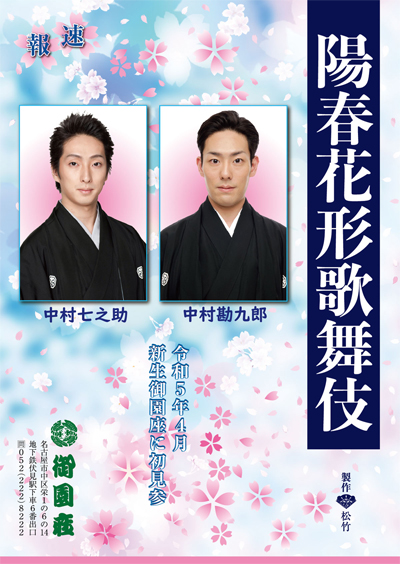 IHI Stage Around Theater (T˘ky˘)
Dates
3 March ~ 12 April 2023
Program

Fainaru Fantajţ X (Final Fantasy X)

Casting

Onoe Kikunosuke, Nakamura Shid˘, Onoe Matsuya, Band˘ Yajűr˘, Band˘ Hikosabur˘, Nakamura Baishi, Nakamura Yonekichi, Nakamura Mantar˘, Nakamura Hashinosuke, Nakamura Shinobu, Kamimura Kichitar˘

Comments

"Final Fantasy X" is now a Kabuki play, staged for the first time this month in T˘ky˘ at the IHI Stage Around Theater! The project is led by Onoe Kikunosuke who will be both the stage director and the leading actor.
Dates
29 ~ 30 April 2023
Ch˘kabuki
Ultra-Kabuki
Program

Otogi Z˘shi Koi no Sugatae []

Casting

Nakamura Shid˘, Hatsune Miku, Sawamura Kuniya, Nakamura Shiichi, Nakamura Ch˘shi

Comments

The world of Kabuki and the world of otaku collide for the 13th time in Kabuki history! Resulting from this spectacular collision, a new genre, the Ch˘kabuki (literally Ultra-Kabuki), was born in 2016 [more details]. Nakamura Shid˘ shares the stage with the virtual 3D creature Hatsune Miku. They perform "together" in the 2020 Ch˘kabuki drama "Towa no Hana Homare no Isaoshi". The choreography was made under the guidance of Fujima Kanjűr˘ VIII. It is staged at the Makuhari Messe as part of the Niconico Ch˘kaigi 2023 event, an important yearly event for the otaku tribes [dedicated website].
| | |
| --- | --- |
| Kanamaruza (Konpira) | |
Dates
?? ~ ?? April 2020

[CANCELLED]


Shikoku Konpira Kabuki ďshibai
Shikoku Konpira Kabuki Grand Theatre
MatinÚe

???

Evening

???

Casting

???

Comments

The 36th edition of the Spring Kabuki performance Shikoku Konpira Kabuki ďshibai at the Kanamaruza on Shikoku Island has been cancelled due to the COVID-19 crisis.