| | |
| --- | --- |
| Kabukiza (T˘ky˘) | |
Dates
2 ~ 26 June 2017 (Rokugatsu ďkabuki)
June Grand Kabuki
MatinÚe

Meigetsu Hachiman Matsuri

Ukiyo Buro

Evening

Kamakura Sandaiki
(Kinugawa-mura Kankyo)

Soga Moy˘ Tateshi no Goshozome
(Gosho no Goroz˘)

Casting

Living National Treasure Nakamura Kichiemon, Living National Treasure Kataoka Nizaemon, Matsumoto K˘shir˘, Nakamura Jakuemon, Ichikawa Ennosuke, Ichikawa Sadanji, Onoe Sh˘roku, Onoe Matsuya, Nakamura Karoku, Nakamura Matagor˘, Ichikawa Emiya, Kataoka Hidetar˘, Band˘ Takesabur˘, Band˘ Kamez˘, Ichikawa Emisabur˘, Ichikawa Monnosuke, Ichikawa Komaz˘, Kamimura Kichiya, Band˘ Minosuke, Matsumoto Kingo, Ichikawa Juen, Sawamura S˘nosuke, Nakamura Kash˘, Ichikawa En'ya, ďtani Keiz˘, Sawamura Yoshijir˘, Nakamura Kichinoj˘, Kataoka Matsunosuke, Nakamura Tanenosuke, Nakamura Yonekichi, Ichikawa Otora, Ichikawa Ukon

Comments

The traditional two programs for the June Grand Kabuki at the Kabukiza.

Sources: Earphone Guide Website or Sh˘chiku Kabuki Official Website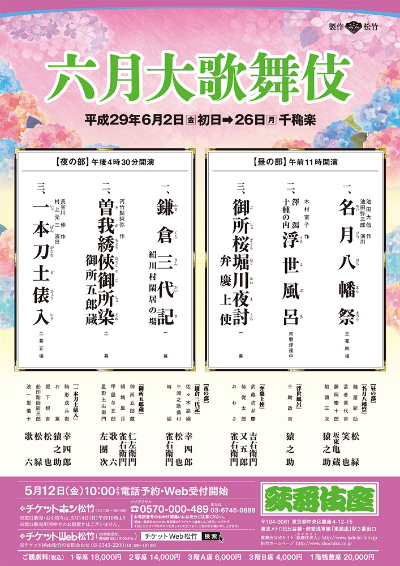 | | |
| --- | --- |
| Hakataza (Fukuoka) | |

Dates
2 ~ 26 June 2017 (Rokugatsu Hakataza ďkabuki)
June Hakataza Grand Kabuki
MatinÚe
Evening

Shinshű Kawanakajima Kassen (Terutora Haizen)

K˘suke Mochi

Casting

Living National Treasure Onoe Kikugor˘, Living National Treasure Sakata T˘jűr˘, Living National Treasure Nakamura T˘z˘, Nakamura Shikan, Nakamura Tokiz˘, Nakamura Baigyoku, Nakamura Kaishun, Nakamura Ganjir˘, Onoe Kikunosuke, Nakamura Hashinosuke, Nakamura Fukunosuke, Nakamura Utanosuke, Ichikawa Danz˘, Nakamura Matsue, Nakamura Kikaku, Nakamura Kotar˘, Kawarasaki Gonjűr˘, Nakamura Jűjir˘, Ichimura Kitsutar˘, Nakamura Baika

Comments

The traditional two programs for the June Grand Kabuki at the Hakataza. Nakamura Shikan VIII and his three sons, Nakamura Hashinosuke IV, Nakamura Fukunosuke III and Nakamura Utanosuke IV, celebrate their shűmei in Fukuoka at the Hakataza!

Sources: Earphone Guide Website or Sh˘chiku Kabuki Official Website
Heisei Nakamuraza (Nagoya)
Dates
1 ~ 26 June 2017
MatinÚe

Koi Bikyaku Yamato ďrai (Fűin Giri)

Evening

Yoshitsune Senbon Zakura
(Kawatsura H˘gen Yakata)

Benten Musume Meo no Shiranami

Adayume

Casting

Nakamura Kankur˘, Nakamura Shichinosuke, Nakamura Senjaku, Band˘ Yajűr˘, Kataoka Kamez˘, Nakamura Baishi, Nakamura Mantar˘, Band˘ Shingo, Nakamura Toranosuke, Nakamura Kamenoj˘

Comments

The Heisei Nakamuraza is in Nagoya for the third time. The first time, it was a short stay as part of the long September 2006 tour in the western provinces. The second time occured in September 2009.

Sources: Earphone Guide Website or Sh˘chiku Kabuki Official Website
Sasaguchi Rei for "Adayume"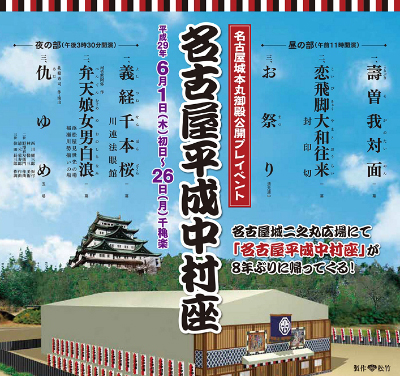 Heisei Nakamuraza (Nagoya)
Dates
14 June 2017 (Shienkai)
Trial Session
Program

Otanoshimi Zadankai

Comments

A trial session within the Heisei Nakamuraza in Nagoya. Only one play is staged at 16:30 with stars' disciples in the leading roles. Otanoshimi zadankai (literally "Enjoyable Roundtable Discussion") is a stage speech with the stars performing at the Heisei Nakamuraza.

Soga no Taimen: this is one of the oldest and most classical of all Kabuki plays. In the Edo period, every January, plays appeared about the vendetta carried out by the Soga brothers Jűr˘ and Gor˘ after eighteen years of hardship. In "Soga no Taimen" the brothers confront Kud˘ Suketsune, the man responsible for their father's death. More ceremony than play, it features each of the important Kabuki character types, including the bombastic aragoto style of Gor˘ and the soft wagoto style of Jűr˘.
| | |
| --- | --- |
| National Theatre (T˘ky˘) | |
Dates
2 ~ 24 June 2017 (Rokugatsu Kabuki Kansh˘ Ky˘shitsu)
June Kabuki Appreciation Class
Program
Casting

Nakamura Kinnosuke, Kataoka Takatar˘, ďtani Tomoemon, Band˘ Hikosabur˘, Band˘ Shűch˘, Arashi Kitsusabur˘, ďtani Hirotar˘, Nakamura Hayato, Onoe Ukon, Nakamura Umemaru

Comments

Educational program at the National Theatre called Kabuki Kansh˘ Ky˘shitu ("Kabuki appreciation class"). This is a very interesting formula for the beginners because there is lively presentation on stage of Kabuki or some aspects of the art like music, stage tricks or fighting scenes. It is followed by the drama "Kenuki".

Kenuki: in this play, which retains the light, festive atmosphere of early-period Kabuki, a princess has a mysterious ailment that makes her hair stand on end, an ailment that prevents her from carrying out her long-awaited marriage. Kumedera Danj˘ comes from the groom's household to investigate and finds a plot to take over the household when his tweezers float in mid-air. Nakamura Kinnosuke stars in a play that features the bombastic aragoto style of acting.

Sources: Earphone Guide Website or Sh˘chiku Kabuki Official Website
Aichi Arts Center (Nagoya)
Dates
31 May ~ 2 June 2017 (Band˘ Tamasabur˘ x Kod˘ Tokubetsu Buy˘ K˘en)
Band˘ Tamasabur˘ x Kod˘ Special Dance Performances
Program

Yűgen

Casting

Living National Treasure Band˘ Tamasabur˘

Comments

Living National Treasure Band˘ Tamasabur˘ performs in Nagoya at the Aichi Arts Center along with the Kod˘ taiko drummers in a newly-created dance-drama entitled "Yűgen", which features an array of classical Japanese images from plays by N˘ founder Zeami Motokiyo, incorporating themes from iconic works such as "Hagoromo" (The Feather Robe), "D˘j˘ji" (D˘j˘ji Temple) and "Shakky˘" (The Stone Bridge). Band˘ Tamasabur˘ shares the stage with the dance master Hanayagi Jusuke IV and his disciples.
Tango Bunka Kaikan (Ky˘tango)
Dates
24 ~ 25 June 2017 (Band˘ Tamasabur˘ Tokubetsu Buy˘ K˘en)
Band˘ Tamasabur˘ Special Dance Performances
Program

Aki no Irokusa

Casting

Living National Treasure Band˘ Tamasabur˘

Comments

A special Buy˘ program starring the amazing Living National Treasure onnagata Band˘ Tamasabur˘ in Ky˘tango at the Tango Bunka Kaikan (Tango Culture Center). A place named Mineyama, now part of Ky˘tango, had a close connection with the Hagoromo legend.

K˘j˘: the close relationship between the actors and the audience is shown by stage announcements, usually lavish ceremonies to commemorate various important events. This month at the Tango Bunka Kaikan, it is a stage speech done by Living National Treasure Band˘ Tamasabur˘.
Aki no Irokusa:
(The Colors of Autumn)
A beautiful dance about autumn and all its associated images : morning glories, violets, arrowroot, pampas grass, the cry of passing geese sounding over the sailing ships, the sweet cacophony of insects, the moon and winds of autumn. Starring Living National Treasure Band˘ Tamasabur˘.
Hagoromo: the legend of the angel who came to earth to bathe and then had her heavenly feathered robe stolen by a fisherman is famous in all forms of Japanese theater. This month features an elegant dance version of the story with Living National Treasure Band˘ Tamasabur˘ as the angel.

Sources: Earphone Guide Website or Sh˘chiku Kabuki Official Website