| | |
| --- | --- |
| Kabukiza (T˘ky˘) | |
Dates
3 ~ 28 June 2021
Rokugatsu ďkabuki
June Grand Kabuki
1st program

Gohiiki Kanjinch˘ (Ataka no Seki)

Yűgao Dana

2nd program

Sakura Hime Azuma Bunsh˘
The second half of this drama only

3rd program

Nichiren

Casting

Living National Treasure Onoe Kikugor˘, Living National Treasure Kataoka Nizaemon, Living National Treasure Band˘ Tamasabur˘, Matsumoto Haku˘, Nakamura Shikan, Nakamura Jakuemon, Nakamura Ganjir˘, Ichikawa Ennosuke, Nakamura Kinnosuke, Kataoka Takatar˘, Ichikawa Sadanji, Nakamura Karoku, Band˘ Minosuke, Nakamura Hayato, Nakamura Kikaku, Ichikawa Komaz˘, Ichikawa Monnosuke, Ichikawa Emisabur˘, Ichikawa Emiya, Ichikawa Juen, Ichikawa En'ya, Nakamura Matsue, Kamimura Kichiya, Matsumoto Kingo, ďtani Keiz˘, ďtani Hirotar˘, Ichikawa Somegor˘, Nakamura Yonekichi, Nakamura Kash˘, Ichikawa Otora, Nakamura Fukunosuke, Nakamura Utanosuke, Kataoka Sennosuke, Nakamura Tamatar˘, Nakamura Kichinoj˘, Ichikawa Ukon

Comments

The 3 programs for the June Grand Kabuki at the Kabukiza.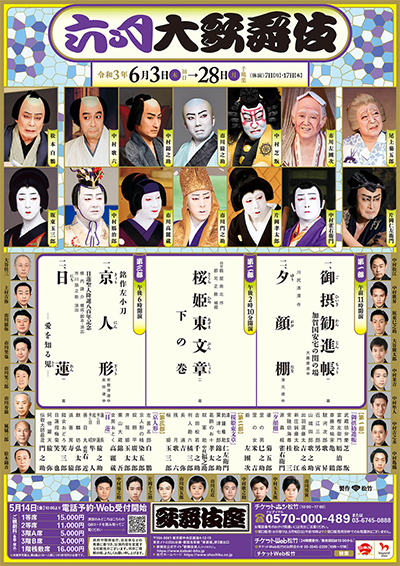 | | |
| --- | --- |
| National Theatre (T˘ky˘) | |
Dates
2 ~ 23 June 2021
Rokugatsu Kabuki Kansh˘ Ky˘shitsu
June Kabuki Appreciation Class
Program

Kabuki no Mikata

Casting

Onoe Sh˘roku, Nakamura Senjaku, Nakamura Kaishun, Ichikawa Danz˘, Band˘ Kamez˘, Band˘ Shingo, Nakamura Tanenosuke

Comments

Educational program at the National Theatre called Kabuki Kansh˘ Ky˘shitu ("Kabuki appreciation class"). This is a very interesting formula for the beginners because there is lively presentation on stage (Kabuki no Mikata) of Kabuki or some aspects of the art like music, stage tricks or fighting scenes. It is followed by the sewamono drama "Bunshichi Mottoi".

Bunshichi Mottoi: Ch˘bŕ spends his days and nights gambling, but is finally made aware of his family's problems when his daughter takes a job in the pleasure quarters. Having received the money for her contract, he shows his good side to save a young man on the edge of suicide after losing a large sum of money, but nobody believes Ch˘bŕ, thinking that he has gambled the money away. The performance stars Onoe Sh˘roku, Nakamura Senjaku and Band˘ Kamez˘ in the roles of Ch˘bŕ, Ch˘bŕ's wife Okane and Bunshichi. Featuring also Nakamura Kaishun and Ichikawa Danz˘.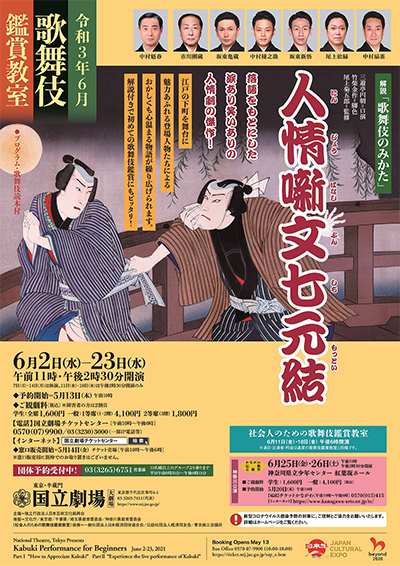 | | |
| --- | --- |
| Minamiza (Ky˘to) | |

Dates
4 ~ 13 June 2021
Ebiz˘ Kabuki
Program

Genpei Nunobiki no Taki
(Sanemori Monogatari)

KABUKU

Casting

Ichikawa Ebiz˘, Ichikawa Udanji, Ichikawa Sai'nyű, Kataoka Ichiz˘, Nakamura Kotar˘, Ichikawa Kudanji, ďtani Hiromatsu, Horikoshi Kangen

Comments

The second item in this program is a newly-created Kabuki drama entitled "KABUKU", which has been created by the manga storywriter, novelist and screenwriter Kibayashi Shin.

Sanemori Monogatari: a play about the early days of the rivalry between the Genji and Heike warrior clans. The warrior Sait˘ Bett˘ Sanemori (Ichikawa Ebiz˘) has been charged by the leaders of the dominant Heike clan with finding Aoi Gozen (ďtani Hiromatsu), the pregnant wife of the leader of the enemy Genji clan. He is to kill her child if it is a son who can succeed to head of the clan, but old loyalties to the Genji lead him to protect the boy. Sanemori tells the story of how Koman (Nakamura Kotar˘), the daughter of the old couple who is protecting Aoi Gozen, bravely fought to protect the sacred standard of the Genji from the Heike. Koman mysteriously comes back to life when her severed arm is rejoined to it. Featuring also Ichikawa Udanji as Senoo Jűr˘.
KABUKU:
(Behaving Oddly)
This is a brand-new Kabuki dance based on audio chat first heard on the SNS app 'Clubhouse'. It's the end of the Edo period in the city of Ky˘to. A peddler of newssheets (Ichikawa Ebiz˘) appears in front of people who have fallen on hard times. With his bad drinking habit, the peddler causes a great disturbance as he turns nasty when drunk. Co-directed by Ichikawa Ebiz˘ and Fujima Kanjűr˘ VIII and choreographed by Fujima Kanjűr˘ VIII, this work was originally created by the popular manga artist Kibayashi Shin.

Sources: Earphone Guide Website or Sh˘chiku Kabuki Official Website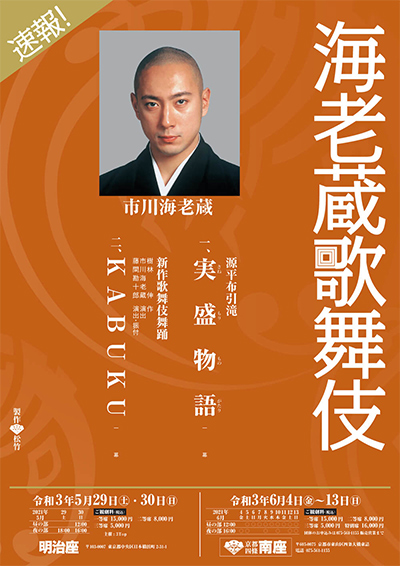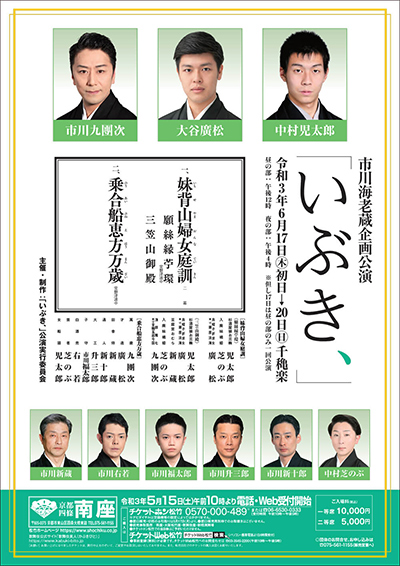 | | |
| --- | --- |
| Matsumoto Performing Arts Centre (Matsumoto) | |

Dates
17 ~ 22 June 2021 (Shinshű Matsumoto ďkabuki)
Shinshű Matsumoto Grand Kabuki [official website]
Program
Casting

Nakamura Kankur˘, Nakamura Shichinosuke, Onoe Matsuya, Kataoka Kamez˘, Nakamura Tsurumatsu, Nakamura Toranosuke, Nakamura Ch˘zabur˘, Sasano Takashi

Comments

7th edition in the city of Matsumoto (first time in July 2008; second time in July 2010; third time in July 2012; fourth time in July 2014); fifth time in July 2016; sixth time in June 2018) of a Kabuki program, which is called Shinshű Matsumoto ďkabuki (Shinshű is an old name for the province of Nagano, whose main city is Matsumoto). Same program as the 17th edition of the Cocoon Kabuki in T˘ky˘ in May 2021:

Natsu Matsuri: this grisly murder story became a smashing hit when it was first performed in 1745 because of the chivalrous spirit of the many ďsaka characters appearing in this story, the contrast between a brutal murder and the jovial mood of a summer festival, and the splashing of real water used on the stage. Danshichi, a gallant fishmonger, does everything he can to protect the weak young son of his patron with the help of his companion Tokubŕ and the older Sabu. Although even Tokubŕ's wife Otatsu heroically helps out, in the end, Danshichi is betrayed by his evil father-in-law Giheiji and, in the most famous scene of the play, must kill him in a mud-covered fight in a lonely alley with the shouts of the local festival nearby. This program stars Nakamura Kankur˘ as Danshichi, with Onoe Matsuya, Kataoka Kamez˘ and Nakamura Shichinosuke as Tokubŕ/Otatsu, Sabu and Danshichi's wife Okaji.

Sources: Earphone Guide Website or Sh˘chiku Kabuki Official Website