| | |
| --- | --- |
| Kabukiza (T˘ky˘) | |
Dates
2 ~ 25 October 2023
Kinshű Jűgatsu ďkabuki
National Arts Festival October Grand Kabuki
MatinÚe
Evening

Futatsu Ch˘ch˘ Kuruwa Nikki (Sum˘ba)

Kiku

Mito K˘mon

Casting

Nakamura Kaishun, Nakamura Jakuemon, Onoe Sh˘roku, Kataoka Takatar˘, Nakamura Shid˘, Kataoka Kamez˘, Band˘ Minosuke, Band˘ Yajűr˘, Nakamura Matagor˘, Ichikawa Komaz˘, Nakamura Kikaku, Band˘ Kamez˘, Matsumoto Kingo, Sawamura S˘nosuke, Nakamura Matsue, Band˘ Shingo, Nakamura Kash˘, Nakamura Tanenosuke, ďtani Hirotar˘, Nakamura Kichinoj˘, Nakamura Fukunosuke, Nakamura Utanosuke, Nakamura Toranosuke, Nakamura Tamatar˘, Ichikawa Otora, Ichimura Hikaru, Terajima Shinobu

Comments

The October Grand Kabuki at the Kabukiza.

Sources: Earphone Guide Website or Sh˘chiku Kabuki Official Website
| | |
| --- | --- |
| National Theatre (T˘ky˘) | |
Dates
4 ~ 26 October 2023
Program

Casting

Living National Treasure Onoe Kikugor˘, Nakamura Shikan, Nakamura Tokiz˘, Onoe Kikunosuke, Nakamura Karoku, Band˘ Hikosabur˘, Nakamura Baishi, Nakamura Yonekichi, Nakamura Mantar˘, Kawarasaki Gonjűr˘

Comments

There will be a 2nd generation National Theatre in a near future! From November 2022 to October 2023, Sayonara K˘en ('Farewell Performances') were staged in the existing theater. Then, the 1st generation National Theatre, which opened in November 1966, will be closed and rebuilt. These farewell performances have been precisely labeled as Mirai e Tsunagu Kokuritsu Gekij˘ Purojekuto ~ Shodai Kokuritsu Gekij˘ Sayonara K˘en (literally 'Project to Connect the National Theater to the Future ~ First generation National Theater Farewell Performances'). In November 1966 [more details] and December 1966 [more details], the opening of the theater was celebrated with a t˘shi ky˘gen production of the classic "Imoseyama Onna Teikin". In September 2023 and October 2023, the closing is celebrated with ... a t˘shi ky˘gen production of the classic "Imoseyama Onna Teikin". Second part of the t˘shi ky˘gen production of the classic "Imoseyama Onna Teikin" with a troupe led by Living National Treasure Onoe Kikugor˘.

Source: National Theatre
| | |
| --- | --- |
| Misonoza (Nagoya) | |
Dates
7 ~ 24 October 2023
Kataoka Nizaemon Band˘ Tamasabur˘ Kinshű Tokubetsu K˘en
Kataoka Nizaemon Band˘ Tamasabur˘ Autumn Brocade Special Performances
Program

T˘kaid˘ Yotsuya Kaidan
Only the 2nd act in 3 scenes

Casting

Living National Treasure Kataoka Nizaemon, Living National Treasure Band˘ Tamasabur˘, Nakamura Hayato, Kamimura Kichiya, Arashi Kitsusabur˘, Nakamura Kamenoj˘, Kataoka Matsunosuke, Kataoka Sennosuke

Comments

No classic October kaomise programs in Nagoya this year but a special Kabuki program starring the goruden konbi Living National Treasures Band˘ Tamasabur˘ and Kataoka Nizaemon.

Yotsuya Kaidan: Tamiya Iemon, a villainous masterless samurai (Living National Treasure Kataoka Nizaemon) is in love with Oiwa (Living National Treasure Band˘ Tamasabur˘) and even kills her father Yotsuya Samon to be united with her, cynically promising to help her to avenge her father's death. But at the same time, the granddaughter of a wealthy doctor falls in love with him and her grandfather tries to ensure the match by sending a horrible disfiguring poison to Oiwa. In the most famous scene of the play, face destroyed, hair falling out, Oiwa carefully dresses and puts on make-up to pay a proper visit to those who have wronged her. Iemon kills Oiwa and his servant Kobotoke Kohei (Nakamura Hayato), has their bodies nailed to a door and thrown into the river. Iemon is happily married into the wealthy family, but no sooner does the beautiful young bride arrive than Oiwa's ghost causes Iemon to kill her. Featuring Kataoka Sennosuke and Kamimura Kichiya in the roles of Oume and the goke Oyumi.
Kanda Matsuri:
(The Kanda Festival)
The gallant commoners of Edo's neighborhoods loved nothing better than a festival, and this performance is a dance based on one of the biggest festivals in Edo (Kanda Matsuri). In this dance, a gallant fireman (Living National Treasure Kataoka Nizaemon) and a geisha (Living National Treasure Band˘ Tamasabur˘) appear on stage and display their 'Edo-style' spirit. In the end, a young man comes out and a beautiful fighting scene unfolds on stage.

Sources: Earphone Guide Website or Sh˘chiku Kabuki Official Website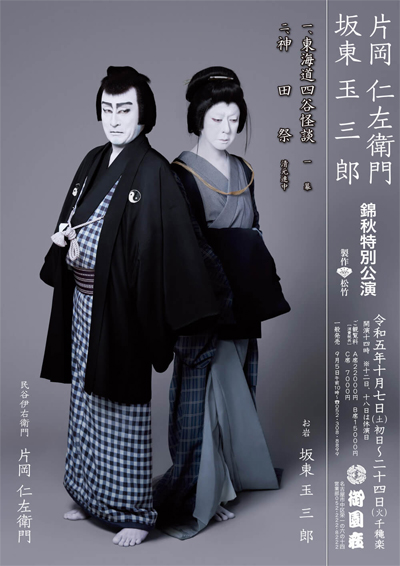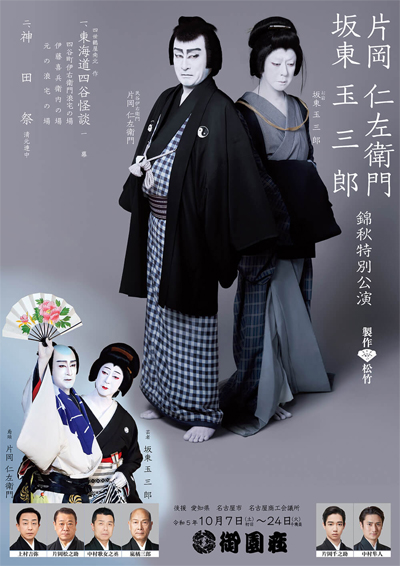 Succession Announcement Tour
Dates
13 October ~ 12 November 2023
Jűsandaime Ichikawa Danjűr˘ Hakuen Shűmei Hir˘ Jungy˘
Ichikawa Danjűr˘ XIII Hakuen Succession Announcement Tour
Dates
13 October ~ 12 November 2023
Program
Casting

Ichikawa Danjűr˘, Ichikawa Udanji, Nakamura Kotar˘, Kataoka Ichiz˘, Ichikawa Kudanji, ďtani Hiromatsu, Nakamura Kangyoku

Comments

A special tour celebrating the shűmei of Ichikawa Danjűr˘ XIII with performances in 20 cities.

K˘j˘: the close relationship between the actors and the audience is shown by these stage announcements, lavish ceremonies to commemorate various important events. In this case, all the actors of the cast assemble to celebrate the shűmei of Ichikawa Danjűr˘ XIII.
Kenuki: in this play, which retains the light, festive atmosphere of early-period Kabuki, a princess has a mysterious ailment that makes her hair stand on end, an ailment that prevents her from carrying out her long-awaited marriage. Kumedera Danj˘ comes from the groom's household to investigate and finds a plot to take over the household when his tweezers float in mid-air. Ichikawa Danjűr˘ stars in a play that features the bombastic aragoto style of acting that is a specialty of his family.

Sources: Earphone Guide Website or Sh˘chiku Kabuki Official Website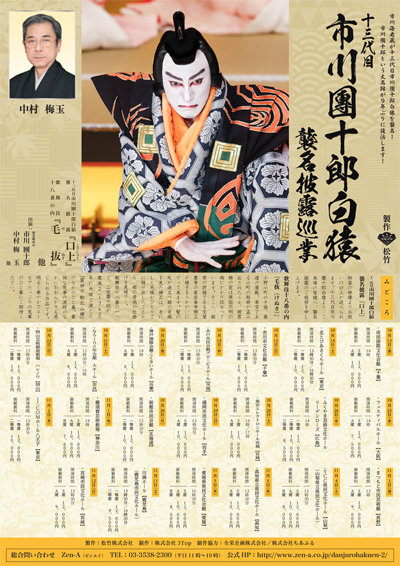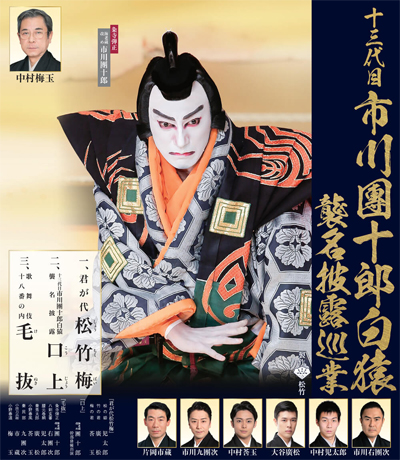 Kinshű Special Tour
Dates
5 ~ 21 October 2023
Kinshű Tokubetsu Kŕn
Autumn Brocade Special Performances
Program

T˘ku K˘nÔ

Kuwana no Ura Otohime to Urashima

Casting

Nakamura Kankur˘, Nakamura Shichinosuke, Nakamura Tsurumatsu

Comments

The word kinshű means "Autumn Brocade". This Autumn tour in 14 cities stars Nakamura Kankur˘ and Nakamura Shichinosuke. The first item in the program, entitled T˘ku K˘nÔ (literally 'Talk Corner') is a speech/presentation on stage about some aspects of Kabuki.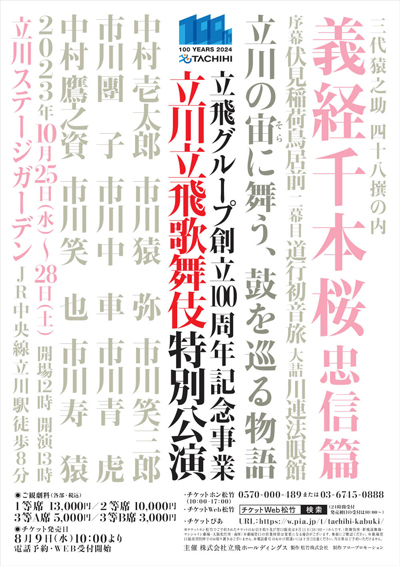 | | |
| --- | --- |
| Asakusa K˘kaid˘ (T˘ky˘) | |

Dates
6 October 2023
Sh˘ no Kai
Program

Tenn˘jiya Gatari (Kich˘ Eij˘)

Casting

Nakamura Takanosuke, Nakamura Kotar˘, Ichikawa En'ya, Ichikawa Kudanji, Watanabe Aiko

Comments

8th edition of the Sh˘ no Kai, a 1-day 2-performance gala program which stars Nakamura Tomijűr˘ V's son Nakamura Takanosuke. Nakamura Takanosuke's sister Watanabe Aiko also performs in this gala. It will commemorate the 12th anniversary (13th memorial service) of the passing away of Nakamura Tomijűr˘ V.

Ya-no-Ne: like a picture come to life, this play combines the most exaggerated costumes and movements with leisurely humor. The aragoto hero Soga no Gor˘ is sharpening a giant arrow and sleeping in wishes of good fortune for the New Year when he sees his brother Jűr˘ in a dream asking him to come and rescue him. The two Soga brothers are part of one of the most popular vendetta stories in Kabuki, suffering for eighteen years before being able to avenge the death of their father. In this play, when Gor˘ finds out that his brother is in trouble, he jumps on the horse of a passing daikon vendor and, brandishing a giant daikon as a whip prepares to rush to his brother's side. Starring Nakamura Takanosuke and Nakamura Kotar˘ as Gor˘ and Jűr˘.
Tenn˘jiya Gatari: A speech on stage with preciously-kept rarely-projected videos to talk about Nakamura Tomijűr˘ V (his yag˘ was Tenn˘jiya).
Ninin Wankyű: the fabulously wealthy Wan'ya Kyűbŕ (nicknamed Wankyű) is disowned by his family for falling in love with the courtesan Matsuyama. Then, when she dies, he goes mad with grief and wanders through the countryside. This dance shows him as he imagines meeting Matsuyama again and there is a lively dance recalling their happiness together before the vision fades and he is left alone. Starring Nakamura Takanosuke as Wankyű and Watanabe Aiko as Matsuyama.

Sources: Earphone Guide Website or Sh˘chiku Kabuki Official Website