Stage names:
Onoe Tamiz˘ I
Onoe Tamiz˘
Onoe Kenz˘
Hanazome Tamiz˘
Guilds: Otowaya, Aizuya
Line number: SHODAI (I)
Poetry names: K˘ch˘, Baishi
Existence: 1754 ~ 1790
Connections:
Masters: Onoe Kikugor˘ I, Hanazome Minanoj˘
Career:
1754 ~ 1769: born in Ky˘to. He starts his career in the children-actors troupe (kodomo shibai) led by Hanazome Minanoj˘, playing under the name of Hanazome Tamiz˘ in the precincts of temples and shrines (miyaji shibai). He stops acting for a few years before becoming a disciple of Onoe Kikugor˘ I in 1768. He receives the name of Onoe Kenz˘. He performs in the precinct of the Nishiki Tenjin shrine in Ky˘to in Spring 1768 then goes on tour in the Kamigata with a travelling troupe.
11th lunar month of 1769: Onoe Kenz˘ goes with his master to Edo and takes the name of Onoe Tamiz˘ at the Ichimuraza, playing in the kaomise drama "Mutsu no Hana Ume no Kaomise".
8th lunar month of 1779: Tamiz˘ plays at the Moritaza the role of Lady Kaoyo in the classic "Kanadehon Chűshingura". He also changes the writing of his first name:
| | |
| --- | --- |
| First writing for Tamiz˘ | New writing |
| 民蔵 | 多見蔵 |
You need a Japanese Language Kit installed within your system in order to be able to read the characters
5th lunar month of 1780: tour in Sendai. Tamiz˘ uses the first writing for his first name.
1781: Tamiz˘ goes back to Kamigata and uses in the banzuke the new writing for his first name.
11th lunar month of 1787: his name appears for the last time in a Kabuki banzuke in ďsaka.
Comments:
Onoe Tamiz˘ I was a wakaonnagata who made his career during the Meiwa, An'ei and Tenmei eras, excelling in keisei and housewives roles.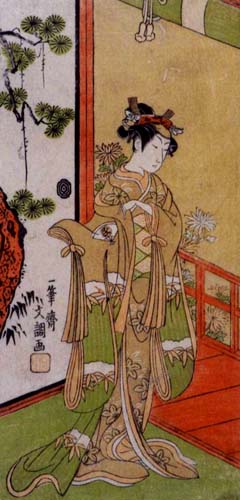 Onoe Tamiz˘ I playing the role of Princess Tatsu in the drama "Meoto Giku Izu no Kisewata", staged in the 11th lunar month of 1770 at the Ichimuraza (print made by Ippitsusai Bunch˘)
The Onoe Tamiz˘ line of actors