Stage names:
| | |
| --- | --- |
| Arashi Tokusabur˘ VII | |
| ďtani Hitoe | |
Real name: Yokota Ichir˘
Guild: Hamuraya
Line number: SHICHIDAIME (VII)
Existence: 20 December 1933 ~ 5 December 2000
Career:
April 1956: he starts his career as a Kabuki actor, taking the name of ďtani Hitoe and playing at the Nakaza the role of Princess Yaegaki in the drama "Honch˘ Nijűshik˘".
September 1959: he becomes nadai and plays at the ďsaka Shinkabukiza the role of Hatsugiku in the drama "Kagotsurube Sato no Eizame".
February 1971: ďtani Hitoe takes the name of Arashi Tokusabur˘ VII at the ďsaka Shinkabukiza, playing the roles of Princess Nowake and the awa mochi seller Tokuz˘ in the drama "Sumidagawa Gonichi no Omokage" and the dance "Chigiru Koi Haru no Awa Mochi". The two programs at the ďsaka Shinkabukiza commemorate the 36th anniversary (37th memorial service) of late Kataoka Nizaemon XI and celebrate the shűmei of Kataoka Gat˘ V and the hatsubutai of Kataoka Shinnosuke.
May 1973: revival at the National Theatre of Chikamatsu Monzaemon's drama "Horikawa Nami no Tsuzumi" to commemorate the 249th anniversary (250th memorial service) of the playwright; Tokusabur˘ plays the role of Sangobŕ's wife Yura [casting].
March 1976: Tokusabur˘ plays at the Minamiza the role of Nureginu in the jidaimono "Honch˘ Nijűshik˘". His stage partners are Band˘ Tamasabur˘ (Princess Yaegaki) and Sawamura Tossh˘ V (Katsuyori).
April 1976: the National Theatre produces the revival in 5 acts and 9 scenes of Namiki Gohei I's drama "Kinmon Gosan no Kiri"; Tokusabur˘ plays the role of Kokonoe [casting].
1978: premiere in Japan of Euripides's "Medea", directed by Ninagawa Yukio; Tokusabur˘ plays the role of Medea.
1985: "Medea" tour in Europe.
1986: "Medea" tour in the USA.
April 1987: Tokusabur˘ takes part in the revival at the Meijiza of the play "Jűni Hitoe Komachi Zakura", which includes the famous Tokiwazu-based dance-drama "Tsumoru Koi Yuki no seki no To" [more details].
August 1999: final Kabuki performance at the Nakaza (an old theater about to be closed by the Sh˘chiku); Tokusabur˘ plays in the drama "Natsu Sugata Naniwa Goyomi", sharing the stage with Kataoka Hidetar˘, Kataoka Ainosuke, Kamimura Kichiya and Band˘ Takesabur˘.
November 1999: Tokusabur˘ plays at the National Theatre the role of the old woman Koshiji in the "Takenoko Hori" scene of the drama "Honch˘ Nijűshik˘".
January 2000: Tokusabur˘ appears on stage for the last time, in ďsaka at the Sh˘chikuza, where he plays the roles of the k˘shitsu Omaki, the k˘shitsu Otsune and Ibarakiya Okiyo in "K˘chiyama", "Nozaki-mura" and "Wankyű Sue no Matsuyama".
5 December 2000: Tokusabur˘ dies in ďsaka.
Comments:
Arashi Tokusabur˘ VII was a great onnagata actor, trained in the art and style of the Kamigata Kabuki. He was not born in the Kabuki world and therefore did not often appear on the stage of the Kabukiza but was sometimes in the cast of Kamigata drama revivals staged at the National Theatre. He was also very active in modern productions and his most famous role was Euripides's Medea in a production by the Japanese director Ninagawa Yukio:
"The all male cast was led by an actor with experience as a Kabuki onnagata (a specialist in female parts), Tokusabur˘ Arashi. To bring out Medea's transgressive, androgynous character, for example, he used at various points linguistic forms and styles appropriate to Kabuki actors, women, men, and even the traditional stage narrator. As Medea's heroic side was revealed, the actor stripped off his robes--suggestive of but not quite a traditional kimono--to reveal a masculine body. As the revenge plan took hold, the heroine and the chorus spit out red ribbons from their mouths; these ribbons are traditionally linked with both blood and a coy feminine expression of a love that the heroine now rejects." (Helene P. Foley, Barnard College, Columbia University, 2001.04.27)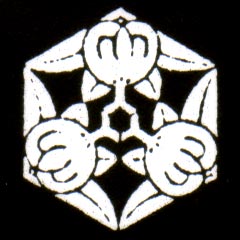 The mon of Arashi Tokusabur˘ VII
The Arashi Tokusabur˘ line of actors