| | |
| --- | --- |
| Kabukiza (T˘ky˘) | |
Dates
2 ~ 26 January 2014 (Kokera Otoshi Kotobuki Hatsuharu ďkabuki)
Opening Ceremony Congratulation Early Spring Grand Kabuki
MatinÚe
Evening

Kanadehon Chűshingura
(Yamashina Kankyo)

T˘keiji Hanadayori

Casting

Sakata T˘jűr˘, Nakamura Kichiemon, Matsumoto K˘shir˘, Nakamura Baigyoku, Nakamura Hashinosuke, Nakamura Kanjaku, Kataoka Gat˘, Kataoka Hidetar˘, Nakamura Senjaku, Nakamura Fukusuke, Nakamura Kaishun, Kataoka Takatar˘, Nakamura Kinnosuke, Ichikawa Somegor˘, Band˘ Yajűr˘, Nakamura Karoku, Nakamura Matagor˘, Nakamura T˘z˘, Ichikawa Komaz˘, Band˘ Shűch˘, Nakamura Kash˘, Kataoka Shinnosuke, Sawamura Yoshijir˘, Nakamura Matsue, ďtani Keiz˘, Nakamura Kotar˘, Nakamura Yonekichi, Nakamura Tanenosuke, Nakamura Hayato

Comments

10th month celebrating the opening of the new Kabukiza within a 1-year long cycle of kokera otoshi programs.

Sources: Earphone Guide Website or Sh˘chiku Kabuki Official Website
| | |
| --- | --- |
| National Theatre (T˘ky˘) | |
Dates
3 ~ 27 January 2014
Program

Sanzen Ry˘ Haru no Komahiki
t˘shi ky˘gen production including the famous "Umagiri" scene

Casting

Onoe Kikugor˘, Nakamura Tokiz˘, Onoe Kikunosuke, Onoe Sh˘roku, Sawamura Tanosuke, Ichikawa Danz˘, Band˘ Hikosabur˘, Kawarasaki Gonjűr˘, Ichimura Manjir˘, Band˘ Kamesabur˘, Band˘ Kametoshi, Onoe Matsuya, Nakamura Baishi, Onoe Ukon, Ichimura Takematsu, Fujima Taiga

Comments

Tatsuoka Mansaku's drama "Keisei Haru no Tori", which is famous for the "Umagiri" scene, is revived at the National Theatre as a t˘shi ky˘gen in 5 acts (9 scenes), which is entitled "Sanzen Ry˘ Haru no Komahiki". The "Umagiri" scene, a scene where a horseman is cut down with a single slash by Oda Nobutaka at the Yamato bridge, is still part of the current Kabuki repertoire but it is not often performed. The stars of "Sanzen Ry˘ Haru no Komahiki" are Living National Treasure Onoe Kikugor˘, Nakamura Tokiz˘, Onoe Kikunosuke and Onoe Sh˘roku. This revival features also Living National Treasure Sawamura Tanosuke [more details]. By the way, 2014 is the Year of the Horse in the traditional calendar.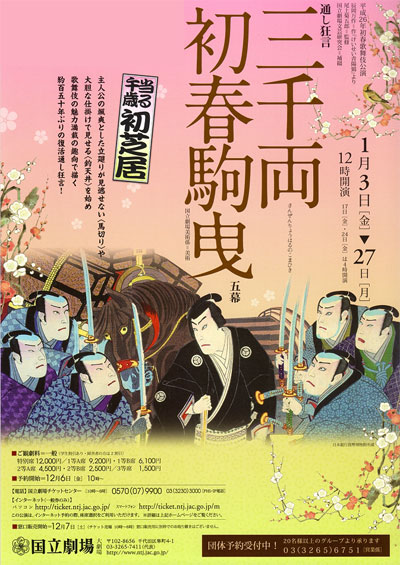 | | |
| --- | --- |
| Sh˘chikuza (ďsaka) | |
| | |
| --- | --- |
| Shinbashi Enbuj˘ (T˘ky˘) | |
Dates
1 ~ 25 January 2014 (Hatsuharu Hanagata Kabuki)
Early Spring Young Actors Kabuki
Program

Kotohoide Mimasu Kagekiyo

Casting

Ichikawa Ebiz˘, Nakamura Shibajaku, Ichikawa Sadanji, Nakamura Shid˘, ďtani Tomoemon, Kataoka Ichiz˘, Ichikawa Unosuke, Ichimura Kakitsu, Band˘ Shingo, Nakamura Mantar˘, ďtani Hiromatsu

Comments

This drama presents the world of Akushichiby˘e Kagekiyo with new perspectives. He was a warrior in 12th century and famous for the episode in "The Tale of Heike" which depicts Heike clan at the height of its prosperity, its defeat to the Genji clan and its downfall. Aku in his name means bravery which he demonstrates in wars against the Genji clan. Many legendary stories have been passed down about him as a rebellious hero: He is said to have planned to overthrow the Genji clan even after the downfall of the Heike clan and have tried to assassinate the Genji general Minamoto no Yoritomo 37 times. His mysterious stormy life is taken up as an attractive material in many genres such as N˘, Bunraku and Kabuki. Kagekiyo appears in 4 of the collection of the Eighteen Favorite Plays of the Ichikawa Family (Kabuki Jűhachiban): "Kan U", "Kagekiyo" "Kamahige" and "Gedatsu". Ichikawa Ebiz˘, who is struggling energetically to revive and success it, will fascinate you with aragoto bombastic style of acting which is unique for it. Please look forward to a gorgeous stage which is typical of New Year. Featuring Nakamura Shibajaku, Nakamura Shid˘ and Ichikawa Sadanji in the roles of Akoya (Kagekiyo's lover), Chichibu no Sh˘ji Shigetada (Kagekiyo's enemy) and Mionoya Shir˘.
| | |
| --- | --- |
| Asakusa K˘kaid˘ (T˘ky˘) | |

Dates
2 ~ 26 January 2014 (Shinshun Hanagata Kabuki)
New Year Young Actors Kabuki
MatinÚe

Otoshidama (Nenshi Goaisatsu)

Genpei Nunobiki no Taki
(Yoshikata Saigo)

Evening

Otoshidama (Nenshi Goaisatsu)

Bakuchi Jű˘

Koi Bikyaku Yamato ďrai (Ninokuchi-mura)

Casting

Ichikawa Ennosuke, Kataoka Ainosuke, Nakamura Kikaku, Band˘ Minosuke, Nakamura Kazutar˘, Kamimura Kichiya, Ichikawa Monnosuke, Ichikawa Omez˘, Ichikawa Juen, Arashi Kitsusabur˘, Nakamura Kash˘, Ichikawa K˘tar˘, Nakamura Umemaru, Nakamura Hayato, Nakamura Tanenosuke, Nakamura Yonekichi, Ichikawa Enshir˘

Comments

The yearly show for young promising actors at the Asakusa K˘kaid˘ in Asakusa, a lively and colorful neighboorhood that keeps the scent of old Edo.

Sources: Earphone Guide Website or Sh˘chiku Kabuki Official Website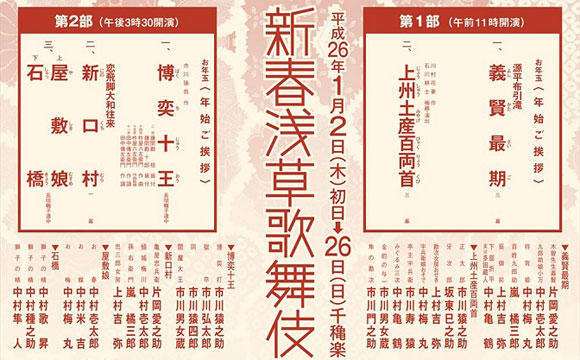 | | |
| --- | --- |
| Minamiza (Ky˘to) | |

Dates
4 ~ 17 January 2014 (Zenshinza Hatsuharu Tokubetsu K˘en)
Zenshinza Early Spring Special Performances
Program
Casting

Kawarasaki Kunitar˘, Fujikawa Yanosuke, Arashi Yoshisabur˘, Yamazaki Tatsusabur˘

Comments

The traditional Zenshinza New Year performances at the Minamiza:

Ippon Gatana Dohy˘ Iri: this is a modern play by Hasegawa Shin and shows Komagata Mohŕ (Fujikawa Yanosuke), a starving, would-be sum˘ wrestler. He encounters a courtesan Otsuta (Kawarasaki Kunitar˘), who gives him her purse and hair ornaments and makes him promise to become a champion sum˘ wrestler. In turn, she promises to go see him make his ceremonial entry into the ring. But ten years later, Mohŕ has become a gangster instead. Now a powerful fighter, he rescues Otsuta and her family. Ironically, this has become the only way that he can repay her kindness and the shameful form that his entry into the ring has taken.
Yushima no Kakegaku: Oshichi was a grocer's daughter who fell in love with a temple page named Kichisabur˘ when her family took refuge in a temple after a fire. She so wanted to see him that she set a fire, even though the penalty for arson was death. The story of Oshichi is famous in many theatrical versions, but this particular one features the antics of the middle-aged man Beniya Ch˘bŕ (commonly called Bench˘) who is in love with her. Starring Fujikawa Yanosuke as Bench˘, Kawarasaki Kunitar˘ as Oshichi and Arashi Yoshisabur˘ as Kichisabur˘.

Sources: Earphone Guide Website or Sh˘chiku Kabuki Official Website