| | |
| --- | --- |
| Kabukiza (T˘ky˘) | |
Dates
2 ~ 27 May 2023
Dankikusai Gogatsu ďkabuki
Dankikusai May Grand Kabuki
MatinÚe

Oto-ni Kiku Makoto no Wakamusha

Evening
Casting

Living National Treasure Onoe Kikugor˘, Living National Treasure Nakamura Baigyoku, Living National Treasure Nakamura T˘z˘, Onoe Maholo, Nakamura Kaishun, Nakamura Tokiz˘, Ichikawa Danjűr˘, Onoe Kikunosuke, Nakamura Jakuemon, Onoe Sh˘roku, Nakamura Kinnosuke, Band˘ Minosuke, Onoe Matsuya, Onoe Ukon, Ichikawa Udanji, Nakamura Kotar˘, Nakamura Baishi, Band˘ Hikosabur˘, Ichikawa Sadanji, Ichikawa Danz˘, Band˘ Rakuzen, Nakamura Karoku, Nakamura Matagor˘, Band˘ Kamez˘, Kataoka Ichiz˘, Ichikawa Sai'nyű, Ichimura Kakitsu, ďtani Tomoemon, Kawarasaki Gonjűr˘, Ichimura Manjir˘, ďtani Keiz˘, Ichikawa Omez˘, Ichikawa Kudanji, Nakamura Matsue, Band˘ Shingo, Nakamura Kash˘, Nakamura Kangyoku, Nakamura Mantar˘, Nakamura Tanenosuke, Nakamura Takanosuke, ďtani Hirotar˘, ďtani Hiromatsu, Onoe Sakon, Nakamura Tamatar˘, Nakamura Kichinoj˘, Nakamura Kamenoj˘, Ichimura Kitsutar˘

Comments

The great yearly Dankiku festival is back at the Kabukiza! This important festival for the Naritaya and Otowaya guilds commemorates 2 great stars of the Meiji era: Dan = Ichikawa Danjűr˘ IX and Kiku = Onoe Kikugor˘ V. "Wakaki Hi no Nobunaga" is staged to commemorate the 10th anniversary of the passing away of Ichikawa Danjűr˘ XII. "Oto-ni Kiku Makoto no Wakamusha" is staged for the hatsubutai of Onoe Maholo.

Sources: Earphone Guide Website or Sh˘chiku Kabuki Official Website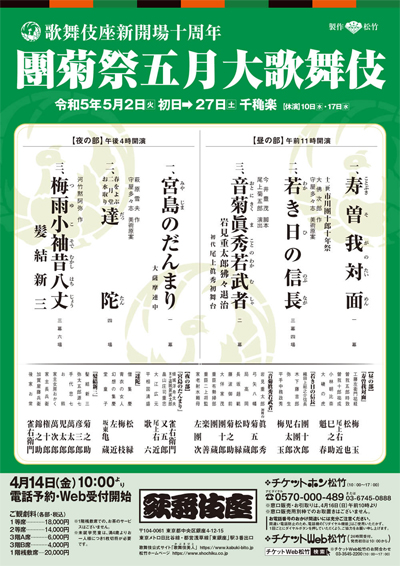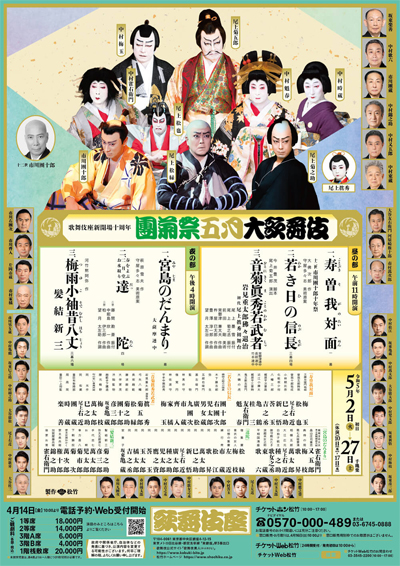 | | |
| --- | --- |
| Meijiza (T˘ky˘) | |
Dates
3 ~ 28 May 2023
Ichikawa Ennosuke Funt˘ K˘en
Ichikawa Ennosuke's Struggle Performances
MatinÚe

Fushich˘ yo Hat˘ o Koete

Evening
Casting

Ichikawa Ennosuke, Nakamura Ganjir˘, Ichikawa Monnosuke, Ichikawa Chűsha, Nakamura Hayato, Nakamura Yonekichi, Ichikawa Emiya, Ichikawa Emisabur˘, Ichikawa En'ya, Ichikawa Juen, Ichikawa Seiko, Nakamura Fukunosuke, Nakamura Utanosuke, Ichikawa Danko, Ichikawa Otora, Ishibashi Sh˘ji, Shimomura Ao, Kashima Noritoshi

Comments

The Omodakaya guild strikes T˘ky˘ in full force and full regalia this month at the Meijiza, which celebrates its 150th anniversary! Ueda Shinji's drama "Fushich˘ yo Hat˘ o Koete", premiered in February 1979 in ďsaka at the Umeda Koma Gekij˘, will be revived for the first time in 44 years! Tsuruya Nanboku IV's spectacular 1813 kaomise drama "Gohiiki Tsunagi Uma", which was revived by Ichikawa Ennosuke III in April 1984 at the Meijiza, will also be staged.
| | |
| --- | --- |
| National Theatre (T˘ky˘) | |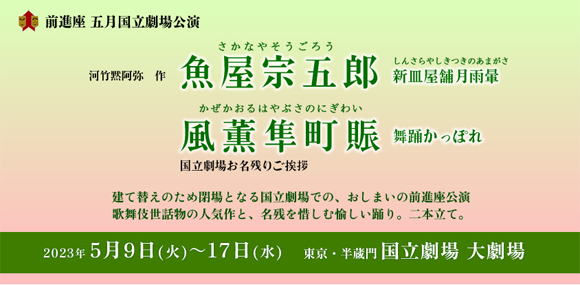 | | |
| --- | --- |
| Minamiza (Ky˘to) | |

Dates
12 ~ 21 May 2023
Kabuki Kansh˘ Ky˘shitsu
Kabuki Appreciation Class
Program

Kabuki no K˘shaku

Casting

Kamimura Kichitar˘, Kataoka Rikiya, Kataoka Senjir˘

Comments

Young actors performing in Ky˘to at the Minamiza.

Negai no Ito Enishi no Odamaki: "Imoseyama Onna Teikin", is a masterpiece by Chikamatsu Hanji (1725~1783) first presented in 1771 in the puppet theater. It is an epic taken from early Japanese history, weaving together history, legend and myth. The country chafes under the domination of the dictator Iruka. The dance-drama from this epic classic show love and jealousy in a realm ruled by an evil dictator. Motome (Kataoka Senjir˘), the son of an important aristocrat opposed to the rule of the dictator Soga no Iruka is secretly planning to kill him. Having disguised himself as a commoner, he has had nightly trysts with a mysterious woman, an elegant princess (Kataoka Rikiya). He has attached a string to her kimono to follow her and discover her identity. But Motome is followed as well by Omiwa (Kamimura Kichitar˘), the beautiful daughter of a humble sake shop owner who has fallen in love with him during his time living undercover as a humble maker of court caps.

Sources: Sh˘chiku Kabuki Official Website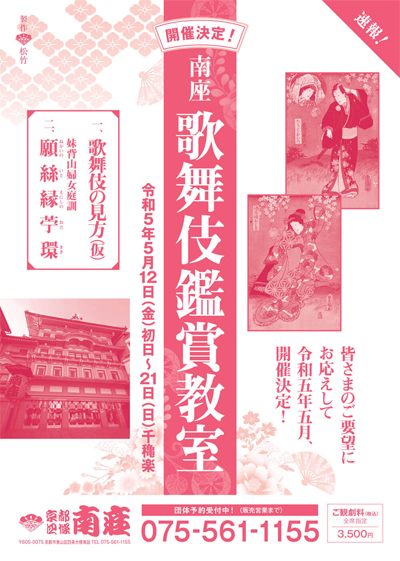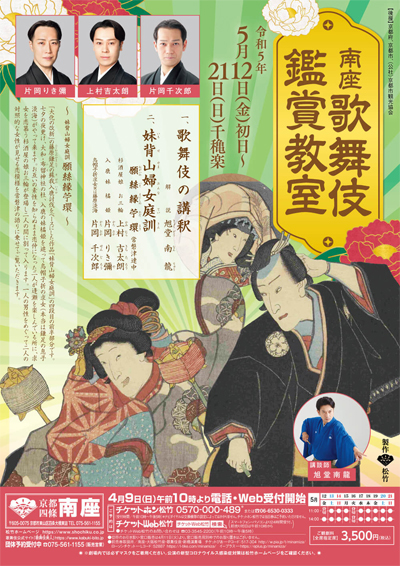 | | |
| --- | --- |
| Nihonbashi K˘kaid˘ (T˘ky˘) | |

Dates
1 May 2023 (Hakuenkai)
Hakuen Gala
Program

Sanbas˘

Mizu no Hentai

Casting
Comments

1st edition of the gala for young actor Nakamura Tamatar˘, who will perform in the dances "Sanbas˘" and "Fuji Musume". "Mizu no Hentai" and "Shakky˘" will be musical performances only.