| | |
| --- | --- |
| Kabukiza (T˘ky˘) | |
Dates
2 ~ 26 February 2024
Saruwakasai Nigatsu ďkabuki
Saruwaka Festival February Grand Kabuki
MatinÚe

Shinpan Utazaimon (Nozaki-mura)

Evening

Saruwaka Edo no Hatsuyagura

Yoshitsune Senbon Zakura (Sushiya)

Casting

Living National Treasure Kataoka Nizaemon, Living National Treasure Nakamura T˘z˘, Living National Treasure Nakamura Karoku, Nakamura Kankur˘, Nakamura Shichinosuke, Nakamura Shikan, Nakamura Tokiz˘, Onoe Sh˘roku, Band˘ Yajűr˘, Nakamura Matagor˘, Nakamura Shid˘, Nakamura Baishi, Nakamura Kotar˘, Kataoka Kamez˘, Band˘ Kamez˘, Band˘ Shingo, Nakamura Kash˘, Nakamura Hashinosuke, Nakamura Mantar˘, Nakamura Tanenosuke, Nakamura Tsurumatsu, Nakamura Kantar˘, Nakamura Ch˘zabur˘

Comments

The February Grand Kabuki at the Kabukiza. The two programs commemorate the 12th anniversary (13th memorial service) of the passing away of Nakamura Kanzabur˘ XVIII, who passed away the 5th of December 2012.
| | |
| --- | --- |
| Misonoza (Nagoya) | |
| | |
| --- | --- |
| Sh˘chikuza (ďsaka) | |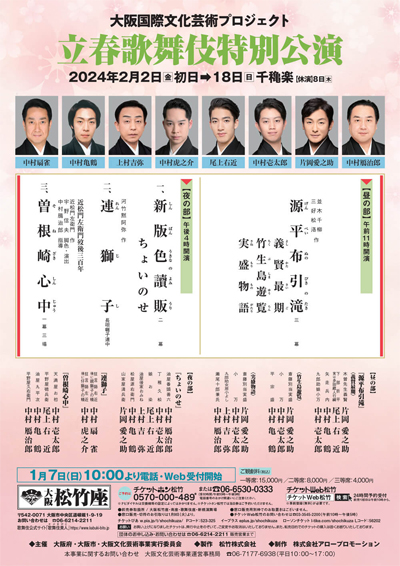 | | |
| --- | --- |
| Hakataza (Fukuoka) | |

Dates
3 ~ 18 February 2024
Nigatsu Hanagata Kabuki
February Young Actors Kabuki
Program

Edo no Yami Ayashi no Kagizume []
(Akechi Kogor˘ to Ningenhy˘)

U no Tonosama

Casting
Comments

A special program in Fukuoka at the Hakataza starring Matsumoto K˘shir˘ and his son Ichikawa Somegor˘. The drama "Edo no Yami Ayashi no Kagizume", based on "Ningenhy˘" ('The Were-Panther' in English), a novel of Edogawa Rampo, was premiered in November 2008 at the National Theatre [more details].
| | |
| --- | --- |
| Shinbashi Enbuj˘ (T˘ky˘) | |
Dates
4 February ~ 20 March 2024
Hatsuharu Kabuki K˘en
Early Spring Kabuki Performances
Program

Yamato Takeru

Casting

Ichikawa Chűsha, Nakamura Kinnosuke, Nakamura Hayato, Ichikawa Danko, Ichikawa Monnosuke, Nakamura Yonekichi, Ichikawa En'ya, Ichikawa Emisabur˘, Ichikawa Emiya, Ichikawa Juen, Ichikawa Seiko, Nakamura Fukunosuke, Nakamura Utanosuke, Kashima Noritoshi

Comments

Revival of the famous SűpÔ Kabuki drama "Yamato Takeru", a classic of the Omodakaya guild, in T˘ky˘ at the Shinbashi Enbuj˘. In the absence of Ichikawa Ennosuke, the eponymous role of Yamato Takeru is played by either Nakamura Hayato or Ichikawa Ennosuke III's grandson Ichikawa Danko.