Stage names:
Nakamura Kanjaku III
Arashi Kakuz˘ I
Guild: Narikomaya
Line number: SANDAIME (III)
Poetry name: Shish˘
Existence: 1841 ~ 3 February 1881
Connections:
Adoptive father: Nakamura Utaemon IV
Son: Nakamura Ganjir˘ I
Grandsons: Nakamura Ganjir˘ II, Hayashi Mataichir˘ II
Great-grandsons: Sakata T˘jűr˘ IV (Nakamura Ganjir˘ III), Nakamura Kikaku I
Great-great-grandsons: Nakamura Ganjir˘ IV, Nakamura Senjaku III, Nakamura Kikaku II
Great-great-great-grandsons: Nakamura Kazutar˘, Nakamura Toranosuke
Career:
1841 ~ 1852: born in ďsaka. His father is a policeman. He joins a troupe of children-actors (kodomo shibai) at the age of 11, playing under the name of Arashi Kakuz˘ I.
1st lunar month of 1852: Kakuz˘ is adopted by Nakamura Utaemon IV.
2nd lunar month of 1852: his adoptive father Nakamura Utaemon IV dies.
3rd lunar month of 1860: birth of his son. Kakuz˘'s lover Otae is the daughter and heir of the ďgiya house, one of the most famous and prestigious brothels in ďsaka. It is impossible for the couple to get married and Kakuz˘ has to leave Otae and his son.
1st lunar month of 1861: the actor Nakamura Kanjaku II dies.
8th lunar month of 1863: Arashi Kakuz˘ I takes the name of Nakamura Kanjaku III at the ďnishi no Shibai, playing the role of Hayase Genjir˘ in the drama "Tengajaya".
9th lunar month of 1868: Kanjaku plays at the Kita-Horie Ichi-no-Gawa Shibai (ďsaka) the role of Hachiman Tar˘ in the "Sodehagi Saimon" scene of the drama "ďshű Adachi-ga-Hara"; his stage partners are Nakamura S˘jűr˘ (Sodehagi), Arashi Hinasuke VII (Abe no Sadat˘) and Jitsukawa Enjaku I (Abe no Munet˘). The same play is staged with the same casting in the 11th lunar month of 1868 at the Minamigawa no Shibai.
Winter 1870: Kanjaku settles in T˘ky˘.
1st lunar month of 1871: Kanjaku plays at the Moritaza the role of Miuranosuke in the drama "Kamakura Sandaiki".
10th lunar month of 1872: premiere at the Moritaza of Kawatake Shinshichi II's zangirimono "Tsuki no En Masu no Igaguri"; Kanjaku plays the role of Seikichi [casting].
June 1875: Kanjaku plays at the Shintomiza in the drama "Meiji Nenkan Azuma Nikki".
Summer 1875 Kanjaku goes back to ďsaka.
March 1876: Kanjaku plays at the Matsushima Shibai (ďsaka) the role of Onoenosuke in the drama "Keisei Jidai Kagami".
1877: reunion with his son Ganjir˘.
March 1878: his son takes the name of Nakamura Ganjir˘ I, playing together with his father in the drama "Seinan Yume Monogatari", which is staged in ďsaka at the Ebisuza.
April 1879: tour in Shikoku.
August 1879: second stay in T˘ky˘; Kanjaku takes part in the opening ceremony of the Hisamatsuza [details].
1880: Kanjaku goes back to ďsaka.
October 1880: Kanjaku achieves a great success at the Ebisuza playing 4 roles in the drama "Sensui no Tsuki Utsushi no Omokage".
January 1881: Kanjaku appears on stage for the last time, in Kobe at the Kikusuiza, where he plays the role of ďoka Echizen in the drama "Ten'ichib˘ ďoka Seidan". He suddenly falls ill and dies in February.
Comments:
Nakamura Kanjaku III was a talented Kamigata actor, who was able to play tachiyaku or onnagata roles and was equally at home in sewamono and jidaimono dramas. Wagotoshi or toshima roles were his forte.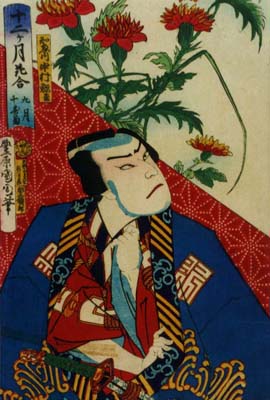 Nakamura Kanjaku III playing the role of Chienai in the drama "Kiichi H˘gen Sanryaku no Maki" (print made by Toyohara Kunichika in 1880)
Print made by Toyohara Kunichika in 1874
The Nakamura Kanjaku line of actors