| | |
| --- | --- |
| Shinbashi Enbuj˘ (T˘ky˘) | |
Dates
2 ~ 26 March 2011 (Sangatsu ďkabuki)
March Grand Kabuki
MatinÚe

Onshű no Kanata-ni

Evening

Suitengű Megumi no Fukagawa (Fudeya K˘bŕ)

Casting

Nakamura Shikan, Nakamura Kichiemon, Onoe Kikugor˘, Matsumoto K˘shir˘, Nakamura Shibajaku, Onoe Kikunosuke, Nakamura Kaishun, Nakamura Baigyoku, Nakamura Fukusuke, Nakamura T˘z˘, Onoe Sh˘roku, Ichikawa Somegor˘, Nakamura Karoku, Nakamura Kash˘, Nakamura Matsue, Nakamura Tamatar˘

Comments

The 10th anniversary of the passing away of Nakamura Utaemon VI is commemorated at the Shinbashi Enbuj˘ with the staging of both "Goten" and "Yoshiwara Suzume":

Source: Earphone Guide website
| | |
| --- | --- |
| National Theatre (T˘ky˘) | |
Dates
5 ~ 27 March 2011
Program
Casting
Comments

Revival at the National Theatre of Tsuruya Nanboku IV's masterpiece "Ehon Gapp˘-ga-Tsuji".

Ehon Gapp˘-ga-Tsuji: in March at the National Theatre, there will be a rare full-length performance of a revenge classic by Tsuruya Nanboku IV (1755~1829). First performed in 1810, "Ehon Gapp˘-ga-Tsuji" was a dramatization of a popular novel of the time about a revenge at Gapp˘-ga-Tsuji. Nanboku used his intimate knowledge of the top stars of the time and the talented up and coming stars to create this play, full of exciting action and sardonic humor. The heart of the play was Matsumoto K˘shir˘ V, the most famous actor of villain roles, lean, with a craggy, sinister face, in a double role, Daigakunosuke, a samurai who is trying to take over his clan, has stolen the clan treasures and killed everyone who has gotten in his way and Tateba no Taheiji, a villain from the bottom of society who plots together with Daigakunosuke. Instead of a revenge play as the triumph of good over evil, this play shows the exuberant rampage of the villains until finally, they are defeated at a terrible cost to the heroes. This revival stars Kataoka Nizaemon, one of the top Kansai actors of today in the double role of Daigakunosuke and Tateba no Taheiji. Kataoka Nizaemon strongly resembles Matsumoto K˘shir˘ V physically and in mood and will be the perfect actor to bring this powerful side of kabuki back to life.

Source: Earphone Guide website

As a consequence of the 2011 Great Eastern Japan Earthquake Disaster, this program was stopped from the 15th of March!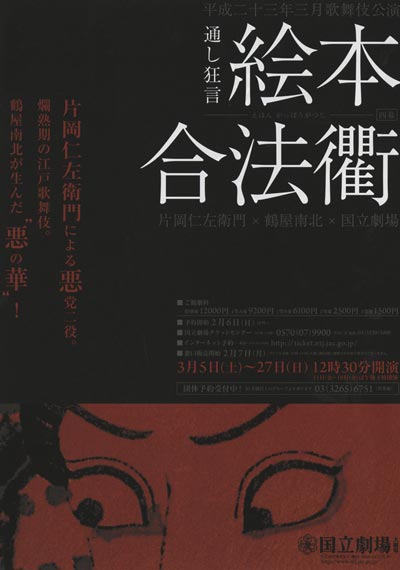 | | |
| --- | --- |
| Minamiza (Ky˘to) | |

Dates
3 ~ 27 March 2011 (Sangatsu Hanagata Kabuki)
March Young Actors Kabuki
Program
Casting

Ichikawa Ukon, Ichikawa Danjir˘, Ichikawa Emiya, Ichikawa Monnosuke, Ichikawa Emisabur˘, Ichikawa Shun'en, Ichikawa En'ya, Ichikawa Juen

Comments

Revival at the Minamiza of the spectacular drama "Hitori Tabi Gojűsan Tsugi", which belongs to the Ennosuke Jűhachiban collection of plays. Ichikawa Ukon plays 15 roles in a drama full of keren and hayagawari:

Hitori Tabi Gojűsan Tsugi:
(Traveling Alone to the Fifty-three Stations)
"Hitori Tabi Gojűsan Tsugi" was first performed in 1827, and was written by the famous playwright Tsuruya Nanboku IV (1755 - 1829). It built on the popular explosion of fascination of travel on this highway seen in the bestselling comic novel "Hizakurige" ("Shanks Mare") about the adventures of Yaji and Kita on the road and lavish series of multi-colored woodblock prints showing all fifty-three stations along the highway. But in addition to the expected travel scenes and comedy of Yaji and Kita, audiences also got a spectacular series of scenes scary, sexy and comic reworking all Nanboku's favorite themes including a monstrous cat. Ichikawa Ennosuke long specialized in reviving Nanbokuĺs plays, each production including Ennosukeĺs trademark fast-changes and flight through the air. March at Minamiza features the young actors of Ennosukeĺs troupe headed by Ichikawa Ukon in a full-length performance of this exciting and entertaining spectacle.

Source: Sh˘chiku Kabuki Official Website
Band˘ Tamasabur˘ Tour
Dates
26 ~ 29 March 2011 (Band˘ Tamasabur˘ Tokubetsu Buy˘ K˘en)
Band˘ Tamasabur˘ Special Dance Performances
Program

Yuki

Aoi no Ue

Kane-ga-Misaki

Casting
Comments

A short Buy˘ tour, starring Band˘ Tamasabur˘ in 3 of his favorite dances. He performs from the 26th to the 27th of March 2011 in Kosaka (Akita prefecture), at the K˘rakukan, the oldest operating traditional Kabuki theatre in Japan (which celebrates its 100th anniversary with these performances). He also performs in Nagoya at the Misonoza the 29th of March 2011.

As a consequence of the 2011 Great Eastern Japan Earthquake Disaster, the shows at the K˘rakukan were canceled!