| | |
| --- | --- |
| Misonoza (Nagoya) | |
Dates
1 ~ 25 October 2011 (Kichirei Kaomise ďkabuki)
Annual Festive Face-Showing Grand Kabuki
MatinÚe
Evening

Futatsu Ch˘ch˘ Kuruwa Nikki (Sum˘ba)

Casting

Ichikawa Danjűr˘, Nakamura Kichiemon, Band˘ Mitsugor˘, Nakamura Baigyoku, Nakamura Matagor˘, Nakamura Shibajaku, Nakamura Kaishun, Nakamura Fukusuke, Ichikawa Ebiz˘, Nakamura Kash˘, Ichikawa Sadanji, Nakamura Kinnosuke, Nakamura Karoku, Nakamura T˘z˘, Ichikawa Somegor˘

Comments

47th kaomise at the Misonoza, which celebrates two shűmei: Nakamura Kash˘ III and his son Nakamura Tanetar˘ IV take the respective names of Nakamura Matagor˘ III and Nakamura Kash˘ IV.

Source: Earphone Guide website
| | |
| --- | --- |
| Shinbashi Enbuj˘ (T˘ky˘) | |
| | |
| --- | --- |
| National Theatre (T˘ky˘) | |
Dates
3 ~ 27 October 2011
Program

Kaimaku Ky˘ki Adauchi Monogatari

Casting

Onoe Kikugor˘, Nakamura Tokiz˘, Onoe Kikunosuke, Onoe Sh˘roku

Comments

"Kaimaku Ky˘ki Adauchi Monogatari" is a Kabuki version of Kyokutei Bakin's novel "Kaikan Ky˘ki Ky˘kakuden", "Daring Adventures of Chivalrous Men", 4 volumes which were published between 1832 and 1835.

Kaimaku Ky˘ki Adauchi Monogatari
(A Tale of Revenge of the Two Kingdoms)
The late Edo Period writer Kyokutei Bakin (1767-1848) is famous for his long romances, full of adventure and fantasy and with his own special take on history. Readers have long thrilled to the stories of the Eight Dog Warriors of the Satomi Clan and the story of the warrior Tametomo in exile in the novel "Chinsetsu Yumiharizuki." These stories have also inspired Kabuki versions, most notably a new version of "Chinsetsu Yumiharizuki" written especially for the National Theatre by the novelist Mishima Yukio. In October 2011, to begin the season celebrating the forty-fifth anniversary of the founding of the National Theatre there will be a spectacular new version of a late unfinished novel by Bakin. The novel is set in the age of the third Ashikaga Sh˘gun, the fabulous Ashikaga Yoshimitsu. The Ashikaga clan took power after the imperial court tried to take power back for itself and then split into two factions, each claiming legitimacy for itself. This was the period of the Northern and Southern Courts. Yoshimitsu tried to manipulate this struggle to make the Ashikaga shogunate all powerful. But each of the sides had great heroes like Nitta Yoshisada and Kusunoki Masashige. The story focuses on their descendants, the next generations of heroes. Their encounters and intrigues are full of exciting events and finally comes to a climax at Yoshimitsu's famous palace, the Golden Pavilion in Ky˘to. There is a new tradition at the National Theatre of new plays and revivals supervised by the Kabuki actor Onoe Kikugor˘ and this will challenge the talents of his group of actors and the production staff to its fullest. The play will be full of tense drama, comedy, the spectacular tachimawari fight scenes of the Kikugor˘ Theatre Troupe and finally, a double chűnori flight through the air going along both sides of the auditorium, a first for the National Theatre.

Source: Earphone Guide website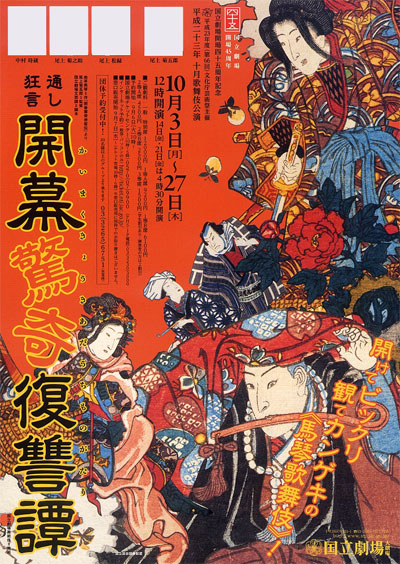 | | |
| --- | --- |
| Minamiza (Ky˘to) | |

Dates
2 ~ 26 October 2011 (Jűgatsu ďkabuki)
October Grand Kabuki
Program

Sumizome no Nenbutsu Hijiri
(H˘nen J˘nin Monogatari)

Casting

Sakata T˘jűr˘, Nakamura Kanjaku, Nakamura Hashinosuke, Nakamura Kazutar˘

Comments

"Sumizome no Nenbutsu Hijiri" is a newly-created Kabuki drama, which is staged to commemorate the Buddhist priest H˘nen (1133~1212).

Ya-no-Ne: like a picture come to life, this play combines the most exaggerated costumes and movements with leisurely humor. The aragoto hero Soga no Gor˘ is sharpening a giant arrow and sleeping in wishes of good fortune for the New Year when he sees his brother Jűr˘ in a dream asking him to come and rescue him. The two Soga brothers are part of one of the most popular vendetta stories in Kabuki, suffering for eighteen years before being able to avenge the death of their father. In this play, when Gor˘ finds out that his brother is in trouble, he jumps on the horse of a passing daikon vendor and, brandishing a giant daikon as a whip prepares to rush to his brother's side. Starring Nakamura Hashinosuke and Nakamura Kanjaku as Gor˘ and Jűr˘.
H˘nen J˘nin Monogatari
(The Saint in Black: The Story of H˘nen)
H˘nen (1133~1212) was a Buddhist priest that revolutionized Japanese Buddhism. Until his time, Buddhism was for the powerful elite and to protect the state, but H˘nen preached that through a sincere prayer to the Amidha Buddha all people could find salvation in the Pure Land. This year marks the eight hundredth anniversary of H˘nen's death and to commemorate it, Minamiza will present a new play celebrating H˘nen. H˘nen has just died and on the occasion of the dedicating of an image of the Amidha Buddha, people recall the many people he helped, including Kumagai Jir˘ Naozane, a warrior tired of war. They then recall the many political battles he faced, that finally sent him into exile. Starring Living National Treasure Sakata T˘jűr˘ and Nakamura Hashinosuke in the roles of H˘nen and Kumagai. Featuring also Nakamura Kanjaku, Nakamura Kikaku and Nakamura Kazutar˘.
Renjishi: 2 entertainers dance a tale of the legendary shishi or lion-like spirits that live at the foot of a holy Buddhist mountain. There is a comic interlude with 2 Buddhist pilgrims. Then, the shishi themselves appear and perform their dance with wild shaking of their long manes. The dance shows a parent shishi forcing his cub to undergo harsh training in order to grow up strong. This theme is often associated with the training a parent actor gives his son. This performance features Nakamura Kanjaku in the role of the parent shishi and his son Nakamura Kazutar˘ in the role of the cub.

Source: Earphone Guide website
Sh˘chiku Kabuki Official Website for "H˘nen J˘nin Monogatari"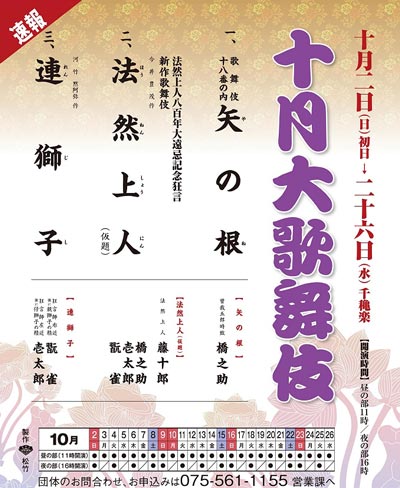 | | |
| --- | --- |
| Nissay Theatre (T˘ky˘) | |

Dates
2 ~ 26 October 2011 (Band˘ Tamasabur˘ Tokubetsu Buy˘ K˘en)
Band˘ Tamasabur˘ Special Dance Performances
Program

Y˘kihi

Casting
Comments

Keisei: this dance shows the cultured elegance of the top-rank of courtesan (keisei in Japanese) in the pleasure quarters. Starring Band˘ Tamasabur˘ in the role of the keisei.
Fuji Musume: the spirit of wisteria blossoms dances of love in the form of a beautiful young maiden. One of Kabuki's most famous and colorful dances, it will feature the dancing skills of Band˘ Tamasabur˘.
Y˘kihi: based on a classical N˘ play, this is a new dance showing Yang Guifei (Y˘kihi in Japanese), the consort of the Tang Emperor whose beauty nearly toppled the empire. The play is set after her death and shows a magician sent by the grieving Tang Emperor to try to find her spirit in the land of immortals. Starring Band˘ Tamasabur˘ in the role of Y˘kihi. Featuring also Band˘ Yajűr˘.

Source: Earphone Guide website
Sh˘chiku Kabuki Official Website for "Keisei" and "Y˘kihi"
NHK Hall (T˘ky˘)
Dates
28 October 2011 (Koten Gein˘ Kansh˘ Kai)
Program

Hikosan Gongen Chikai no Sukedachi

Casting

Nakamura Kichiemon, Nakamura Shibajaku, Nakamura Matagor˘, Nakamura T˘z˘

Comments

38th edition of Koten Gein˘ Kansh˘ Kai (literally the "Classics Entertainment Appreciation Association"), a yearly performance produced by the National TV network NHK. The program includes one ky˘gen, one Kabuki play, one traditional dance and traditional music.

Keya-mura: Rokusuke (Nakamura Kichiemon), a sword master who lives a simple country life, is taking care of a small foundling child. He hangs the boy's kimono outside his house in the hope that the boy's relatives will see it and know where he is. One day he finds himself attacked by a woman named Osono (Nakamura Shibajaku) who turns out to be the aunt of the child. As they talk, they find that they are in fact linked by promises of marriage although they have never met directly. Osono is searching for the killer of her father, Rokusuke's master, and Rokusuke promises to help in her vendetta.

Source: Earphone Guide website
Kinpusanji Temple (Yoshinoyama)
Dates
8 ~ 9 October 2011 (Yoshino Gein˘sai Kinpusanji H˘n˘ Kabuki)
Yoshino Artistic Festival Kinpusanji Offering Kabuki
Program
Casting
Comments

Original outdoors Kabuki performance, in the precincts of the famous Kinpusanji temple which is located in the heart of Yoshinoyama:

Fuji Musume: the spirit of wisteria blossoms dances of love in the form of a beautiful young maiden. One of Kabuki's most famous and colorful dances, it will feature the dancing skills of Kataoka Takatar˘.
Renjishi: 2 entertainers dance a tale of the legendary shishi or lion-like spirits that live at the foot of a holy Buddhist mountain. There is a comic interlude with 2 Buddhist pilgrims. Then, the shishi themselves appear and perform their dance with wild shaking of their long manes. The dance shows a parent shishi forcing his cub to undergo harsh training in order to grow up strong. This theme is often associated with the training a parent actor gives his son. This performance features Kataoka Nizaemon in the role of the parent shishi and his grandson Kataoka Sennosuke in the role of the cub.

Source: Earphone Guide website
I˘jima Island (Kagoshima)
Dates
22 October 2011 (Mishima-mura Kabuki)
Mishima Village Kabuki
Program
Casting

Nakamura Kanzabur˘, Kataoka Kamez˘, Nakamura Shichinosuke, Nakamura Kantar˘, Nakamura Tsurumatsu, Nakamura Kannoj˘

Comments

Original outdoors Kabuki performance on the Island of I˘jima, one of the 3 islands of the Mishima Village, which belongs to the Kagoshima City. I˘jima is 5.5 kilometres in length from east to west and 4.0 kilometres from north to south. Historically it is identified as Kikai Island, an island of exile, where the priest Shunkan was exiled. A real boat will be used instead of the usual stage prop! This outdoors right-on-location "Shunkan" performance was premiered 15 years ago. This time is the second edition.

Shunkan: the priest Shunkan (Nakamura Kanzabur˘) has been exiled to Devil's Island for plotting against the dictator Kiyomori. A pardon is given to his fellow conspirators, but Shunkan is only saved by an additional pardon given by Kiyomori's compassionate son. Even so, he gives up his place on the boat to freedom so his companion's new wife can accompany her husband back to the capital. The boat leaves and Shunkan is left watching is disappear in the distance, knowing he will be left on the island forever. Featuring Kataoka Kamez˘ as the evil emissary Senoo and Nakamura Kantar˘ as the merciful envoy Tanzaemon. With Nakamura Tsurumatsu as the island girl Chidori and Nakamura Shichinosuke as Naritsune, Shunkan's fellow exile who has fallen in love with her.

Source: Earphone Guide website
Kagoshima Citizens' Culture Hall (Kagoshima)
Dates
25 October 2011 (Kagoshima ďkabuki)
Kagoshima Grand Kabuki
Program
Casting

Nakamura Kanzabur˘, Kataoka Kamez˘, Nakamura Shichinosuke, Nakamura Kantar˘, Nakamura Tsurumatsu, Nakamura Kannoj˘

Comments

1-evening only Kabuki performance in the city of Kagoshima.

B˘ Shibari:
(Tied to a Pole)
A dance play based on a classical Ky˘gen farce. A master is irritated that his two servants always drink his wine while he is out. He plots with his servant Tar˘kaja (Kataoka Kamez˘) to trick the other servant Jir˘kaja (Nakamura Kantar˘) into demonstrating his skill at stick fighting, tying him to the stick. The master then ties up Tar˘kaja as well. But he is outsmarted when the two still manage to drink his wine while tied up. Their happy singing and dancing while tied up is a dazzling display of virtuoso dancing and star two of the finest young dancers in Kabuki.
Shunkan: the priest Shunkan (Nakamura Kanzabur˘) has been exiled to Devil's Island for plotting against the dictator Kiyomori. A pardon is given to his fellow conspirators, but Shunkan is only saved by an additional pardon given by Kiyomori's compassionate son. Even so, he gives up his place on the boat to freedom so his companion's new wife can accompany her husband back to the capital. The boat leaves and Shunkan is left watching is disappear in the distance, knowing he will be left on the island forever. Featuring Kataoka Kamez˘ as the evil emissary Senoo and Nakamura Kantar˘ as the merciful envoy Tanzaemon. With Nakamura Tsurumatsu as the island girl Chidori and Nakamura Shichinosuke as Naritsune, Shunkan's fellow exile who has fallen in love with her.

Source: Earphone Guide website