2 shows in Nagoya (Misonoza), 4 in T˘ky˘ (Shinbashi Enbuj˘, National Theatre, NHK Hall) and 1 in Nara (Yakushiji)!
Onoe Kikugor˘, Kataoka Nizaemon, Nakamura Tokiz˘, Nakamura Senjaku, Ichikawa Sadanji, Nakamura Kankur˘, Onoe Kikunosuke and Nakamura Shichinosuke perform at the Misonoza!
Ichikawa Danjűr˘, Matsumoto K˘shir˘, Sakata T˘jűr˘, Nakamura Shibajaku, ďtani Tomoemon and Onoe Sh˘roku perform at the Shinbashi Enbuj˘!
Band˘ Mitsugor˘ and Nakamura Hashinosuke perform at the National Theatre!
| | |
| --- | --- |
| Misonoza (Nagoya) | |
Dates
2 ~ 26 October 2012 (Kichirei Kaomise ďkabuki)
Annual Festive Face-Showing Grand Kabuki
MatinÚe

Komochi Yamanba
(Yaegiri Kuruwa Banashi)

Keisei Yamato Z˘shi (Ch˘ no Michiyuki)

Evening

Kiichi H˘gen Sanryaku no Maki (Kikubatake)

Casting

Onoe Kikugor˘, Kataoka Nizaemon, Nakamura Tokiz˘, Nakamura Senjaku, Ichikawa Sadanji, Nakamura Kankur˘, Onoe Kikunosuke, Nakamura Shichinosuke, Band˘ Hikosabur˘, Band˘ Yajűr˘, Kataoka Kamez˘, Ichikawa Omez˘, Band˘ Kamesabur˘, Nakamura Baishi, Band˘ Shingo, Onoe Ukon, Nakamura Mantar˘

Comments

Nakamura Kankur˘ VI celebrates his shűmei in Nagoya at the Misonoza!

Sources: Earphone Guide Website or Sh˘chiku Kabuki Official Website
| | |
| --- | --- |
| Shinbashi Enbuj˘ (T˘ky˘) | |
Dates
1 ~ 25 October 2012 (Jűgatsu ďkabuki)
October Grand Kabuki
MatinÚe
Evening

Soga Moy˘ Tateshi no Goshozome
(Gosho no Goroz˘)

Casting

Ichikawa Danjűr˘, Matsumoto K˘shir˘, Sakata T˘jűr˘, Nakamura Shibajaku, ďtani Tomoemon, Onoe Sh˘roku, Kataoka Hidetar˘, Nakamura Karoku, Ichikawa Unosuke, Ichimura Kakitsu, Kataoka Ichiz˘, Ichikawa Komaz˘, Matsumoto Kingo, Band˘ Kametoshi, ďtani Hirotar˘, ďtani Hiromatsu, Matsumoto Kintar˘, Nakamura Yonekichi

Comments

The Shinbashi Enbuj˘ commemorates this month late Matsumoto K˘shir˘ VII!

Sources: Earphone Guide Website or Sh˘chiku Kabuki Official Website
| | |
| --- | --- |
| National Theatre (T˘ky˘) | |
Dates
5 ~ 27 October 2012
Program

Shiobara Tasuke Ichidaiki

Casting

Band˘ Mitsugor˘, Nakamura Hashinosuke, Kataoka Takatar˘, Nakamura T˘z˘, Ichikawa Danz˘, Ichimura Manjir˘, Kawarasaki Gonjűr˘, Nakamura Kinnosuke, Nakamura Matsue, Band˘ Shűch˘, Kamimura Kichiya, Nakamura Tamatar˘

Comments

Revival at the National Theatre of Kawatake Shinshichi III's drama "Shiobara Tasuke Ichidaiki", which was staged for the last time in March 1960 at the Kabukiza.

Shiobara Tasuke Ichidaiki: the 2012 season of kabuki at the National Theatre begins with a rare performance of "Shiobara Tasuke Ichidaiki". This is a true story, which was first dramatized as a long rakugo narrative by San'yűtei Ench˘ (1839~1900) as one of the most famous of his ninj˘ banashi ("stories of human feeling"). Even today, it can occasionally be heard being told by rakugo storytellers, who usually perform comic stories but also have a broad repertory of dramatic stories as well. Although it was once commonly performed in the Kabuki theatre, this revival marks the first performance in a long time. The story tells of how Shiobara Tasuke (Band˘ Mitsugor˘) left his home in Gumma Prefecture with very little money and went to seek his fortune in Edo. The most famous scene features the moment when he is forced to part from his beloved horse. But through diligent saving and shrewd business practices, he built a business of selling charcoal that was the biggest in the city of Edo and he has left his mark today with a bridge named after him near Ry˘goku and a lantern that he donated to the Kameido shrine that is still there today.

Source: Earphone Guide website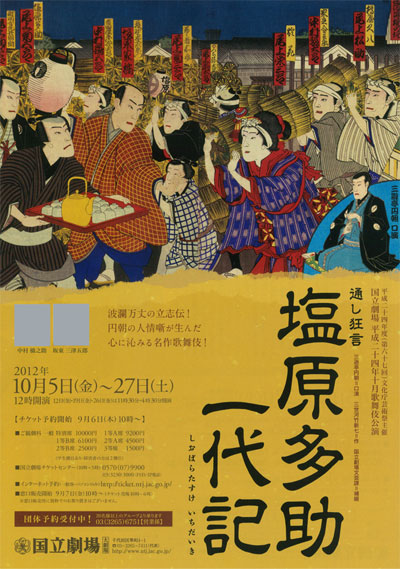 NHK Hall (T˘ky˘)
Dates
28 October 2012 (Koten Gein˘ Kansh˘ Kai)
Program
Casting

Sakata T˘jűr˘, Nakamura Senjaku, Band˘ Yajűr˘, Band˘ Takesabur˘, Nakamura Toranosuke

Comments

39th edition of Koten Gein˘ Kansh˘ Kai (literally the "Classics Entertainment Appreciation Association"), a yearly performance produced by the National TV network NHK. The program includes one ky˘gen, one Kabuki play, one traditional dance and traditional music.

Sakaya: this play is supposed to be about the love suicide of Hanshichi, the son of a sake merchant, and the dancer Sankatsu, but the true heart of the drama is the effect of this romance on his family. Hanshichi is forced to kill a man and although his father has apparently disowned him, in fact, he lets himself be arrested in his son's place. The most famous moment of this play is the lament of Osono, the wife that Hanshichi was arranged to marry. Even though she has never been loved by Hanshichi, in her heart is only selfless love and concern for him. Starring Living National Treasure Sakata T˘jűr˘ as both Hanshichi and Osono. Featuring also Nakamura Senjaku, Band˘ Yajűr˘ and Band˘ Takesabur˘.

Source: Earphone Guide website
Yakushiji (Nara)
Dates
29 ~ 30 October 2012 (Sekaisan Yakushiji H˘n˘ ďkabuki)
World Heritage Yakushiji Offering Grand Kabuki
Program

Goaisatsu

Casting
Comments

This special Kabuki performance is staged within the precincts of the famous Yakushiji temple in Nara. UNESCO listed the site as World Heritage in 1998.

Hashi Benkei:
(Benkei on the Bridge)
There are many legends about Benkei, the warrior-priest who was the faithful companion of the general Yoshitsune. This dance shows the first meeting of Benkei and Yoshitsune. Benkei goes nightly to the bridge at the Fifth Avenue of Ky˘to, defeating men night after night and taking their swords. Finally he encounters a delicate young man that he thinks will be an easy opponent, but is defeated himself instead. This young man was Yoshitsune, under his childhood name of Ushiwakamaru. Benkei is so impressed that he becomes Yoshitsuneĺs retainer, right there and then. Starring Ichikawa Ebiz˘ as Benkei and Nakamura Kazutar˘ as Ushiwakamaru.
Goaisatsu: the close relationship between the actors and the audience is shown by this goaisatsu (literally greetings) k˘j˘, lavish ceremonies to commemorate various important events. In this case, the goaisatsu is performed by young star Ichikawa Ebiz˘.
Kagami Jishi: one of the most important dances for onnagata female role specialists and is an audience favorite. The maidservant Yayoi performs an auspicious lion dance for the Sh˘gun in his opulent palace, but she gradually finds herself under the control of the lion spirit. In the second half of the dance, the lion spirit itself appears and performs its crazed dance among peonies and fluttering butterflies. Starring Ichikawa Ebiz˘ as both Yayoi and the spirit of the lion.

Sources: Earphone Guide Website or Sh˘chiku Kabuki Official Website