Postponement or cancellation of a few Kabuki performances in October 2020 due to coronavirus (COVID-19)!!!
| | |
| --- | --- |
| Kabukiza (T˘ky˘) | |
Dates
2 ~ 27 October 2020
Jűgatsu ďkabuki
October Grand Kabuki
1st program
2nd program
3rd program
4th program

Y˘kihi

Casting

Living National Treasure Kataoka Nizaemon, Living National Treasure Band˘ Tamasabur˘, Nakamura Shikan, Nakamura Shichinosuke, Nakamura Kankur˘, Kataoka Takatar˘, Band˘ Yajűr˘, Nakamura Karoku, Ichikawa Komaz˘, Ichikawa Monnosuke, Matsumoto Kingo, Ichikawa Omez˘, Nakamura Matsue, Nakamura Hayato, Band˘ Shingo, Nakamura Fukunosuke, Nakamura Utanosuke, Ichikawa Otora, Nakamura Tamatar˘, Kataoka Matsunosuke

Comments

Not the usual October Grand Kabuki at the Kabukiza but a 4-program Grand Kabuki in these times of COVID-19.
| | |
| --- | --- |
| Misonoza (Nagoya) | |
Dates
3 ~ 18 October 2020
Kinshű Misonoza Kabuki
Autumn Brocade Misonoza Kabuki
Program

Kane-ga-Misaki

Kabuki no Mikata

Casting

Onoe Kikunosuke, Onoe Ukon, Nakamura Mantar˘, Onoe Kikuji

Comments

Due to the COVID-19 crisis, this is not the classic October kaomise programs in Nagoya. There are two programs, program A and program B, with the same contents but a different casting. Each program is staged either at 12:00 (matinÚe) or at 16:00 (evening):

10/03
10/04
10/05
10/06
16:00 PRGM A
12:00 PRGM B
16:00 PRGM A
12:00 PRGM B
12:00 PRGM A
16:00 PRGM B
10/07
10/08
10/09
10/10
12:00 PRGM A
16:00 PRGM B
12:00 PRGM A
12:00 PRGM B
16:00 PRGM A
12:00 PRGM B
16:00 PRGM A
10/11
10/12
10/13
10/14
12:00 PRGM B
16:00 PRGM A
12:00 PRGM B
12:00 PRGM A
16:00 PRGM B
12:00 PRGM A
10/15
10/16
10/17
10/18
12:00 PRGM B
12:00 PRGM A
16:00 PRGM B
12:00 PRGM A
16:00 PRGM B
12:00 PRGM A

Kane no Misaki: Onoe Kikunosuke appears as a beautiful young girl, expressing her love and feelings of jealousy. This is the same story as the colorful "Musume D˘j˘ji" dance, but is performed in a restrained chamber style.
Kabuki no Mikata: This is a lively presentation of Kabuki made by Onoe Ukon (program A) or Nakamura Mantar˘ (program B).
Renjishi: 2 entertainers dance a tale of the legendary shishi or lion-like spirits that live at the foot of a holy Buddhist mountain. There is a comic interlude with 2 Buddhist pilgrims. Then, the shishi themselves appear and perform their dance with wild shaking of their long manes. The dance shows a parent shishi forcing his cub to undergo harsh training in order to grow up strong. This theme is often associated with the training a parent actor gives his son. This performance features Onoe Kikunosuke in the role of the parent shishi and Nakamura Mantar˘ (program A) or Onoe Ukon (program B) in the role of the cub.

Sources: Earphone Guide Website or Sh˘chiku Kabuki Official Website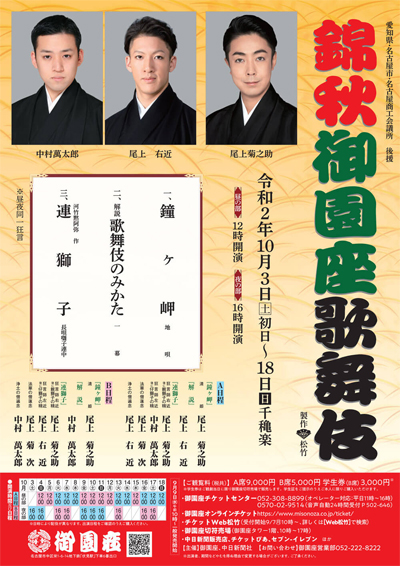 | | |
| --- | --- |
| National Theatre (T˘ky˘) | |
Dates
4 ~ 27 October 2020
1st Program

Hirakana Seisuiki (Genta Kand˘)

Sachi Negau Shibai Gokko []

2nd Program

Shin Sarayashiki Tsuki no Amagasa
(Sakanaya S˘gor˘)

Casting

Living National Treasure Onoe Kikugor˘, Nakamura Tokiz˘, Nakamura Baigyoku, Nakamura Kaishun, Nakamura Senjaku, Matsumoto K˘shir˘, Ichikawa Sadanji, Ichikawa Danz˘, Onoe Sh˘roku, Band˘ Hikosabur˘, Nakamura Baishi, Kataoka Kamez˘, Ichimura Manjir˘, Kawarazaki Gonjűr˘, Band˘ Kamez˘, ďtani Hirotar˘, Nakamura Kangyoku, Sawamura S˘nosuke, Nakamura Kamenoj˘, Ichimura Kitsutar˘, Onoe Ushinosuke

Comments

The first Grand Kabuki performances at the National Theatre since the beginning of the COVID-19 crisis:
| | |
| --- | --- |
| Sh˘chikuza (ďsaka) | |
| | |
| --- | --- |
| Dates | 15 ~ 18 October 2020 |
| Program | Yomigaeru Meibamen GOEMON Sh˘ |
| Casting | Kataoka Ainosuke, Nakamura Ganjir˘, Kamimura Kichiya, Nakamura Kazutar˘, Nakamura Tanenosuke, Imai Tsubasa |
| Comments | A special COVID-19 program at the Sh˘chikuza starring Kataoka Ainosuke, which is a shortened version of the program version described below and which has been canceled. The Sh˘ in the newly-created title is an ideogram meaning excerpt, extract or abridgement. Phonetically it is also a pun with the English word "show". Yomigaeru Meibamen means revival of the best scenes. So we can say that they will perform a short best-of of "GOEMON". There is indeed a GOEMON show in ďsaka in October 2020. |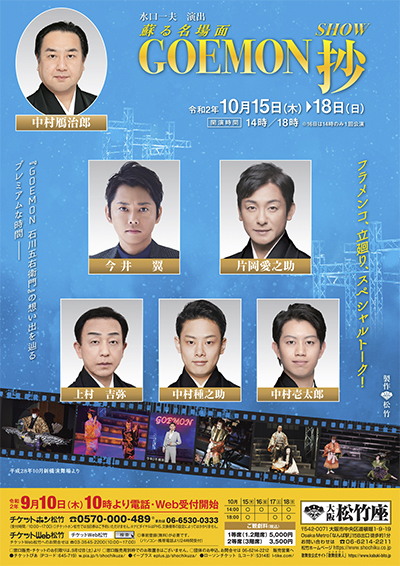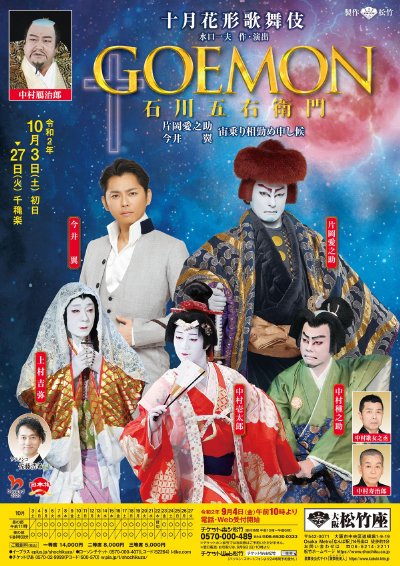 Classics Tour
Dates
11 September ~ 29 October 2020
Koten he no Izanai
Invitation to the Classics
Program

Otokodate Hana no Yoshiwara

Casting
Comments

The Fall Tour of Ichikawa Ebiz˘ with performances in 13 cities, including 5 nights in Yamaga at the Yachiyoza.

Kotobuki Shiki Sanbas˘: Okina is the oldest ritual in the N˘ theater. This Kabuki version shows Okina, an old man who symbolizes eternal youth, his attendant Senzai and the vigorous Sanbas˘, who perform dances solemnly for good fortune. Sanbas˘ dances vigorously, stamping and shaking bells, praying for agricultural fertility and prosperity for all. This dances features Ichikawa Ebiz˘, Ichikawa Kudanji and ďtani Hiromatsu in the roles of the sanbas˘, the okina and the senzai.
K˘j˘: a formal stage speech made by Ichikawa Ebiz˘.
Otokodate Hana no Yoshiwara: Gosho no Goroz˘ (Ichikawa Ebiz˘), the most gallant and chivalrous of men in the capital of Edo, is off to the bustling Nakanoch˘ corner of the Yoshiwara pleasure district. He has received a love letter from his lover, a famous keisei in Yoshiwara. Goroz˘ tells us the story of how they met and their many rendezvous in a dance. On his way, he is ambushed by men who hold a grudge against him, but Goroz˘ effortlessly fends them off and continues on his way to his beloved.

Sources: Sh˘chiku Kabuki Official Website
Nagoya
(NTK Hall)
Dates
11 ~ 12 October 2020 (Zenshinza K˘en)
Zenshinza Performances
Program
Casting

Kawarazaki Kunitar˘, Arashi Yoshisabur˘, Fujikawa Yanosuke, Segawa Kikunoj˘, Tadamura Shin'ya, Yamazaki Tatsusabur˘, Anegawa Shinnosuke, Arashi Ichitar˘, Hayase Einoj˘, Nakajima K˘tar˘, Ikushima Kigor˘, Matsuura Kainosuke, Watarai Motoyuki, Motomura Yűki, Seiganji Shigemori, Niimura S˘jir˘, Fujii Isaku

Comments

The production of Tsuruya Nanboku IV's masterpiece "T˘kaid˘ Yotsuya Kaidan" by the Zenshinza. It was expected to be staged in ďsaka at the National Bunraku Theatre from the 4th to the 10th of September but these performances were canceled due to the COVID-19 crisis.

Yotsuya Kaidan: Tamiya Iemon, a villainous masterless samurai (Arashi Yoshisabur˘) is in love with Oiwa (Kawarazaki Kunitar˘) and even kills her father Yotsuya Samon to be united with her, cynically promising to help her to avenge her father's death. But at the same time, the granddaughter of a wealthy doctor falls in love with him and her grandfather tries to ensure the match by sending a horrible disfiguring poison to Oiwa. In the most famous scene of the play, face destroyed, hair falling out, Oiwa carefully dresses and puts on make-up to pay a proper visit to those who have wronged her. Iemon kills Oiwa and his servant Kobotoke Kohei, has their bodies nailed to a door and thrown into the river. Iemon is happily married into the wealthy family, but no sooner does the beautiful young bride arrive than Oiwa's ghost causes Iemon to kill her. The vengeful ghosts do not rest until all of their enemies are dead and, in another famous scene, Oiwa and Kohei appear floating on the river, calling out to Iemon. The concluding scene shows the ghost of Oiwa appearing mysteriously from inside a paper lantern and pulling her enemies into the wall and disappearing magically. Featuring Segawa Kikunoj˘ and Fujikawa Yanosuke in the roles of Sat˘ Yomoshichi and Naosuke Gonbŕ.

Sources: Earphone Guide Website or Sh˘chiku Kabuki Official Website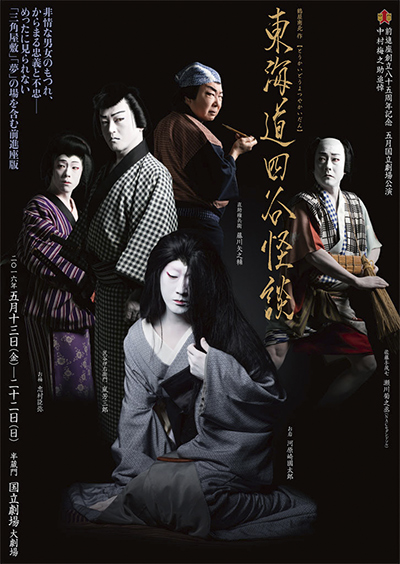 | | |
| --- | --- |
| Yachiyoza (Yamaga) | |

Dates
30 October ~ 8 November 2020

[POSTPONED]


Band˘ Tamasabur˘ Eiz˘ x Buy˘ K˘en
Band˘ Tamasabur˘ Image and Dance Performances
Program
Casting

Living National Treasure Band˘ Tamasabur˘

Comments

A special Buy˘ program starring the amazing Living National Treasure onnagata Band˘ Tamasabur˘ in Yamaga at the Yachiyoza, a traditional wooden-built theater. There will be a mix of video projection (with video sequences coming from the high-quality Shinema Kabuki, "Cinema Kabuki") and real dancing on stage. It celebrates the 30th anniversary of Band˘ Tamasabur˘'s performances at the Yachiyoza. It was originally supposed to be staged in May 2020, then again in October 2020/November 2020, but, due to the COVID-19 crisis, it was postponed twice.