| | |
| --- | --- |
| Kabukiza (T˘ky˘) | |
Dates
?? ~ ?? October 2022
Jűgatsu ďkabuki
October Grand Kabuki
1st program

???

2nd program

???

3rd program

???

Casting

???

Comments

The October Grand Kabuki at the Kabukiza.
| | |
| --- | --- |
| National Theatre (T˘ky˘) | |
| | |
| --- | --- |
| Misonoza (Nagoya) | |
Dates
1 ~ 23 October 2022
Band˘ Tamasabur˘ Tokubetsu K˘en
Band˘ Tamasabur˘ Special Performances
Program

Casting

Living National Treasure Band˘ Tamasabur˘, Nakamura Hashinosuke, Nakamura Fukunosuke, Nakamura Utanosuke, Kitamura Rokur˘, Kawai Yukinoj˘

Comments

No classic October kaomise programs in Nagoya this year but a special Kabuki program starring Living National Treasure Band˘ Tamasabur˘.

K˘j˘: the close relationship between the actors and the audience is shown by stage announcements, usually lavish ceremonies to commemorate various important events. This month at the Misonoza, it is a stage speech done by Living National Treasure Band˘ Tamasabur˘.
Jusshuk˘: Princess Yaegaki is mourning the death of his fiance Katsuyori, but as she burns incense in his memory, she notices the resemblance between the new gardener and her fiance's portrait. The gardener is in fact Katsuyori, who has entered the household of Yaegaki's father to regain the possession of a stolen family treasure, a famous helmet, with the help of Nureginu, a woman who also mourns for the man that died in the place of the real Katsuyori. Unfortunately, Yaegaki's father has also seen through the disguise and plans to kill Katsuyori. The role of Princess Yaegaki, one of the most important onnagata roles, is played by Living National Treasure Band˘ Tamasabur˘, supported by Nakamura Hashinosuke, Kawai Yukinoj˘ and Kitamura Rokur˘ in the roles of Katsuyori, Nureginu and Nagao Kenshin.
Kitsunebi: magical foxes possess Princess Yaegaki (Living National Treasure Band˘ Tamasabur˘) to help her stealing a precious helmet, the treasure of the Shingen clan, and to allow her to save the life of her beloved Katsuyori.

Sources: Earphone Guide Website or Sh˘chiku Kabuki Official Website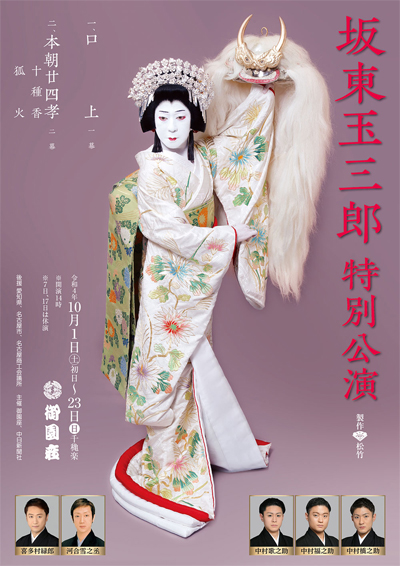 | | |
| --- | --- |
| Sh˘chikuza (ďsaka) | |
Heisei Nakamuraza (T˘ky˘)
Dates
?? October ~ ?? November 2022
Program

T˘nasuya ~ Fushigi no Kuni no Wakadanna

Casting
Comments

The Heisei Nakamuraza is back in T˘ky˘ in Asakusa. Not in the Sumida Park as it used to be but in the precincts of the Sens˘ji Temple (at the back of the main temple hall). This program commemorate the 180th anniversary of the 1842 move of all major Kabuki theaters to the remote district of Saruwaka-ch˘ (Edo).