| | |
| --- | --- |
| Sh˘chikuza (ďsaka) | |
Dates
3 ~ 27 January 2020
Kotobuki Hatsuharu ďkabuki
Congratulation Early Spring Grand Kabuki
MatinÚe

Tsuzura Ori (Ohide Seishichi)

Evening

Yoshitsune Senbon Zakura
(Kawatsura H˘gen Yakata)

Yűgiri Nagori no Sh˘gatsu

ďatari Fushimi no Tomikuji

Casting

Living National Treasure Kataoka Hidetar˘, Nakamura Ganjir˘, Nakamura Senjaku, Matsumoto K˘shir˘, Kataoka Ainosuke, Nakamura Kazutar˘, Band˘ Takesabur˘, Ichikawa En'ya, Sawamura S˘nosuke, Nakamura Toranosuke, ďtani Hirotar˘, Nakamura Jűjir˘, Arashi Kitsusabur˘

Comments

The traditional two programs for the New Year Grand Kabuki at the Sh˘chikuza.
| | |
| --- | --- |
| National Theatre (T˘ky˘) | |
Dates
3 ~ 27 January 2020
Program

Kiku Ichiza Reiwa no Adauchi

Casting

Living National Treasure Onoe Kikugor˘, Nakamura Tokiz˘, Onoe Kikunosuke, Onoe Sh˘roku, Nakamura Baishi, Ichikawa Danz˘, Band˘ Rakuzen, Ichimura Manjir˘, Band˘ Hikosabur˘, Kataoka Kamez˘, Band˘ Kamez˘, Kawarazaki Gonjűr˘, Nakamura Mantar˘, Ichimura Takematsu, Onoe Ukon, Band˘ Shűch˘, Ichimura Hikaru, Onoe Sakon, Ichimura Kitsutar˘

Comments

Revival at the National Theatre of Tsuruya Nanboku IV's new year sogamono drama "Okuni Iri Soga Nakamura", which was premiered in the 1st lunar month of 1825 at the Nakamuraza. It is entitled "Kiku Ichiza Reiwa no Adauchi" (). As this is usually the case for the new year program, the zagashira is Living National Treasure Onoe Kikugor˘. Kiku Ichiza in the new title means the troupe led by Kikugor˘, Reiwa is of course the Reiwa era and adauchi (revenge) is a hint at the sogamono. Two hanamichi are used in this production.

Kiku Ichiza Reiwa no Adauchi: The very first show at the National Theatre (T˘ky˘) celebrating the upcoming new year of the Reiwa era, which began in May 2019, is the performance originally written by famous Japanese dramatist Tsuruya Nanboku IV, which premiered Edo in 1825. The original piece by Nanboku IV was arranged into a new shape using several typical drama-writing techniques, especially for Kabuki theatre. One of them, the so-called naimaze, literally means the combining of two or more entirely different but very well known sekai (a dramatic world with its well-defined set of characters), while adding new incidents or plot twists. This is especially true of Nanbokuĺs plays depicting the social underclass. They were actually often the combination of several sekais and are still very popular among theatre-goers. This January's Kabuki production is titled ôKiku-ichiza Reiwa no Adauchi,ö which means that the famous vendetta (adauchi) is staged by Kabuki theatre's top stars and leading actors Onoe Kikugor˘ VII and their troupe. This permeation of the names of the real actors into the title of the play is very often a phenomenon in Kabuki theatre. This play also benefits from the sekai of ôGonpachi-Komurasaki playsö about the lovers, samurai retainer Shirai Gonpachi and his mistress Komurasaki (whose grave site known as Hiyokuzuka, double grave of lovers, you can still visit at T˘ky˘ĺs Meguro site). Originally, Gonpachi's arguments over the purchase of Komurasaki and a man named Banzuiin Chobŕ helped to settle the matter. This scene is well-known as ôSuzugamori,ö which combines two historically unconnected stories ľ Gonpachi and Komurasaki on one side and Banzuiin Chobeiĺs on the other side. Last but not least, there is one more surprising element used in the play. It is a character whose name is Sasano Gonza, known from the famous puppet play by dramatist Chikamatsu Monzaemon ôGonza the Spearmanö. He is a vassal of ďe no Hiromoto, the regent of the Kamakura Shogunate, and ľ stunningly ľ in the surprising relationship with the Gonpachi. They are both searching for ôInĺy˘ no hanö - a lost treasure handed down through generations in the clan. Furthemore, Gonpachi is mistaken for a woman and he claimes to be courtesan whose name is Komurasaki! Thus, using the changes of famous plots and their characters as they please, Nanboku IV together with current playwrights entice theatre-goers into the magic, bizzare and fancy world of kabuki theatre to celebrate the beginning of a new and prosperous year.

Courtesy of Petr Holř, Adjunct Researcher, The Tsubouchi Memorial Theatre Museum, Waseda University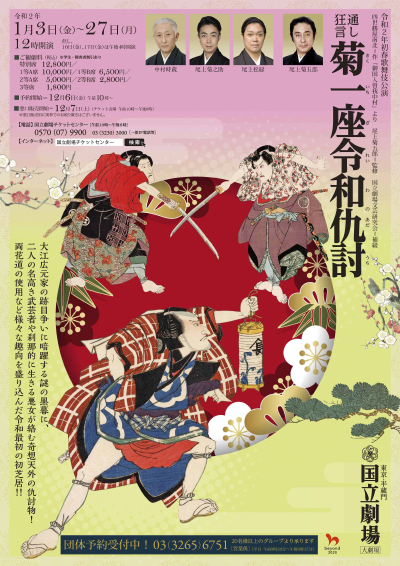 Dates
18 January 2020 (Dent˘ Kabuki Hozonkai Kenshű Happy˘kai)
Training Recital of the Organization for the Preservation of Kabuki
Program

Comments

25th Training Recital at the National Theatre produced by the Organization for the Preservation of Kabuki. The final item in the program, "ďgiri", is staged with Living National Treasure Onoe Kikugor˘, Nakamura Tokiz˘, Onoe Kikunosuke, Ichikawa Danz˘ and Onoe Sh˘roku.

Tepp˘ Watashi/Futatsudama/Kanpei Harakiri: this section of the classic "Kanadehon Chűshingura" is about Hayano Kanpei and his wife Okaru. Kanpei survives as a hunter and is desperate for the money that will allow him to become a samurai again. He encounters two former retainers of Lord En'ya Hangan who offer to allow him to participate in a vendetta to avenge Lord En'ya Hangan's death by attacking K˘ no Moron˘. Unknown to him, though, Okaru's family has decided to raise the memory by selling her into prostitution as a courtesan in the Gion district of Ky˘to. Okaru's father travels on a dark mountain road, eager to bring the first half of the money to Kanpei. But he is attacked and robbed by Sadakur˘, also a former retainer of Lord En'ya Hangan who has gone bad and become a thief. At this point, Kanpei aims and fires at s wild boar and instead kills Sadakur˘. He finds the purse with all the money and, thinking that is the gift of heaven, rushes home. At home, the brothel keeper is already there to collect Okaru and Kanpei wants to refuse to let her go, until he realizes where the money came from and believes that he killed Okaru's father by mistake. He urges Okaru to go to the pleasure quarters, not wanting her to know what has happened. In one of the dramatic highlights of the play, Kanpei commits suicide to atone for his multiple failures in duty.

Sources: Sh˘chiku Kabuki Official Website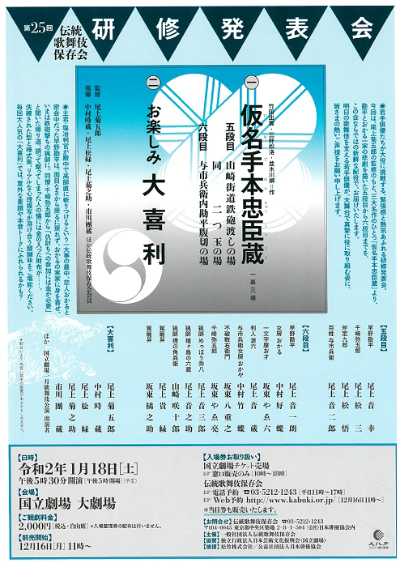 | | |
| --- | --- |
| Kabukiza (T˘ky˘) | |
Dates
2 ~ 26 January 2020
Kotobuki Hatsuharu ďkabuki
Congratulation Early Spring Grand Kabuki
MatinÚe

Daigo no Hanami

ďshű Adachi-ga-Hara (Sodehagi Saimon)

Evening

Yoshitsune Koshigoej˘ (Goto Sanba)

Casting

Living National Treasure Nakamura Kichiemon, Living National Treasure Nakamura T˘z˘, Matsumoto Haku˘, Nakamura Shikan, Nakamura Jakuemon, Nakamura Baigyoku, Nakamura Kaishun, Nakamura Fukusuke, Ichikawa Ennosuke, Nakamura Kankur˘, Nakamura Shichinosuke, Nakamura Karoku, Nakamura Matagor˘, Ichikawa Monnosuke, Ichikawa Komaz˘, Matsumoto Kingo, Ichikawa Omez˘, Ichikawa Emisabur˘, Ichikawa Emiya, Nakamura Takanosuke, Ichikawa Danko, Nakamura Hashinosuke, Nakamura Fukunosuke, Nakamura Kichinoj˘, Nakamura Jűjir˘, Nakamura Kantar˘, Nakamura Ch˘zabur˘

Comments

The traditional two programs for the New Year Grand Kabuki at the Kabukiza.
| | |
| --- | --- |
| Shinbashi Enbuj˘ (T˘ky˘) | |
Dates
3 ~ 24 January 2020
Hatsuharu Kabuki K˘en
Early Spring Kabuki Performances
MatinÚe

Gion Sairei Shink˘ki (Kinkakuji)

Yukibotaru Koi no Taki

Evening

Kami no Megumi Wag˘ no Torikumi
(Megumi no Kenka)

Setsugekka Mitsu no Nagame (Nakakuni)

Casting

Ichikawa Ebiz˘, Nakamura Baigyoku, Kataoka Takatar˘, Ichikawa Sadanji, Ichikawa Udanji, Nakamura Shid˘, Nakamura Kotar˘, Nakamura Kangyoku, Ichikawa Sai'nyű, ďtani Tomoemon, Nakamura Kikaku, Ichimura Kakitsu, Kataoka Ichiz˘, Sawamura Yoshijir˘, Ichikawa Kudanji, ďtani Hiromatsu, Nakamura Kamenoj˘, Kataoka Matsunosuke, Ichikawa Otora, Nakamura Tamatar˘, Horikoshi Kangen, Ichikawa Botan

Comments

The traditional New Year Kabuki at the Shinbashi Enbuj˘ with a troupe led by the young star Ichikawa Ebiz˘.
Dates
30 ~ 31 January 2020
Baish˘kai
Program

Shiki Sanbas˘

Takeminakata

Casting
Comments

2nd edition of the Baish˘kai, a gala program which stars Nakamura Shinobu and Ichikawa Emino.
| | |
| --- | --- |
| Misonoza (Nagoya) | |
Dates
2 ~ 4 January 2020
Shinshun Tokubetsu Buy˘ K˘en
New Spring Special Dance Performances
Program

Yuki

Sankyoku Ito no Shirabe Akoya Kotozeme

Kane-ga-Misaki

Casting

Living National Treasure Band˘ Tamasabur˘

Comments

A special new year Buy˘ program in Nagoya at the Misonoza, starring Living National Treasure Band˘ Tamasabur˘